What Happened to Pamela Anderson and Tommy Lee and Where Are They Now?
The first three episodes of Hulu's Pam & Tommy are streaming on Hulu now and audiences already want to know how Pamela Anderson and Tommy Lee's love story and sex tape scandal ended.
Baywatch star Pamela Anderson and Mötley Crüe legend Tommy Lee met on New Year's Eve in 1994 and after meeting again in Cancun six weeks later, they married after four days. They later had two children together, Brandon Thomas and Dylan Jagger.
However, everything changed when their private honeymoon sex tape was stolen by former porn actor and electrician Rand Gautier (Seth Rogen), who stole Tommy's safe after he failed to pay him for his work.
The tape was quickly released to the world via the newly-available internet and became a key moment in pop culture history. So, what happened to Pamela Anderson and Tommy Lee after the sex tape's release and where are they now?
Newsweek has everything you need to know below.
Warning, this article contains spoilers.
What Happened to Pamela Anderson and Tommy Lee?
After the release of Pam and Tommy's sex tape, they did all they could to stop the tape from circulating across the web. At first, they attempted to have an injunction filed to prevent anyone from showing the tape, but this was thrown out by the courts.
Lee also reportedly sent members of Hells Angel's to look for Gauthier, who had stolen the tape, and Uncle Miltie (Nick Offerman), the porn director who helped him distribute it on the internet, Rolling Stone details.
As the tape went from a bootleg operation to viral, in the end, they ultimately sued a video distribution company, Internet Entertainment Group (IEG), eventually winning a confidential settlement.
However, as part of the settlement IEG was able to continue to make the tape available to its online subscribers. In the end, the tape made an estimated $77 million in less than 12 months, and that is just legitimate sales, reports Rolling Stone.
However, IEG began selling the tape for $15, leading Pam and Tommy to launch a copyright lawsuit in 1998. In 2002, Pam and Tommy won their 1998 copyright-infringement suit against IEG and were granted $750,000, reported Entertainment Weekly.
However, they are unlikely to ever receive the money as IEG is no longer in business.
Following the release of the sex tape, it was Pamela's career that mainly took the hit, whereas Tommy found a new kind of fame for his role in the tape, a clear divide that is explored in Pam & Tommy.
Nick Offerman, who portrays Uncle Miltie in Pam & Tommy, the man who helped distribute the tape in the early days, told Newsweek, he liked how the series was from Pam's point of view and how she "becomes a bit of a feminist statement."
He shared: "I think it's going to be quite an eye-opening to sort of get the facts of the story out. I think that the world, I mean, it has a massive misconception about the facts of the story, to begin with.
"I think that because of our cynicism and our superficiality, yet the superficiality that we associate with Hollywood and stories like this, we immediately assume the worst of people and think that somehow there was something salacious or mercenary or that Tommy Lee and Pam Anderson were even involved [and not] purely the victims of a crime here.
"And then beyond that, to see how Pam Anderson is the victim of sexism and misogyny, as the story plays out, I think will be quite eye-opening. It'll really serve as a foundational story to so many such tales that came after. It helps point up the distance that we still have to go in terms of treating everybody equally when it comes to seeing them with their clothes off."
Not only was Pam's career suffering, behind the scenes, Pam and Tommy's marriage was breaking down.
Writing in Mötley Crüe's autobiography, The Dirt: Confessions of the World's Most Notorious Rock Band, Lee shared the stress of the sex tape exacerbated the problems in their marriage.
He wrote: "Pamela and I were fighting all the time. Trying to raise our children, continue the careers that consumed us, make a new relationship work and deal with the nonstop barrage of bulls**t in the press was more of a challenge than we ever could have expected."
In early 1998, he was arrested for spousal abuse after assaulting Anderson in their home. In May 1998, he was sentenced to six months in a Los Angeles County Jail, mandatory counseling, and community service.
Pam eventually filed for divorce in 1998. She became engaged to model Marcus Schenkenberg but their relationship ended in 2001. Pam then married singer Kid Rock in July 2006 but they divorced in November that same year, with Pam citing irreconcilable differences.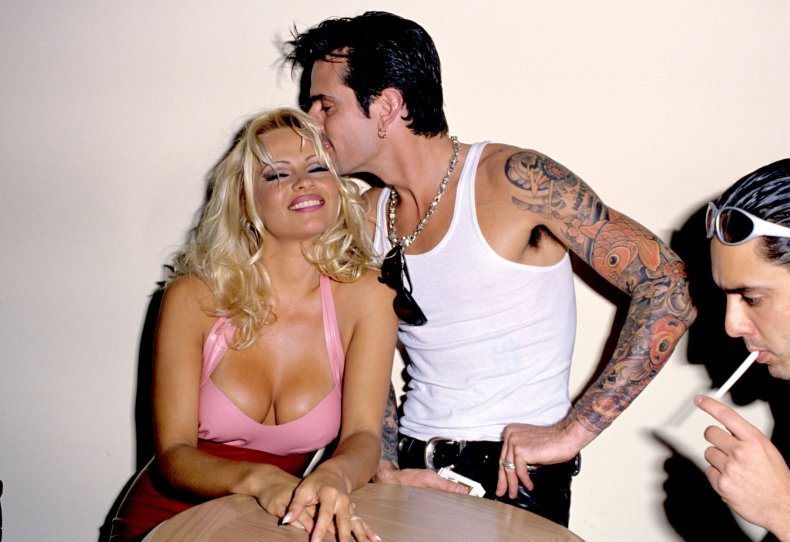 Where Are Pam and Tommy Now? Are They Together?
Despite rekindling their romance from 2008 until 2010, Pam and Tommy remain on separate paths.
At the time, Lee told Rolling Stone: "We've only given it a try 800 times, 801, here we go. Pamela and the kids have moved in with me. It's awesome. It's definitely working."
Just one year prior to their reunion, Pam had married film producer Rick Salomon in 2007 in Las Vegas. They then separated in 2008, but in 2014, Pam announced she had remarried Salomon but they divorced in April 2015.
Pam then dated French footballer Adil Rami and then Hollywood producer Jon Peters. In December 2020, she married her bodyguard Dan Hayhurst but sadly, on January 21, 2022, she announced they had split.
Reflecting on her relationship with Tommy, Anderson told People in 2015: "I had beautiful children with him. My kids are grateful to be born out of true love. Everything else I was trying to piece together."
She added: "He was the love of my life. We had a wild and crazy beginning that was too much for both of us."
Like Pam, Tommy has also been married several times. Before tying the knot with Pam in 1995, he had been married to Elaine Starchuk and later Heather Locklear before their divorce in 1993. Before meeting Pam, he was engaged to model Bobbie Brown.
After his divorce from Pam in 1998, Lee was engaged to dancer Mayte Garcia, the ex-wife of Prince from 2002 until 2003. They later split. From 2014 until 2017, he was engaged to singer Sofia Toufa, who he had been dating since 2009.
In February 2018, Lee announced he had proposed to his girlfriend, Brittany Furlan, a social media star. They married on February 14, 2019, and remain together today.
Anderson has continued to act, most recently appearing in the film Nicky Larson et le Parfum de Cupidon as Jessica Fox, The Institute as Ann Williams, and reprised her role as Captain Casey Jean in 2017's Baywatch.
She has also appeared on numerous reality series including The Hills: New Beginnings, Dancing on Ice, Dancing With the Stars, and Big Brother Australia.
As for Lee, he and Mötley Crüe embarked on a farewell tour in 2014 and since then, he has embarked on a solo career. In 2020, he released the album Andro, which included guest vocalists such as Post Malone, Shotty Horroh, and Mickey Avalon.
In 2020, he featured in four episodes of Halloween in Hell, a musical horror podcast, where he played the devil. The series also starred Iann Dirr, 24kGoldn, and Machine Gun Kelly.
The first 3 episodes of Pam & Tommy are streaming on Hulu now. The remaining 5 episodes will air every Wednesday on Hulu.