How the Audience Reacted to Pamela Anderson's Broadway Debut in 'Chicago'
Pamela Anderson made her Broadway debut on Tuesday night, playing the lead role of Roxie Hart in the musical Chicago.
The TV and movie icon traded the screen for the stage at the Ambassador Theatre in New York City in a run that began on Tuesday night, April 12, and will continue through to June 5, 2022.
Her performance in Chicago marks her return to acting, as she's not performed in a TV or movie since 2019. Multiple outlets who were present at the opening night performance reported that Anderson received a standing ovation at the end.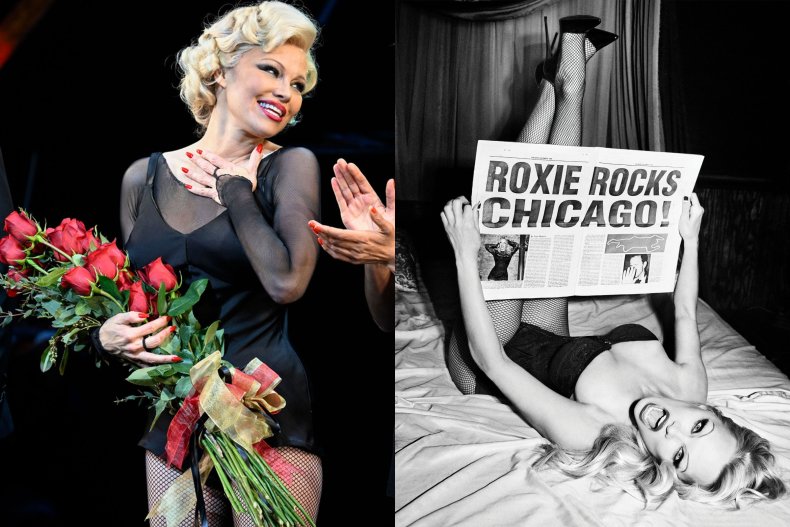 New York Post writer Johnny Oleksinski noted that ahead of the performance, everyone wanted to know if Anderson could sing and dance. After watching her debut, he attests that the "Baywatch babe moves confidently, carries a tune and, you know, all that jazz."
Oleksinski noted that the audience were so excited by Anderson's performance, that occasionally their applause "stepped on her laughs." He noted how Anderson won't be headlining Carnegie Hall with her singing voice but she sang songs with vulnerability, with a hint of Marilyn Monroe flirting, and she managed to hit all the high notes.
People noted that the "audience went insane" for Anderson and she looked "flawless" as Roxie Hart.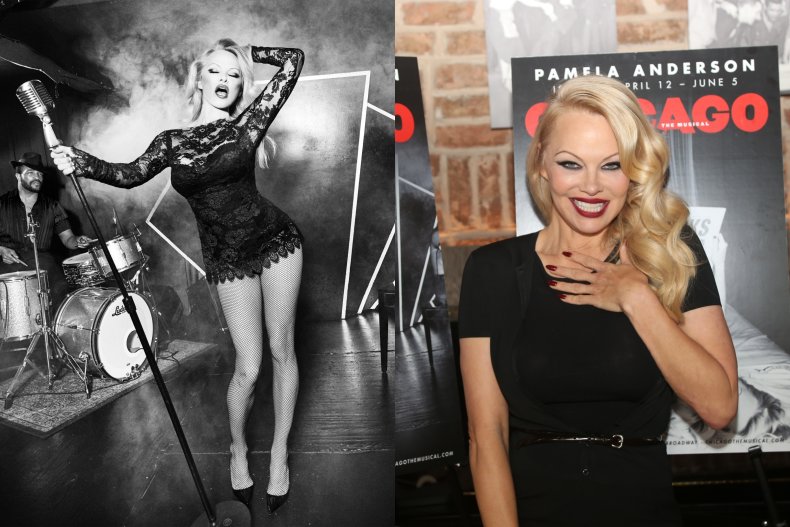 Anderson now only uses social media sparingly, but ahead of her opening night performance she shared an image of herself as Roxie, with a link to the musical's website.
The official Twitter account for Chicago shared a minute-long video of Anderson taking her first Broadway bow. During the applause, which continues for well over a minute, she's handed a huge bouquet of roses.
Another audience member appeared to take a picture of their view from inside the theater and shared their glowing review of Anderson's performance. Twitter user @Bret_with1t called Anderson "the best celebrity guest actress for Chicago." Another person who saw the show, @JaevonWilliams called Anderson's performance "ICONIC" in all caps.
The people present in the Ambassador Theatre shared their reaction on social media too. Journalist Wilson Wong confirmed on Twitter, "standing ovation for pamela anderson's broadway debut in chicago" and shared an image of the moment from his angle.
The story of Chicago shows Roxie Hart at the forefront of media headlines, something which Anderson says she can relate to. "Absolutely, this is drawing from my personal life right from the beginning till now," she told The View during an appearance on April 5. Anderson continued, "The media can be a weapon. It can be used for good. It's a powerful tool."
The former Baywatch star is the latest in a long line of famous actresses who've played Roxie Hart. Renée Zellweger was nominated for an Oscar for her performance in the 2002 movie while Ginger Rogers, Destiny's Child singer Michelle Williams, Brooke Shields, Melanie Griffith and Ann Reinking are just some of those who've played her on stage.
Tickets for the show are available to purchase in advance on the official Chicago website. From now until June 5, there are eight performances a week. This covers one show each night per weekday, excluding Wednesdays, and a matinee and evening show on the weekend.
Anderson's relationship with Tommy Lee is currently being dramatized in the Hulu Original series Pam & Tommy.