Pamela Anderson's Sex Tape Scandal Was 'Another Sexual Trauma,' Documentary Director Says
Hulu's Pam & Tommy may have seemed like an exciting drama about Pamela Anderson and ex-husband Tommy Lee's sex tape scandal, but for the model, the real event was "another sexual trauma" she was put through, documentary director Ryan White told Newsweek.
In Pamela, A Love Story, White follows Anderson as she tells her life story, and her experiences with fame and public scrutiny. It was during filming for the Netflix film that the drama brought Anderson and Lee's sex tape scandal back into the spotlight more than two decades after the fact.
The theft of the tape saw Anderson become the butt of the joke and at the time, it brought back feelings of helplessness and shame that the model had experienced when she was a victim of sexual abuse when she was young, she said in the film.
White was keen to change that by giving Anderson the platform she needed to share her own story and discuss the truth of how that scandal impacted her.
Pamela Anderson's Sex Tape Scandal Was 'Another Sexual Trauma,' Documentary Director Says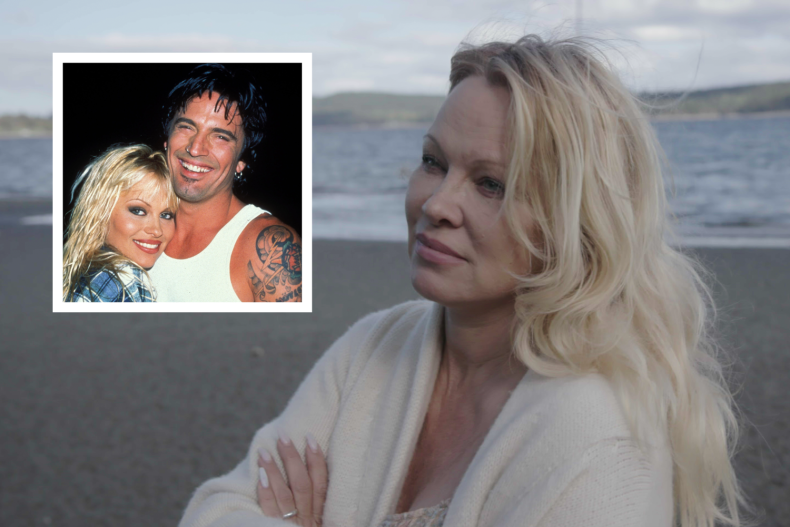 The sex tape scandal was difficult for Anderson and Lee when it occurred in 1995, and the release of Pam & Tommy brought these feelings back, so much so that Anderson even expressed how she "felt sick" at the thought of it.
White told Newsweek what it was like to film her while she was forced to "go through [the] re-trauma" in real time, and also how it was to see her look back at the damage the scandal had had on her life.
"I think Pamela to a lot of people, to culture, to pop culture, is sex, right?" White said. "She's been the embodiment of sexuality for so long, since she became famous in Playboy, and so the story of Pamela's sexuality, her individual sexuality, is such a theme throughout the film because so much of that was robbed from her when she was young.
"I think Pamela challenges a lot of our preconceived notions about sexuality and femininity, and pornography, and all of these things. The idea that Pamela found posing in Playboy as her moment of sexual empowerment, that's when she began to take her sexuality back from the people who had taken it away from her in her childhood and young adulthood.
"You know, these days we see sex tapes all the time, especially with celebrities, often they are career makers, [but] it was very important to not only inform people but remind people that this was another sexual trauma done to Pamela, this was something stolen from her again. So the ups and downs of Pamela owning her own sexuality through her life is a huge part of the arc of the film."
Pam & Tommy stars Lily James and Sebastian Stan in the title roles, and it explores the former couple's marriage as well as the theft of their sex tape which was then illegally distributed around the globe without their consent.
In the documentary Anderson said she was left "shaking" over the TV show, and though she refuses to watch it, she said she believed Hulu should have requested her permission before they decided to make it.
White reflected: "She has spent the last 20-something years getting over that trauma of that tape being stolen from her.
"And then to have a bubble back up while we were making the film—because we were making the film before Pam & Tommy was ever a thing, we didn't even know that was going to be a show—[and we] watch her go through that again, watching her go through a re-trauma, of having to relive something that she had desperately tried to move on from.
"So, I hope when people watch the documentary they are a little bit more sensitive to her for sure, as a person but also to people that have gone through these types of things in the public eye, [who] we can be very condemning of as a culture, I think to watch an individual and see how that impacts them on a day-to-day emotional, gut level... I hope it's very humanizing for people about Pamela."
Pamela Anderson's Honesty About Her Love Life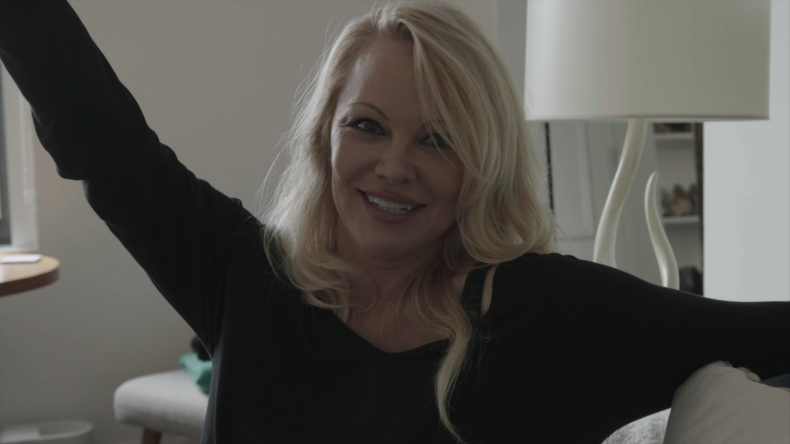 White described Anderson as being a "refreshing documentary subject" because of her frankness during the process, which made for a "really rewarding collaboration" between the two of them.
The documentary, which is being released in conjunction with Anderson's memoir Love, Pamela, sees her also reflect on her five marriages.
"I think in a lot of ways Pamela charts her life by her partner at the time, because she's always been a serial monogamist, she's almost always been in a relationship in her adulthood up until now, up until the divorce she goes through in the middle of my film, and for the past year she has been single," White said of her honesty.
"But, in a lot of ways, I think that's how she charts her life, she doesn't think in years, she doesn't think chronologically, but she can always say when you're asking her a question like 'oh, I was with Rick [Salomon] at the time, or I was with Bob,' who is Kid Rock, so she almost uses husbands and boyfriends as a way to chart her life.
"That's why we call it a love story because Pamela's life is lived with such romanticism, and I mean that in all of ways; just the way she sees the world in general, or the causes that she takes on, or her children.
"She's a very loving person and she puts herself out there fully, she's a mega celebrity [and] she was probably one of the most famous people in the world when I was growing up, so I guess I wondered how much of that is actually real. Like how truly open could she be to all of that?"
In the documentary, Anderson expresses how she "doesn't think she loved anybody else" apart from Lee, and in a voicemail to White, she later said that she "never got over not being able to make it work with the father of [her] kids."
Of this message, White reflected: "After every shoot she was really rattled, because the shoots were so emotional because she was delving through all of this archival [footage] or excavating her own memories, or pulling out these diaries.
"So, she was often quite unsettled after we were there, but Pamela is always working through feelings that's why she journals so much and so she constantly wanted to keep that dialogue open.
"That's why she left me that voicemail, is because we had left her in such a state of flux and she was in her bubble bath as she does every night, and she was working out her feelings on her yellow legal pad, and she wanted to share them with me.
"I remember I was at dinner at the time so I couldn't pick up and I was so happy once I got the voicemail that I had not picked up the phone, and I would have that as an archival record."
Why Tommy Lee Doesn't Appear in 'Pamela, A Love Story'
While the documentary explores Anderson's marriage to Lee and features their two children, Brandon and Dylan, the Mötley Crüe drummer doesn't actually appear in the film himself, and this was a deliberate choice on White's part.
"Pamela's son Brandon produced the film with us so he was in touch with his dad the entire time," White shared. "I've never been in touch with Tommy, I feel like I know Tommy because I've seen so much footage of him, but we never entertained making a talking head film.
"It wasn't the type of documentary I was interested from in the beginning, and even in my initial conversation with Pamela before we ever started shooting, that's what I said to her. I said, 'I'm not the right filmmaker if you guys want to make a film that's a look back at your life, that's sort of a biography. Like, if I'm gonna make a film about you I want to be there with my camera while you're going through things and I want your life through your eyes and very few other people,' and that's why the only other people in the film are her kids."
White went on: "I think Tommy is well represented throughout the film in the archival [footage] and he was very supportive of our film throughout. He was very supportive of Pamela making this documentary, but he is an ex-husband.
"He's not in her life day-to-day anymore and, so, I thought let's let the archival [footage] speak for itself. Let's watch them in those moments, but we don't need him looking back on it."
Pamela, A Love Story premieres on Tuesday, January 31 on Netflix.