Panama City Electric Power Outage Update, Map (Gulf Power): When is the Power Coming Back on in Panama City?
As crews numbering in the thousands work across Panama City and Bay County to clean up massive damage from Hurricane Michael and get basic services like electricity and water in working order, the reality has set in the all the effort still requires time. Progress is being made, however, and estimates are that most will have power by the end of the month.
Hitting parts of the Florida Panhandle as one of the strongest storms to ever hit the United States, Hurricane Michael has left a community asking basic questions, like "When is the electric power coming back on in Panama City?"
Practically the whole city was without electricity after Michael. Nearby Panama City Beach has seen almost all of its electric power restored as of October 15, officials with Gulf Power announced Monday. But Panama City Beach is to the west of Panama City and it suffered only a fraction of the storm damage inflicted upon its larger neighbor, Panama City. Power in Panama City Beach was restored some 18 hours before its estimated restoration time, officials said.
"That brings the number of total customers who have been restored since Hurricane Michael's landfall on Wednesday to approximately 62,000," said Gulf Power in a release.
Now, attention for Gulf Power and the thousands of workers from the region trying to get power back up on its behalf is focused on Panama City and the rest of Bay County. There's more than a week of work remaining, however, before most of Panama City is back with electric service.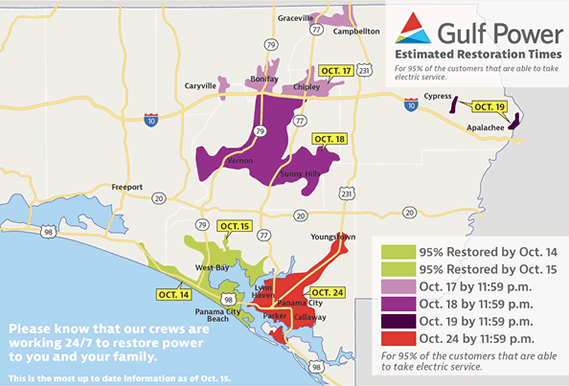 Estimated restoration times in Panama City (see accompanying map) are that customers in Bay County's central corridor will have power back on by October 18 and 19th at 11:59 p.m. Gulf Power estimates that residents in Panama City, including beach and bay areas, will not likely be at 95 percent power restoration until October 24 by 11:59 p.m.
Here's the latest Gulf Power restoration update as on Monday
Washington, Jackson and Holmes counties in the following areas:

Customers who live in the Cypress and Apalachee areas with a mailing address of Sneads, Florida, served by Gulf Power, are estimated to be restored by midnight, Oct. 19
Vernon, Sunny Hills and the surrounding areas south of I-10 are estimated to be restored by midnight, Oct. 18.
Areas north of I-10 in Bonifay and Chipley, and all of Caryville, Graceville and Campbellton are estimated to be restored by midnight, Oct. 17.

Downtown Panama City, Callaway, Parker, Lynn Haven, Youngstown and surrounding areas are estimated to be restored by midnight, Oct. 24.