Panama Papers: Ukraine's President Defiant Despite Impeachment Push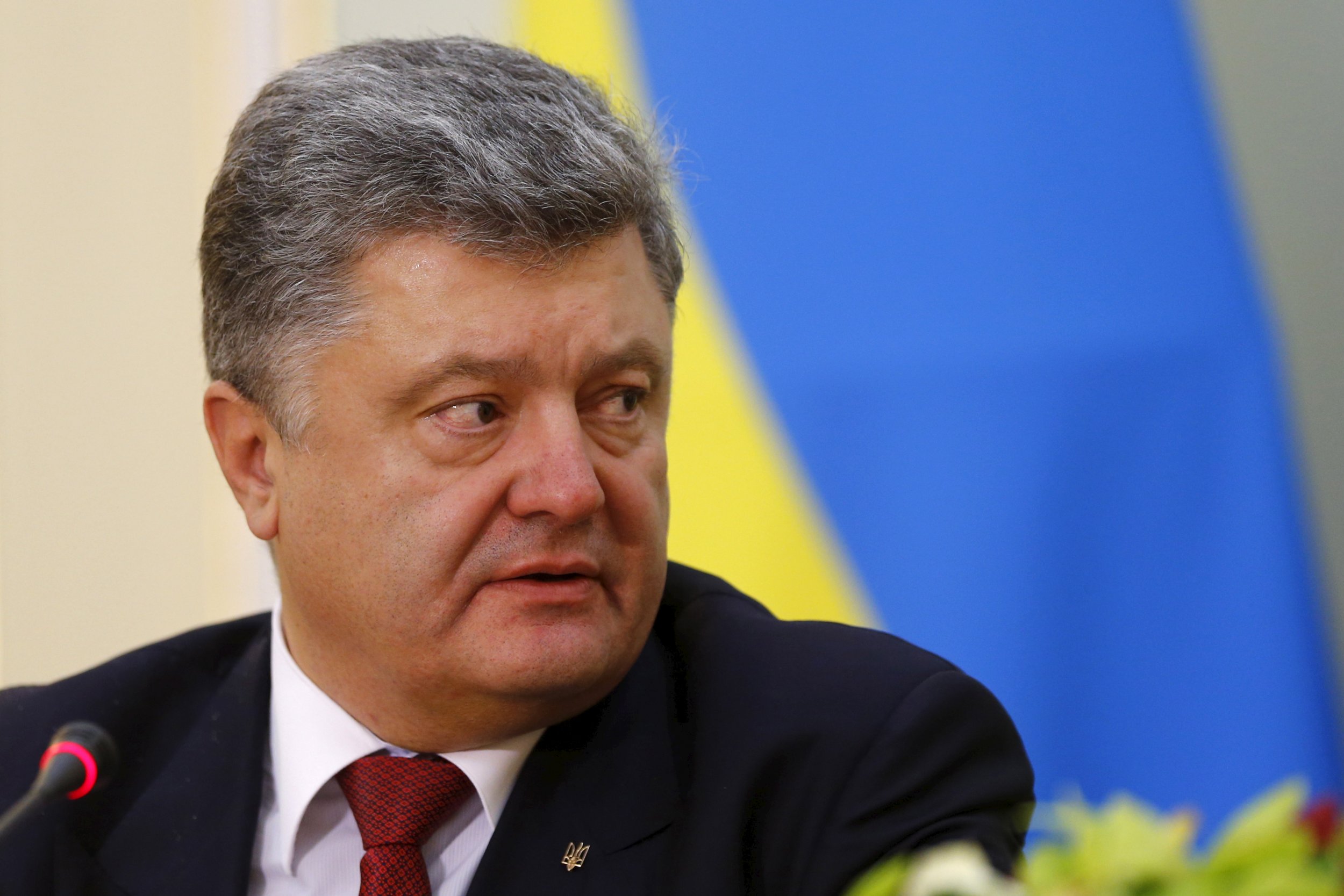 While much of the focus on the Panama Papers leak has been on Russia and Vladimir Putin, Ukraine President Petro Poroshenko is also under serious pressure.
Supposedly anti-corruption, Poroshenko is facing impeachment calls in parliament, after the documents showed that the leader registered an offshore company on the day of a bloody defeat for Ukrainian forces in 2014.
Poroshenko registered Prime Asset Partners Ltd on August 21, 2014, with company records in Cyprus pointing to him as the firm's only shareholder. The same day, around 1,000 Ukrainian soldiers were reported killed after a pro-Russian offensive in east Ukraine.
Not only was the date of the deal unfortunate for Poroshenko, but it is also ironic that while his government was cracking down on an estimated loss of almost $12 billion in tax revenue from offshore companies, he himself may have saved millions, according to Kyiv Post.
The Ukrainian leader, who is a self-made millionaire with a large confectionary business, promised to "wipe the slate clean" and dedicate himself entirely to politics, two months before winning the 2014 election. However, Poroshenko still controls his chocolate business, Roshen, and in May 2015 Bloomberg estimated his worth as $720 million.
Although the Ukrainian prosecutor's office said on Monday the president's actions were not against the law, his commitment to fighting corruption has been called into question. According to Andrew Wilson, Ukrainian politics expert at the European Council for Foreign Relations, Poroshenko is facing a double whammy, with the opposition questioning his commitments to reform and his patriotism.
"Ukraine seems to be in a downward spiral, with so few concrete achievements since what was supposed to be the 'Revolution of Dignity' in 2014," Wilson says. "The only source of political capital for the beleaguered politicians in office at the moment, besieged by populists and supporters of a rapprochement with Russia, is to appear to be either patriotic or pro-reform."
"The scandal hits Poroshenko on both counts, as he supposedly registered one offshore company on the very day of the bloody battle of Ilovaysk in August 2014," Wilson adds.
Poroshenko is already facing calls for impeachment in parliament in response to the Panama Papers. Oleh Lyashko, leader of Ukraine's populist Radical Party, has called Poroshenko's actions "the pinnacle of cynicism" both for their timing and for allegedly seeking to avoid Ukrainian tax at a time of great economic difficulty in Ukraine. Lyashko has announced he is beginning a legal challenge to see Poroshenko impeached.
Transparency International's Ukrainian desk has also piled pressure on the Ukrainian leader, urging him to speed up the launch of an online system for officials to declare property, news site Ukrainskaya Pravda reports. The organization also urged the president to put "truthful information" on his declaration and said that opening offshore companies while president was a violation of "anti-corruption standards."
Poroshenko responded to the claims by posting a statement on his Facebook in Ukrainian and English in which he promised his lawyers would explain the situation. Poroshenko said he no longer handles his business assets and declared himself "the first top office official in Ukraine who treats declaring of assets, paying taxes and conflict of interest issues profoundly and seriously."
The scandal comes at a time when Kiev has effectively turned on Poroshenko's former ally, Prime Minister Arseniy Yatsenyuk. He is himself facing a protracted process that aims to oust him amid allegations of stunting reform to the benefit of oligarchs.
"The revelations of Poroshenko's offshore accounts will further destabilize the Ukrainian government, which has been in a state of crisis for over a month," says Daragh McDowell, Principal Europe and Central Asia Analyst at risk consultancy Verisk Maplecroft. "Corruption scandals have been particularly corrosive to the government's credibility and public support. The release of the Panama Papers significantly increases the risk of early elections."
"Poroshenko's credibility in the eyes of Ukraine's Western allies will take a massive hit at a time when political infighting has already delayed the release of IMF loans," McDowell adds. "In the event of fresh elections, the most likely beneficiaries will be small parties controlled by the oligarchs and the Opposition Block—the de facto successor to former President Viktor Yanukovych's Party of Regions."
Yet more political instability is the last thing Ukraine needs at the moment as the International Monetary Fund and the U.S. warned Kiev in December 2015 that the political deadlock and lack of reform may dissuade the West from continuing its $17.5 billion bailout.
Since then, Ukraine's prosecutor general lost his job, while a failed push to oust Yatsenyuk as prime minister forced smaller parties to flee the ruling coalition. Protracted discussions in parliament about the conditions for replacing Yatsenyuk have been ongoing since February with lawmakers still to agree the succession strategy between themselves and with Yatsenyuk.