Panama Papers: Nigeria's Senate President Bukola Saraki Under Pressure After Leak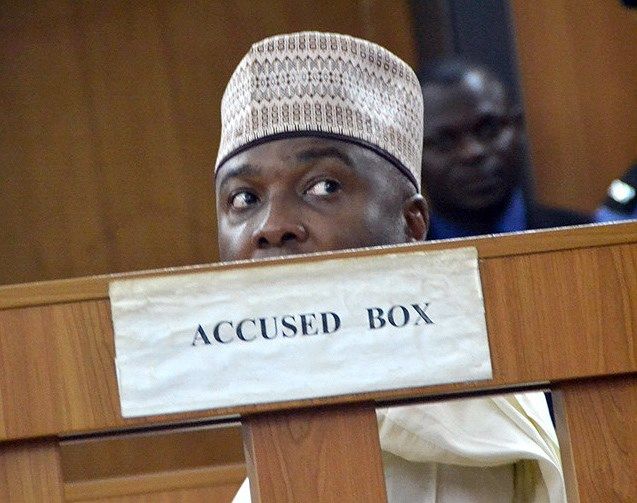 In Nigeria, the Panama Papers leak could be about to claim its latest high-profile victim.
Bukola Saraki, the president of the Nigerian Senate, has been caught up in the scandal relating to the leak of 11.5 million tax documents from Panamanian law firm Mossack Fonseca.
Saraki—who is currently on trial in Nigeria on charges of fraud, including false declaration of assets, all of which he denies—is accused of failing to declare at least four offshore assets listed under his wife Toyin's name. The assets include a property in London's plush Belgravia neighborhood, as well as two companies registered in the British Virgin Islands and a third in the Seychelles, both known tax havens, according to Nigeria's Premium Times, a media partner in the Panama Papers investigation.
Holders of public office in Nigeria are required by law to declare their own assets, as well as those of their spouse and children under 18 years of age.
Saraki issued a statement on Monday protesting his innocence, saying that he has "fully complied with the provisions of the law" on declaration of assets. The statement said that the properties in questions were held by the family of Saraki's wife and that "the law does not require a public officer to declare assets held by the spouse's family."
Combined with the ongoing fraud trial, however, the revelation is likely to heap pressure on Nigeria's third-most powerful politician behind President Muhammadu Buhari and Vice President Yemi Osinbajo.
The All Progressives Congress politician previously served as the governor of Kwara state in west Nigeria between 2003 and 2011 before entering the Senate, the upper house of Nigeria's National Assembly. A qualified physician and former banker, he was elected as Senate president in June 2015. The issuing of an arrest warrant for Saraki in September 2015 by Nigeria's Code of Conduct Tribunal on 13 counts of alleged corruption was the first time in Nigerian history that a sitting Senate president had been subjected to such a warrant.
Saraki's trial revolves around his time as Kwara state governor. Charges against him include acquiring wealth beyond his legitimate earnings and holding a foreign bank account while in public office, which violates the fifth schedule of Nigeria's constitution.
Prosecution witness Michael Wetkas, who headed up the anti-graft agency team that investigated Saraki, said on Tuesday that Saraki had laundered money through British and U.S. bank accounts and had failed to properly declare most of his assets. According to Wetkas, Saraki's Nigerian account had a total inflow and outflow of up to 4 billion naira ($20 million) between 2005 and 2013, AFP reported.
Following the Panama Papers leak, Nigerian civil society groups have called upon President Buhari—who has made tackling corruption a key prong of his administration—to launch a probe into Saraki and other top officials implicated by the leak. Such a probe could raise further difficult questions for Saraki and is the last thing the embattled Senate president needs.