Panasonic Toughbook A3 Review: The Essential Tablet for Essential Workers
The Panasonic Toughbook A3 is a rugged Android tablet with a bright display, designed with first responders and industrial use in mind. It can survive a drop of up to six feet, and its 10.1-inch screen is bright enough to use in direct sunlight. It has a glove mode, and you can use it in the rain. Just as important for these times, it's tested to handle cleaning with popular disinfecting wipes. It also features an integrated barcode scanner, customizable buttons and support for connecting to two mobile networks.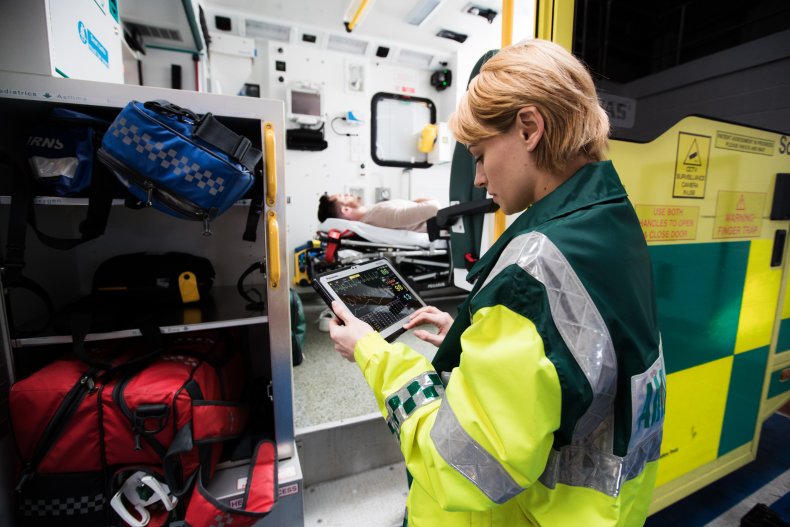 We've tested the Toughbook A3 on the trails, as well as outside in the heat, and this is what you need to know.
Unlike consumer tablets, you don't need to put a case on or invest in accessories to be work-ready. The Toughbook A3 is MIL-STD-810H certified, which means it can survive a drop up to six feet. It's also IP65 dust- and water-resistant, so it can be used wherever your job takes you.
Its rugged design is easy to grip and while the tablet is solid it isn't heavy. Ports are securely covered to keep dirt and fluids out, but easy to open when you need them. This is handy on the trail, and also useful in an ambulance or a warehouse. Panasonic tested sanitizing the A3 with 10,000 applications of popular disinfectant wipes, from alcohol prep swabs to Clorox Healthcare Bleach Germicidal Wipes.
The full HD 10.1-inch display can brighten to 500 nits indoors and 800 nits outdoors, which means first responders outdoors wouldn't need to hunt for shade or find a good viewing angle. The screen works with gloves on, and it has a mode for rain so that drops don't register as a touch.
Its battery life is rated for all-day use with its two standard batteries. LEDs on the back of the tablet show a low-battery indication for each battery, and an LED on the front of the tablet shows a charging status as green, orange while charging and red when the batteries are low. Users can hot-swap batteries to keep going, and Panasonic offers 5,580mAh extended batteries.
The Toughbook A3 features a built-in barcode reader that works out of the box, but it is available with a Smart Card Reader or another USB port for organizations that don't need a scanner. Connectivity includes one USB A, one USB C, and a headphone jack. There is a microSDXC slot that supports cards up to 64GB. It includes a pen that fits into a storage slot with a small tether that keeps it at hand.
Connectivity is designed with first responders in mind, and it's also great for mission-critical workers in factories. In addition to Wi-Fi and Bluetooth, the A3 is available with dual-SIMS that can connect to LTE and there is support for FirstNet, which can prioritize connectivity for first responders on AT&T's network. The Toughbook A3 also supports GPS and near field communication (NFC).
The rugged design, connectivity and features combine with productivity+, which includes built-in apps, customizable buttons and the ability to lock the A3 to a single app. The tablet currently runs on an Android 9.0 operating system, but an upgrade path is planned.
It features five customizable buttons that can launch apps, open specific settings, like the screen mode, start the barcode scanner and other options. One can use button combinations and short or long presses to add additional shortcuts to apps and actions that are needed instantly on the floor or when working with a patient.
This software suite makes it easier to deploy to workers in the field who need the tablet to do one or two things quickly and reliably.
A 5MP front-facing camera is more than capable enough for video calls. The rear 8MP camera can easily show a colleague what is happening at a crash scene, in an ambulance or to document a scene.
The Toughbook A3's speakers have impressive volume, hitting 91db in our testing, and they are loud enough to be heard on the side of a busy highway.
The Panasonic Toughbook A3 can be an essential tool for first responders and mission-critical workers who need a rugged, outdoor-ready tablet with reliable connectivity, customizable buttons, and long-term support.
The price for Pansonic Toughbook A3 starts at $2,699, and it is available now.