Pancake Mix Recalled Across U.S. Over Possible 'Cable Fragments'
Several brands of pancake and waffle mix have been recalled across 17 states from one major food retailer, and another has been recalled nationwide. The company that issued the recalls stated there are possible "cable fragments" in the mixes.
Continental Mills issued multiple recalls over the weekend, starting with two lots of pancake and waffle mix sold at Kroger. The other was a nationwide recall of Great Value pancake and waffle mix, which is sold at Walmart.
"Fragments from a cable used to clear the processing line were discovered in a limited amount of product," Continental Mills declared in its recall statement, according to the U.S. Food & Drug Administration (FDA).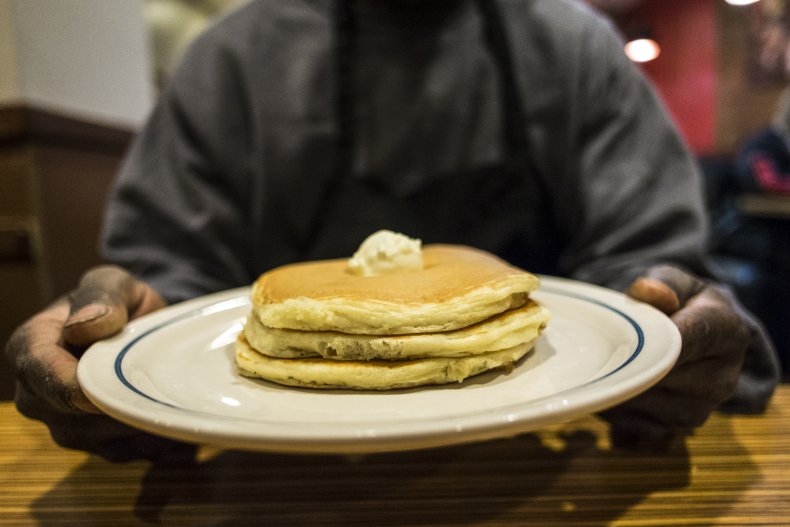 The affected Kroger Buttermilk Pancake & Waffle Mix is packaged in a 2-pound box. It has a UPC 01111088219. Its lot codes are KX2063 and KX2064 and have a "Best By Date" of September 1 and 2, 2023. It was distributed in 17 states, mostly in southern U.S. states and a few midwestern states. Those states are: Alabama, Arkansas, Florida, Georgia, Illinois, Indiana, Kentucky, Louisiana, Michigan, Missouri, Mississippi, Ohio, South Carolina, Tennessee, Texas, Virginia, and West Virginia.
Meanwhile, Walmart is recalling its brand—Great Value—of mixes for one particular lot from all of its stores nationwide. The Great Value Buttermilk Pancake & Waffle Mix, which has a UPC 078742370828, a lot code of KX2063, and Best By Date of September 1, 2023, is getting recalled nationwide for the same "cable fragments" cause.
There have been no reported injuries or illnesses from any of the aforementioned products, but Continental Mills took swift action ahead of time.
"If you have recently purchased any of the products noted above, please dispose of the product or please return the product to your store for a replacement or refund," the company said in separate recall announcements. "Food Safety is the highest priority for Continental Mills and the company is acting swiftly for the safety of consumers. Continental Mills is working with the FDA and retailers to ensure any affected product is removed from the marketplace immediately."
For anyone requesting more information, or to request a refund, they are asked to call the Recall Phone Hotline at 1-800-578-7832, Monday – Friday between 10 a.m. to 7 p.m. ET.
Continental Mills, which is based in Tukwila, Washington, distributes its products through retail, food service, and club store channels throughout the United States.
The FDA often announces recalls of products. For example, just last week, the agency announced the recall of fresh cut fruit and vegetables for Listeria monocytogenes, French vanilla yogurt for undeclared egg, and flour tortillas for undeclared wheat.