A group of researchers have decided on a name for the unprecedented reductions in human activity seen during the COVID-19 pandemic: the "anthropause."
In an article published in the journal Nature Ecology & Evolution, the authors say that while the global health crisis has clearly had devastating consequences, the fall in human mobility on land and at sea—unparalleled in recent history—provides an invaluable opportunity for scientists to study our impact on the planet's wildlife.
"Reduced human mobility during the pandemic will reveal critical aspects of our impact on animals, providing important guidance on how best to share space on this crowded planet," the authors wrote in the article.
During the pandemic, many nations around the world implemented lockdowns in order to mitigate the spread of the disease. The effects were often drastic, sudden and widespread, causing significant disruption to societies. However, the overall impact on wildlife remains unclear, with the experiences of different species likely varying considerably.
The common perception drawn from anecdotal observations has been that the lockdowns have benefited wildlife, with countless social media posts documenting surprising animal encounters. Individuals have reported sightings of everything from pumas in downtown Santiago, Chile, to dolphins in the unusually calm water of Trieste harbor in Italy and jackals walking around Tel Aviv, Israel in broad daylight.
"As we gaze out of our windows, or relish a brief walk in the park, nature appears to have changed, especially in urban environments. There not only seem to be more animals than usual, but there are also some unexpected visitors," the authors wrote.
However, it also seems that some animals have come under increased pressure during the pandemic, and are now facing new challenges.
This is particularly true for animals found in urban environments, such as rats, gulls or monkeys, which have become so reliant on food discarded by humans, that they may struggle to survive while the current conditions persist. Furthermore, the economic hardships caused by the crisis may lead to an increase in poaching of wildlife in some low-income countries, or further destruction of natural environments where animals live.
"At present, it is impossible to say which observations have been hyped by social media, and which expert predictions about global animal responses will hold true. But what is clear is that humans and wildlife have become more interdependent than ever before, and that now is the time to study this complex relationship. A quantitative scientific investigation is urgently needed," the authors wrote.
While addressing the global health crisis and the resulting economic downturn should be a top priority for society, the international research community can use these extraordinary circumstances to gain a better understanding of how human activity affects wildlife, the authors said.
"The COVID-19 lockdown period—or as we call it, the 'anthropause'—will allow us to investigate in unprecedented detail how humans and wildlife interact around the globe," Christian Rutz, lead author of the study from the Centre for Biological Diversity at the University of St Andrews, U.K., told Newsweek.
"This research opportunity was brought about by the most tragic circumstances, but it is one we feel we cannot afford to miss, as it can provide critical information for planning a sustainable future on this planet."
Several global collaborative research projects are already addressing this issue, including the recently formed COVID-19 Bio-Logging Initiative, which involves authors of the latest article. The aim of this project is to use data collected by "bio-loggers"—miniature electronic devices attached to animals including fish, birds and mammals—in order to monitor their movements, behavior and physiological factors, such as stress levels.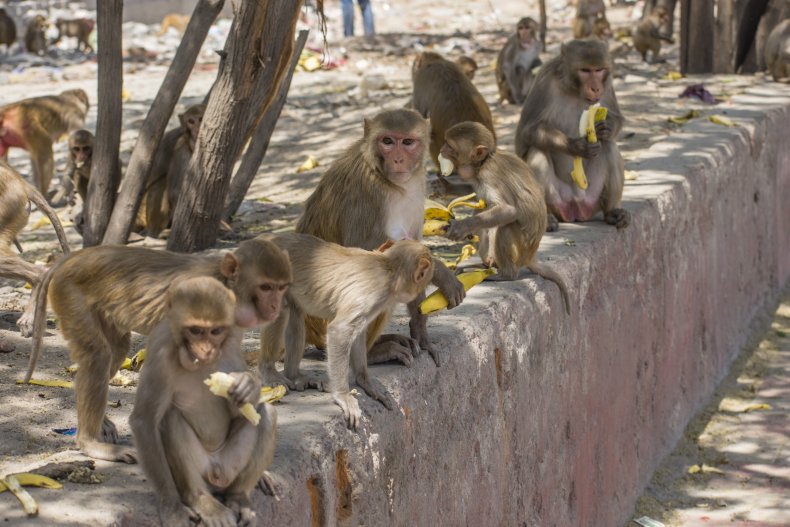 The data collected from these bio-loggers before, during and after the pandemic, will provide researchers with fascinating new insights into human-wildlife interactions and the effects of lockdown.
According to the authors, this kind of research using data from the "anthropause" could help scientists to answer questions that have been difficult to answer before, such as: "are the movements of animals in modern landscapes predominantly affected by built structures, or by the presence of humans?"
Furthermore, it will help scientists to identify species that are seriously affected by human activity, and better understand how different animals are able to adapt to change.
These insights will enable humanity to come up with realistic, evidence-based proposals for improving our co-existence with wildlife on this planet, according to the authors, at a time when our species is transforming the earth's environments at an unprecedented rate, the authors said.
Understanding the links between humans and the behavior of wildlife is key to preserving global biodiversity, maintaining the integrity of ecosystems and predicting environmental change or outbreaks of zoonotic diseases—those that spread from animals to humans.
This knowledge is vital for shaping a sustainable future, while also being worth billions of dollars to the world economy. However, to date, researchers investigating the effects of human activity, or disturbance, on wildlife have had to rely on purely observational approaches.
In other words, they are usually limited to making comparisons between just a few study sites that differ in activity levels—for example, protected and unprotected areas; or urban and rural areas—or to tracking response in areas where activity levels changed, perhaps because of a change in protection status.
The anthropause, however, will allow researchers to investigate effects across different species, ecosystems and geographic regions, according to Rutz.
"The scientific insights generated by these collaborative research projects will provide benefits for both wildlife and humans. Nobody is asking humans to stay in lockdown. We may discover that fairly minor changes to how we lead our lives can generate major benefits for ecosystems and human well-being," he said.
These minor changes could be small modifications to transport networks, for example, which could significantly reduce unintended disruptive effects on the movements of some animals.
Finally, the authors say that global wildlife research initiatives during the anthropause may provide data that will have implications far beyond the field of conservation science.
"It will challenge humanity to reconsider our future on Earth," the authors wrote. "There will be unforeseen opportunities to reinvent the way we live our lives, and to forge a mutually beneficial coexistence with other species."
"It would be wonderful if careful research during this period of crisis helped us to find innovative ways of reining in our increasingly expansive lifestyles, to rediscover how important a healthy environment is for our own well-being, and to replace a sense of owning with a sense of belonging. We hope that people will choose to hear the wake-up call."