Politicizing and Polarizing the Pandemic Pinned America As Global Epicenter
The U.S. has the highest number of coronavirus cases and deaths in the world. Data from the Centers for Disease Control and Prevention (CDC) shows there have been over 15,000 cases almost every day since the end of March. On Tuesday, over 34,000 new cases were recorded.
It has now been suggested the uptick in COVID-19 cases may, in part, be due to politicization of the pandemic, with a failure to coordinate a unified response across the country.
In a study published in Science Advances, a team of political scientists analyzed over 30,000 tweets from members of the U.S. Congress. They found rapid politicization and polarization of the pandemic. "We found that once the parties started to figure out the political implications of the issue, polarization was evident in the tweets pretty quickly," study co-author John Green, from Ohio State University, said in a statement.
"Something on the scale of COVID-19 requires a large-scale government response. The government can respond much better when it is united in its mission." The findings, however, suggest Congress failed to develop a consensus to better respond to the national crisis.
The lack of a national strategy was highlighted as a problem by Scott Rosenstein, director of global health group at political risk consultancy Eurasia Group. He told Newsweek that the public health messages for responding to the virus were relatively straightforward—social distancing, investment in hospital capacity, testing and contact tracing, and so on. By implementing these measures, a country would be able to "get in front" of the epidemic before relaxing social distancing. "The US did not follow this path," he said in an email.
While the nation was able to "flatten the curve" and put testing and tracing infrastructure in place, "the curve was not 'bent' downward to a place where outbreaks were easily manageable," he said. "And testing and tracing infrastructure were not fully in place when a number of states decided to claim victory and relax social distancing guidelines."
As well as the relaxation of social distancing amid continued transmission, the politicization of the issue led to huge discrepancies in risk recognition. "What you have now in many states is an approach that basically says, 'as long as the hospitals aren't overwhelmed, we aren't social distancing again,'" Rosenstein said. Hospitalizations generally provide a view of transmission rates from a few weeks earlier. As a result, he said, testing and tracing will not be enough to get the virus back under control straight away.
B. Aditya Prakash, Associate Professor in the College of Computing at Georgia Institute of Technology, works on COVID-19 forecasting models. His team uses deep learning to make projections of the pandemic at national, regional, state and local levels. This, it is hoped, will provide time to decision-makers as to how and when to allocate resources.
"In many respects, the U.S. is unique," he told Newsweek via email. "It is a highly mobile country and there are largely impactful observable differences across the country in the factors related to the pandemic i.e., different public health guidance, different government. interventions, attitudes, varied population densities, socio-economic factors and so on. This has made modeling and controlling non-trivial. At the same time, because of these factors, the death toll is also very non-uniform—while the New York City area still accounts for a large share of the total U.S. deaths, many parts of the country have hardly experienced even one wave yet."
Rosenstein said the "piecemeal approach" of states being given autonomy over their response "severely curtailed" some elements of pandemic preparedness. He said coordinating a response at a federal, state and local level, along with having balanced evidenced-based messaging that avoids politicizing public health, are key.
"None of this has happened," he said. "States consistently ignored the CDC's straightforward and justifiable reopening guidelines. The President continues to contradict health experts, creating confusion and further polarization. And now we have expanding outbreaks in some states where there are insufficient resources, community disdain for tried and true public health efforts, and state leadership that is reluctant to make difficult decisions out of fear of political reprisal."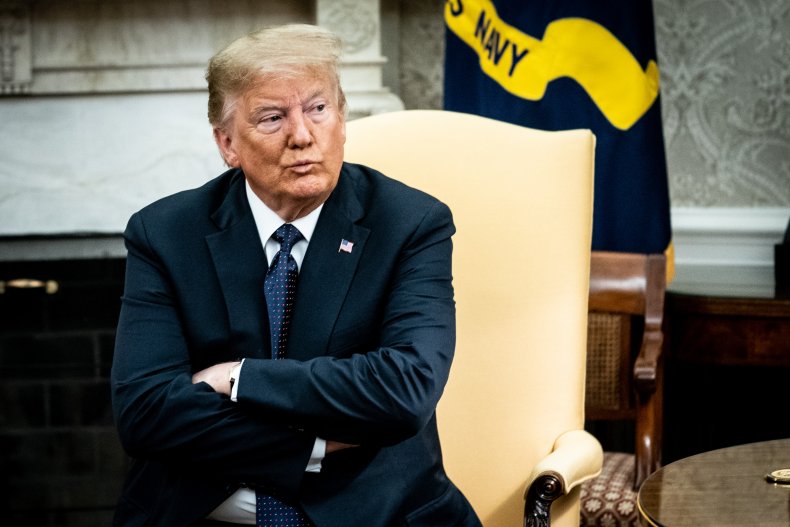 Initially Democratic states were hardest hit by the virus. In response to calls for financial aid at the end of April, President Donald Trump tweeted: "Why should the people and taxpayers of America be bailing out poorly run states (like Illinois, as example) and cities, in all cases Democrat run and managed, when most of the other states are not looking for bailout help?"
However, this soon started to shift and the virus has now taken hold in Republican-won states, where people had come to view it as less of a threat than their blue-voting counterparts.
Current projections from the University of Washington's Institute for Health Metrics and Evaluation (IHME) suggest 180,000 people in the U.S. will have died from COVID-19 by October 1.
The IHME also predicts a second wave of infections to start in September. Both Rosenstein and Prakash say this is not inevitable if the virus is brought under control.
Rosenstein said the country's ability to respond to outbreaks is "unparalleled" in terms of its research capabilities and its private sector and federal government resources. If these resources are harnessed properly, the U.S. should be able to get ahead of the outbreak. He originally predicted this would happen by mid-to-late summer.
"That's still possible but my confidence in that position continues to decline. With the necessary sense of urgency and commitment at the state level...I still think it's likely that the U.S. will be able to make the necessary investments and control its outbreak by the fall/winter, just in time to hopefully mitigate the impact of a true second wave of cases, and flu season.
"But my confidence in that call continues to decline because of the continued politicization of the data and public health advice and the possibility that a contentious and polarizing election campaign will introduce new levels of uncertainty, division, and coordination shortfalls into our national response. This may result in a continued patchwork pandemic, where localized outbreaks persist throughout 2020."