Pandemic Expected to Shrink U.S. GDP by $8 Trillion, Congressional Report Says
In just a few months, the coronavirus pandemic has devastated U.S. businesses and spending to the extent that it will shrink the country's gross domestic product by nearly $8 trillion over the next decade.
A January report from the Congressional Budget Office provided to lawmakers on Monday showed that when adjusted for inflation, the GDP will be $7.9 trillion less by 2030—or 3.0 percent of cumulative real GDP—than what the nonpartisan agency predicted it otherwise would have been The "nominal" output will be $15.7 trillion—or 5.3 percent—less.
The revelations represented the degree to which the global health crisis has crippled the American economy and will hinder it for years to come. Last week, the Department of Labor said a total of more than 40 million have filed for unemployment benefits since the onset of the virus in mid-March.
Senate Minority Leader Chuck Schumer (D-N.Y.) and Senator Bernie Sanders (I-Vt.), who requested CBO to conduct and issue the report, used the bleak economic status to reignite their demands that Republicans and Majority Leader Mitch McConnell (R-Ky.) immediately dole out more federal aid to struggling Americans.
Lawmakers continue to debate when and how to further respond to the pandemic in the wake of Congress providing a total of nearly $3 trillion on economic relief. That includes jobless benefits that the federal government is helping to subsidize that will stop occurring at the end of July.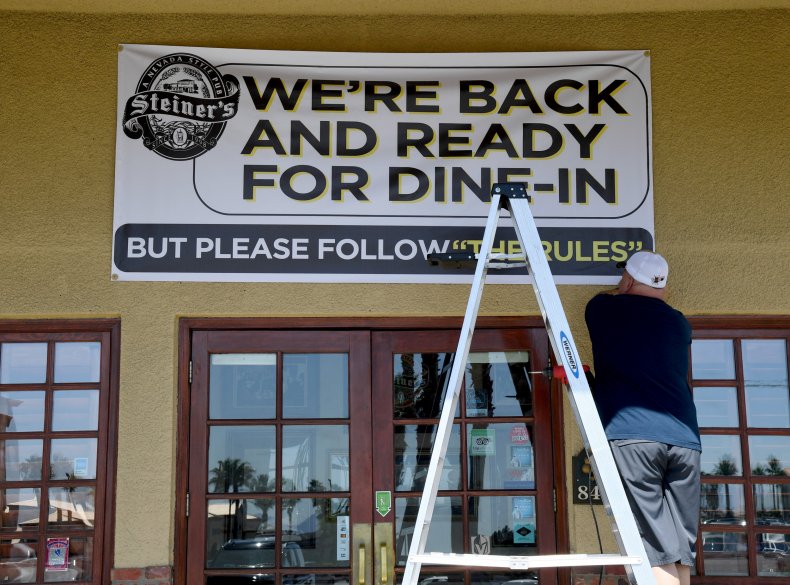 "How can Senator McConnell look at these catastrophic economic numbers and believe there is no 'urgency' to protect America's working families?" Schumer and Sanders said in a joint statement. "At a time of massive wealth and income inequality, how can President Trump believe that what this country needs is another huge tax break for the top one percent?"
White House Domestic Policy Adviser Brooke Collins told Politico Monday that President Donald Trump was eyeing certain proposals for Congress' next stimulus package, which Republicans have signaled will not come until sometime in July. Among the measures Trump would like included, Collins said, are payroll tax cuts, restaurant industry bailouts, liability protections for companies that are reopening, payroll tax cuts and infrastructure funding.
Democrats, meanwhile, have passed a massive $3 trillion package in the House that includes items like another round of individual checks, an expansion of the unemployment benefits that includes an extra $600 per week from the federal government, hazard pay for frontline workers and more state and local aid.
However, the bill is far too bloated, McConnell has said, who is eyeing to eventually pass something more around one-third the size. He and some other Republicans have said they will not support extending the beefed-up jobless benefits, much to the dismay of Senate Democrats.
"The American people cannot afford to wait another month for the Senate to pass legislation," Schumer and Sanders added. "They need our help now."