Pandemic Is Likely to Undo Progress on Gender Wage Gap, New Research Shows
Equal Pay Day—the day that marks how far into the next year women must work to earn as much as men did the year before—falls nine days earlier this year, on March 15, vs. March 24 in 2021. But rather than reflecting a true narrowing of the gender wage gap, new research by Payscale suggests the improvement is artificial, likely to be short-lived and a precursor to a widening of pay disparities between men and women to levels not seen for many years.
The impact of COVID on working women's lives is the reason for both the modest current improvement in the gender wage gap and the likelihood that it will widen again in the future.
Since the pandemic began two year ago, millions of women have left their jobs, at higher rates than men, because of mass layoffs in female-dominated fields and childcare demands triggered by school and daycare closures. Over that period, Payscale's research shows, the gap between what men and women are typically paid narrowed by three cents, with women earning $.82 for every dollar a man made in 2022, compared to $.79 in 2019.
"This change gives the indication that the gap has improved, but what's actually happened is that a lot of women who left the workforce held lower-wage jobs," says Ruth Thomas, Payscale's pay equity strategist.
As more women return to work, though, the gap looks poised to widen and could actually be worse than pre-COVID, new Payscale data indicates. In the survey, women returning to jobs after long absences earned as little as $.70 to the dollar compared to men with similar resume gaps, and the disparities were particularly pronounced for women with children, a phenomenon known as "the motherhood penalty."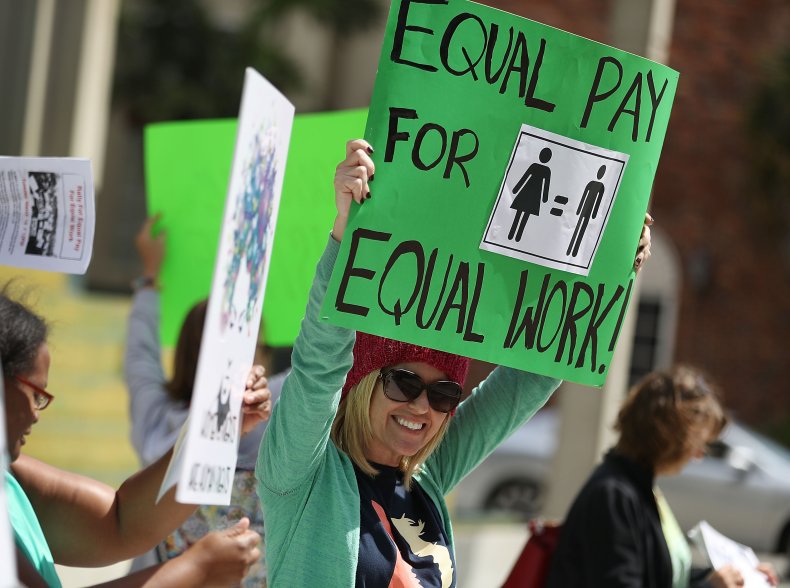 The Unemployment Wage Gap
The data from Payscale's 2022 State of the Gender Pay Gap Report shows that the more time women spent out of the workforce over the course of the pandemic, the bigger the wage penalty they faced compared to men when re-entering the workforce.
A resume gap of three months or less, for example, resulted in women earning $0.83 when hired for every $1 earned by a man with a similar length of unemployment. But when men and women were out of the workforce for three to 24 months before landing a job, the wage gap widened, with women earning between $0.77 and $0.79 for each $1 that a man made.
And women earned just $0.70 for every $1 men took home after more than 24 months of unemployment, a threshold those who left in the first days of the pandemic will cross in the next month or so if they've not already rejoined the workforce.
Most of these women left their jobs for family reasons: A full 85 percent of those who reported the primary reason they were unemployed was because they were caring for a child, compared to just 15 percent of men, Payscale found. Similarly women reported caring for a family member other than a child at twice the rate of men.
The gender pay gap was widest for these groups compared to those with any other reason for unemployment, according to the report. Overall, women who reported they were parents or primary caregivers earned $.74 for every dollar earned by a male parent last year.
Why the Pay Gap Persists
The one bright spot in the Payscale report: When all other factors, such as job role, title, seniority, experience, education, location and industry, are held constant and gender is the only point of differentiation, the wage gap shrinks dramatically to three cents or less and, in some cases, disappears entirely.
This so-called controlled pay gap shows that outright gender discrimination at the point of hiring by employers is a tiny factor, if it factors at all, in explaining the earnings gap. However, that comparison belittles the problem that workplace benefits, societal pressures and gender norms still play in this wider non-controlled wage gap seen between women and men who experience a period of unemployment.
"The uncontrolled wage gap is more reflective of women's experiences and opportunities in the workplace to earn the same," says Thomas. "Many people say it is the choices women make that led to this gap, such as taking a break to raise children or moving into lower-paying less-demanding roles to balance childcare. But many fathers don't have access to paternity or family leave benefits and there are also cultural perceptions pushing that women should stay at home or be the carer."
According to research from insurance agency AIG Life, women are nearly three times more likely to take time off to care for family—a finding that echoes the results of the Payscale research.
The Cost to Women Goes Beyond Salaries
Those breaks, unfortunately, cost women more than just smaller paychecks. It, in turn, dampens their Social Security benefits and ability to save, resulting in hundreds of thousands of dollars in lost income over their lifetimes.
An exclusive analysis conducted by economist Michael Madowitz of the Center for American Progress for Newsweek last year found that a woman earning a median wage of $47,299 before the pandemic would lose more than $250,000 in income over her lifetime if she spends two years out of the workforce. The average college-educated woman, with a median income of $62,140, would be out nearly $100,000 more for a similar career hiatus.
State and local governments have begun to recognize the huge costs to women of unequal pay and enacted new labor laws, often called pay or salary transparency laws, which require employers to post salary ranges on jobs or refrain from asking a candidates' salary history. So far, California, Connecticut, Maryland, Rhode Island, Washington, Nevada and Colorado have done so as well as New York City, Cincinnati and Toledo.
"We're in this position where we've got a large population of women whose employment has been disrupted," says Thomas. "Posting salary bands and having salary transparency laws will hopefully remove some of the problems where women's wages are automatically held down because of their prior earnings and accelerate the pay gaps' closure."