Pandora Papers Live Updates: Reaction As Leaks Reveal How World Leaders and Billionaires Hide Their Wealth
A major leak of financial information - dubbed the Pandora Papers - has exposed how the world's elite avoid paying billions of dollars in tax through elusive offshore accounts and companies set up in tax havens.
Dozens of world leaders and billionaires have been named in the deluge of documents, including Presidents and Prime Ministers who have invested significant sums into U.S. real estate - including $100 million spent by King Abdullah II of Jordan on luxury homes in California.
Several governments have already announced investigations into the findings, revealed on Sunday after analysis by over 600 journalists from dozens of media organizations.
Follow Newsweek's liveblog for all the latest updates...
Imran Khan pledges to investigate people with hidden wealth in Pakistan - including political allies
Pakistan's Prime Minister has said the government will investigate citizens linked to the Pandora Papers - including members of his own administration.
The leak links hundreds of Pakistanis to wealth secretly moved through offshore companies and Khan confirmed earlier he would take action if any wrongdoing was established.
Former Hong Kong leader, exposed in Pandora Papers, lashes out at 'flames of irresponsible journalism'
In a series of Facebook posts on Monday, Leung Chun-ying accused Stand News of misrepresenting the facts and suggesting the media organization was being driven by ulterior motives after it published allegations about his finances.
The outlet claimed that Leung conducted business through two offshore companies and sold his 30 percent stake in DTZ Japan for HK$2.3 million in the first of his five years as chief executive of the region.
Which celebrities have been named in the Pandora Papers?
Singer Shakira and supermodel Claudia Schiffer are among the host of high-profile figures whose financial dealings have been probed in the Pandora Papers leak.
However, an attorney for Shakira—full name Shakira Isabel Mebarak Ripoll—has stated that the Colombian singer had declared her companies, which do not provide tax advantages, according to ICIJ.
Similarly, representatives for German fashion star Schiffer responded to the report by saying that the star pays her taxes in the U.K., where she is based, per ICIJ.
FULL STORY: Shakira, Claudia Schiffer Among Celebrities Named in Pandora Papers Leak
Graph reveals which countries have the most politicians exposed by the Pandora Papers
A Statista chart shows how many politicians from each country have been exposed for hiding their significant wealth in offshore accounts and shell companies.
Both Russia and Ukraine have a significantly higher number of people caught up in the scandal - many of them reported to be friends of Russian President Vladimir Putin.
The U.S. does not feature in the top 10 but its close allies do, including the U.K.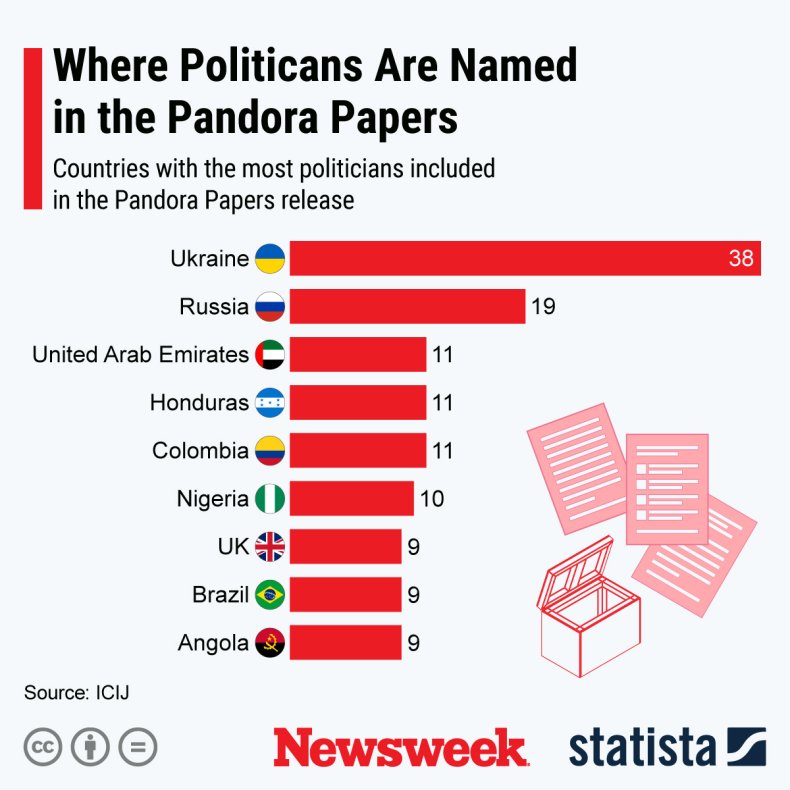 How much data was leaked?
Almost a staggering 12 million documents - totaling 2.94 terabytes - were leaked from 14 companies in countries including the British Virgin Islands, Belize, Cyprus, the United Arab Emirates, Singapore, Switzerland and Panama - the source of the previous Panama Papers scandal.
The leak is similar in size to the 2015 revelations, which saw 11.5 million records exposing similar activities leaked to the press. The number of documents from the Pandora Papers is so large that over 600 journalists - from more than half the world's countries - have spent most of 2021 searching through the data.
Papers reveal U.S. as 'safe haven' for elite to invest and hide wealth
The leaked documents reveal that the U.S. is allowing many billions of dollars of wealth to remain hidden through a series of loopholes in its tax laws.
Reports from the Guardian reveal that South Dakota is particularly popular with those looking to discretely move around their money, with the state sheltering billions linked to people previously accused of serious financial crimes.
The findings could prove embarrassing for the Biden administration, which wants to be seen as cracking down on the shady activities of the wealthiest people.
U.K. announces investigation into avoided Pandora Papers taxes
Chancellor Rishi Sunak confirmed to Sky News this morning that HM Revenue and Customs - the British equivalent of the Internal Revenue Service - will "look through those [documents] to see if there is anything we can learn".
But as the papers showed, this is a global phenomenon. We can do our bit, but we require other countries to co-operate with us as well and you will continue to expect us to press on that.
King Abdullah of Jordan claims revelations 'misleading' and threatens safety
The country's royal court says the King's overseas homes - including $100 million in U.S. real estate - are registered in external jurisdictions for "privacy" and "critical security considerations".
It also labeled the claims in the Pandora Papers reports "distorted" and "misleading", and suggested that revealing the location of his many properties significantly increases his security risk.
Good morning and welcome to Newsweek's liveblog
Reaction is pouring in from dozens of countries where political leaders, public officials, and famous businesspeople have been exposed for avoiding billions in tax and hiding their wealth in offshore tax havens.
Follow Newsweek's liveblog throughout Monday for all the latest.