CNN Blasts Donald Trump for Attacking Retired Navy SEAL: 'President Bone Spur is Mocking a Revered Military Hero'
A CNN panelist blasted President Donald Trump for his comments mocking retired Admiral William H. McRaven, calling the commander-in-chief "President Bone Spur."
In an interview on Fox News Sunday, Trump lashed out at the former Navy SEAL and 37-year military veteran who oversaw the killing of Osama bin Laden and capture of Saddam Hussein.
"Wouldn't it have been nice if we got Osama bin Laden a lot sooner than that, wouldn't it have been nice?" Trump said, calling McRaven a "Hillary Clinton fan" and "Obama backer." "You know, living — think of this — living in Pakistan, beautifully in Pakistan, in what I guess they considered a nice mansion, I don't know, I've seen nicer. But living in Pakistan right next to the military academy, everybody in Pakistan knew he was there."
CNN panelists Catherine Rampell and Jeffrey Toobin attacked Trump for his comments on Monday.
"President Bone Spur is mocking a revered military hero who took down bin Laden and claiming, 'Well, he should have done it earlier,'" Rampell, an opinion columnist for The Washington Post said, noting that the president had deferred the Vietnam draft for bone spurs in his heels. "Trump is someone who dodged the draft himself. Who is he to say that this revered military hero didn't do his job?"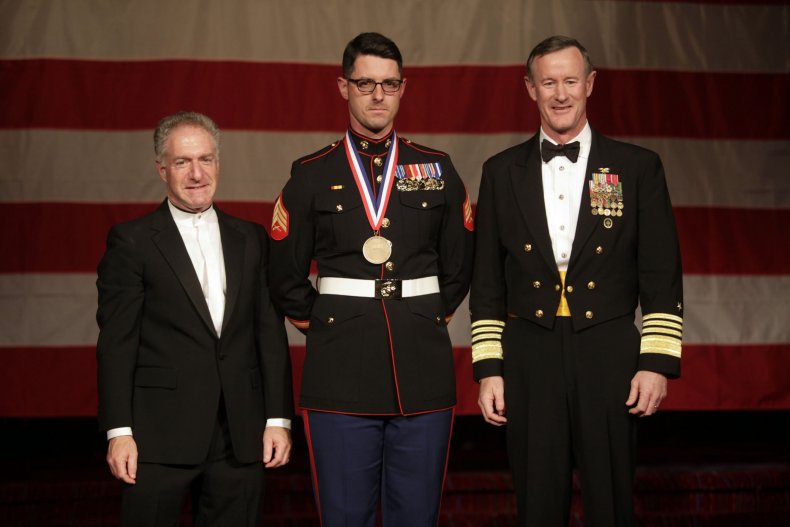 McRaven previously criticized Trump for revoking the security clearance of former CIA director John Brennan.
"You have embarrassed us in the eyes of our children, humiliated us on the world stage and, worst of all, divided us as a nation," McRaven wrote in an article published by The Washington Post in August. "If you think for a moment that your McCarthy-era tactics will suppress the voices of criticism, you are sadly mistaken."
In February 2017, McRaven called Trump's declaration that the media was "the enemy of the American people" the "greatest threat to democracy" he'd ever seen, according to The Washington Post.
A range of former military leaders have criticized Trump, challenging the president's attempts to position himself as a defender of the armed forces.
In remarks to commemorate Veterans Day, Trump said "so, in addition to everything else, as you see, I did the promotion of military spouse hiring across the federal government. The fact is, I've done a lot...That's more than anybody has ever even thought about, and I'm proud of it. And we're not finished yet. That's why I figured I did so much, I could leave now. But we're not finished. We never will be finished."
But he also recently drew negative attention after not visiting a military cemetery in France due to rain. Trump was harshly criticized by political commentators from both parties.
He has also previously drawn backlash for comments made to the widow of a deceased soldier and his statement that John McCain "was a war hero because he was captured. I like people who weren't captured."
CNN Blasts Donald Trump for Attacking Retired Navy SEAL: 'President Bone Spur is Mocking a Revered Military Hero' | U.S.