Panera Bread Investigated after E. Coli Outbreak In New Jersey, Health Officials Say
Update | An E. coli outbreak in New Jersey could possibly be linked to local Panera Breads, health officials say.
There are eight cases of the bacterial disease in four New Jersey counties, a spokeswoman from the Department of Health told Newsweek. Officials are investigating a Panera Bread in Phillipsburg, New Jersey.
"The state lab is conducting tests to see if the strain of E. coli bacteria (there are many) matches. The CDC will then conduct confirmatory tests. The NJ Department of Health is still awaiting lab tests to determine if these cases are linked at all. As more information becomes available, we will provide that to the public," said spokeswoman Donna Leusner.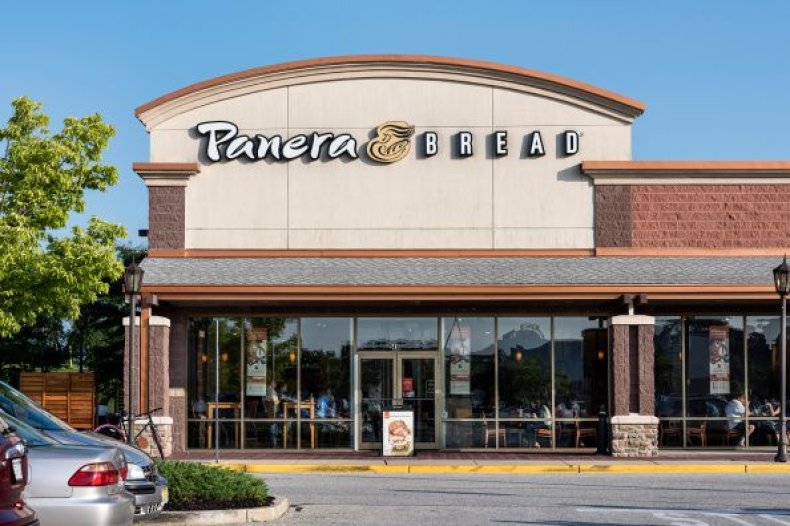 Sarah Perramant, a public health epidemiologist in Warren County told NJ.com that officials were investigating "local Panera Breads" in Phillipsburg, New Jersey.
"The Warren County Health Department and state Health Department are investigating a cluster of E. coli cases" potentially from "local Panera Breads," Perramant said.
Perramant said they have not determined the Panera Bread as the source for some people to fall ill, and that it is still an ongoing investigation.
After the health department gathers all of the food histories of the people who became sick, the information will be sent to the Centers for Disease Control and Prevention (CDC) to confirm how the bacteria was contracted, my.CentralJersey.com reported.
"It can be very difficult to determine where someone got sick," Leusner said. "Individuals could have eaten a number of meals in a number of places before getting sick. They could have eaten at several restaurants, at home or eaten food purchased at a supermarket. Sometimes the source of the food that made people sick is never determined."
Newsweek reached out to the Panera Bread corporate offices but did not hear back in time for publication.
According to the CDC, Escherichia coli, or E. coli, is a bacteria that can cause people to fall ill through exposure from contaminated water or food. Symptoms usually appear three to four days after the bacteria is ingested and can cause, abdominal cramping, diarrhea, loss of appetite, fatigue and fever.
Four days prior to the potential bacteria outbreak, the restaurant chain's website reportedly leaked customer records.
This article has been updated to include the new cases and a statement from the New Jersey Health Department.