Panic Buttons Added to Employee Badges at Missouri Hospital as Assaults on Staff Triple
Healthcare workers at a Missouri hospital will be given a panic button on their employee badges following a spike in assaults on employees during the COVID-19 pandemic.
Staff members at Cox Medical Center Branson have reported being spit on, cussed at and even beaten by patients, the Springfield-based news station KY3-TV reported.
In the past year, there have been a staggering 123 assaults and 78 injuries against the hospital's healthcare workers, according to the Skaggs Foundation, the Missouri nonprofit that is helping to fund the devices. In 2019, there were 94 assaults and 17 injuries, making for a 63 percent increase in injuries. Many workplace violence events also go unreported.
"It's in our critical care units, it's in our med surge floor areas. A lot of times it's repeated violence as well we may have the same patient doing the same thing or getting worse each time they do it," Angie Smith, the hospital's patient safety facilitator, told KY3-TV.
Smith said she realized the system was needed after analyzing these numbers. The buttons will have a GPS-like system so employees who are victims of violence can be found easily found.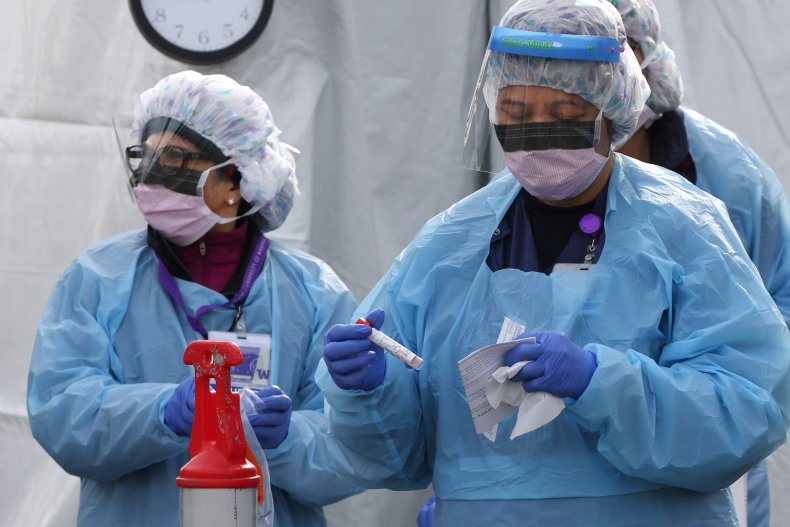 The buttons are being funded by a $132,000 grant by the Skaggs Foundation, the organization said in a press release.
"This project protects our No. 1 resource—our healthcare workers," Skaggs Legacy Endowment Grant Committee Chairman Nita Jane Ayres said in the statement. "When this project was presented to us in August, we saw the importance and urgency of it. Our healthcare workers already sacrifice so much but their safety should never be sacrificed."
Up to 400 employees could receive the devices, according to the foundation.
Nurse Ashley Blevins said she believes the pandemic has had an impact on the rising violence, saying she feels "it's nice we have the chance to press our button and security knows exactly where we are."
"They come in here and they have to sit in here because everywhere's full, we have no placements to put anybody and that's frustrating on the patient that's frustrating on us and I think that's increasing a lot of violence towards everyone," Blevins told KY3-TV.
The COVID-19 pandemic has taken a toll on medical workers across the country, who have put in long hours to treat large numbers of patients who have been infected with the virus. Many healthcare workers have been on the receiving end of violence both before and during the pandemic.
According to a data analysis by the Journal of the American Medical Association, violence against healthcare workers had been growing in the years preceeding the pandemic. In 2011, there were just over 8,000 nonfatal workplace injuries among healthcare workers.
By 2018, that number had topped 15,000.
There have been countless reports of healthcare workers being attacked during the pandemic, and the attacks are often mask-related. In September, a medical office worker in Buffalo, New York, was pepper sprayed after asking a woman to wear a mask.
A nurse in Spain lost sight in one of his eyes after he was attacked by a maskless man on a train in July.
And a nurse in Canada was allegedly assaulted by a man who accused her of vaccinating his wife. She was allegedly hit several times in the face and was recovering in a hospital last week.
Newsweek reached out to CoxHealth for comment but did not hear back before publication.