Panorama returns to New York City June 27-29. The musical artists have already been announced. Expect Janet Jackson, The Weeknd, Migos, SZA and The Killers, but these aren't the festival's only stars. THE LAB, powered by HP, will also return and Newsweek has the pleasure of announcing this year's talented artists and interactive installations.
Remember that place with trippy art and air conditioning? This year's version of The LAB is shifting to a more open layout in the name of creativity and sustainability. "We decided to play with the environment rather than fight against it and use this limitation of no large tented structure to embrace philosophically and literally, the idea of decentralization," said Justin Bolognino, founder of META and curator of THE LAB. "With blockchain and crypto burgeoning and exploding right now, we wanted to physically represent decentralization by instead of having a linear tour through the lab, you can pick and choose where you want to go at any given time."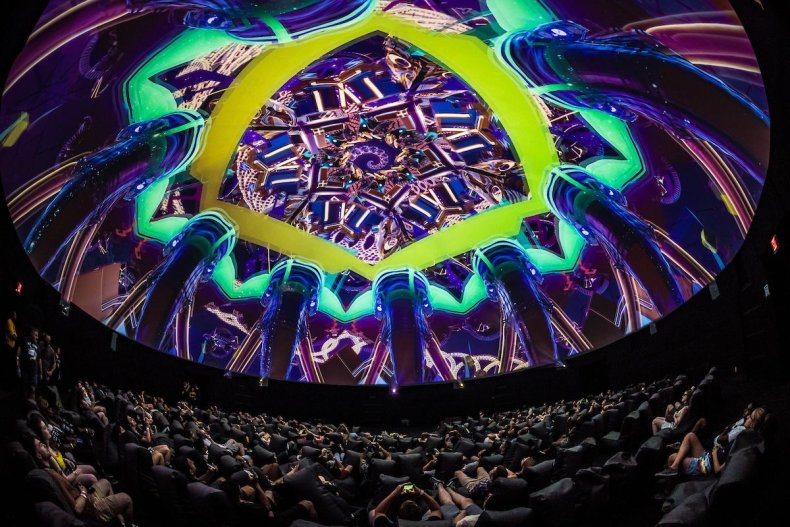 This year, the Dome experience takes festivalgoers inside a tree-lined grassy knoll at the highest point of the festival grounds. Think of this landscape as the container. This setup also alleviates what has been an artistic challenge for THE LAB since Panorama's debut year: the line. The first year, it wrapped around The Dome. Last year, the line was made into an immersive experience of its own. This year, Bolognino's production company, META, is scrapping the very concept of the line altogether.
"We purposely boxed ourselves into a whole new approach," said Bolognino. "We love limitations, we believe that parameters are what gets the most creative results. If it's just a wide open vacuum, you're usually just a deer in headlights."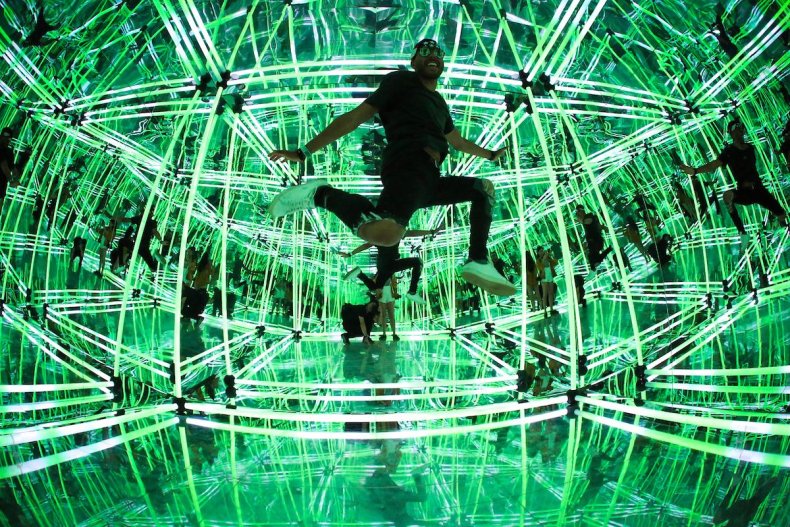 The Dome show, which Bolognino calls "the big exclamation point," is six and a half minutes long with a score from St. Vincent. It's a three-part story and this year, is even incorporating one of THE LAB's art installations. Two virtual portals connect two segments of the story inside The Dome experience, but the activation leading into The Dome show is a physical portal: The Portal to Flatland—a tunnel with an audio visual show by Magenta Field.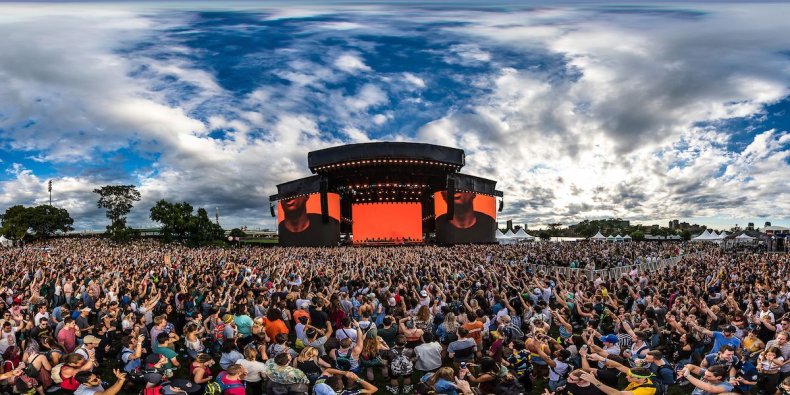 "I think a lot of these technology or immersive experiences go wrong when the goal is the technology," Bolognino said. "But what makes THE LAB so powerful is the technology is just the enabler of the experiences, it's not the experience in and of itself. There is a sense of transcendence to it. The technology is there not to quell that, but to amplify the humanity of it all."
Just as the two previous Panorama's, THE LAB continues to celebrate local artists. " Why Coachella is so successful is because it works with the natural environment of the desert," Bolognino said. "The fundamental principle of Panorama is its a festival that can only exist in New York City. By introducing all this technology by art, we put the artists as rockstars."
This year's artist lineup at THE LAB:
Pixel Vortex by The Windmill Factory
Pixel Vortex is an ethereal temple of play – a bioluminescent dreamscape of flying pixels. Upon squeezing through any of the multitude of openings you are immediately bombarded with LED balloons whirling in a powerful vortex of wind. The balloons swirl around the shimmering space, flowing up to the apex and back down. Persons enter and exit in games of hide and seek with their friends as they toss balloons around and play like children among the most technologically advanced balloon drop ever.
Infinite Wild by Smooth Technology
Infinite Wild is a solar-powered installation in which viewers find themselves surrounded by nature-inspired art. Flowing colors transport them on a journey through seasons, environments, and living animations. Sixty thousand LEDs dangle like vines around them as a mirrored ceiling and floor platform extends the image into infinity. Participants are invited in by a cooling mist that provides a much-needed respite from the midday sun. While strolling through this living jungle of LED vines, they can also be presented an opportunity to fill reusable water bottles, encouraging sustainability.
As Above, So Below by Kate Raudenbush
A transformative gathering space inspired by the fractal geometry of Sierpinski icosahedrons. It welcomes all to contemplate the humbling potential of their existence that occupies the here and now, and the infinitely large and infinitely small worlds that lie beyond their awareness, waiting to be discovered.
(hy-per-sub-tle) by Superbright
Look around with your phone's camera. You are surrounded by beautiful, strange and abstract human creatures dancing to the music from the festival. Augmented reality pushes the limits of our imagination. The immersive media is now in your hands, you can experience it in your own environment and use it as a creative tool to express yourself. Superbright will work with a curated group of dancers to record motion capture data, creating a curatorial repository of dance moves.The selected choreographies are not just dance moves, they will be cultural memes.
The Portal To Flatland by Magenta Field
The portal is designed to invite festivalgoers from the mayhem of the music festival into the tunnel of transmutation, priming their senses for what lies beyond. Participants will be drawn forward and pressed backward by using a combination of smooth and franetic surges of light and sound. The audiovisual score will be designed to softly invite visitors into the space and at its peak, test their perceptual thresholds. Following the crescendo, the visitors are propelled forward into their next metaphysical mindblower.
The Dome is also set to return this summer with FLATLAND: A Romance of Man Dimensions, a story with three acts – TIMELAND, MINDLAND and VOIDLAND, adapted and directed by META founder and CEO Justin Bolognino with a musical score by Panorama artist St. Vincent. Timeland is art directed by Dev Harlan, Mindland co-directed by Sougwen & Prism and Voidland art directed and produced by Kamil Nawratil and VOLVOXLABS respectively. The Dome allows festivalgoers to experience 360-degree immersive theater and provides viewers with an unparalleled collective sensory experience.
Interested in how The Dome show works? Check out our feature from the festival's first year.