Pantera's Drummer Vinnie Paul Abbott Dead at 54: Tributes Pour In
Vinnie Paul Abbott, founding member of influential groove metal band Pantera, has died aged 54 and tributes from the worlds of rock and entertainment are pouring in for the late drummer.
The musician found mainstream success after forming Pantera with his brother Darrell "Dimebag" Abbott 1981. The group subsequently hired vocalist Phil Anselmo to front the band, creating a uniquely heavy sound. After a fallout with Anselmo, the band broke up and Abbott was playing onstage with Darrell as part of their new project called Damageplan, when a fan shot Darrell dead in 2004.
Abbot went on to drum with the heavy metal band Hellyeah, playing along Mudvayne vocalist Chad Gray and guitarist Tom Maxwell, formerly of Nothingface.
As news of Abbot's death spread, many voiced their gratitude for the drummer's contribution to heavy metal, sympathy for his family and paid tribute to his late brother as well.
Read More: Linkin Park's Mike Shinoda on losing Chester Bennington and new album Post-Traumatic
"Say hello to Daryl for me," Dave Mustaine, lead guitarist and singer of trash metal founders Megadeth tweeted, after learning of the Texan drummer's death while on tour in Belgium. "Rest In Peace, my dear friend"
"Damn it. I love you brother," Scott Ian, guitarist for another one of the so-called big four of thrash metal, Anthrax, wrote on Twitter. "RIP Vinnie Paul."
Ian's band posted a separate tribute to Abbott on Instagram, sharing an image of the ex-Pantera drummer backstage with the Anthrax's current lineup.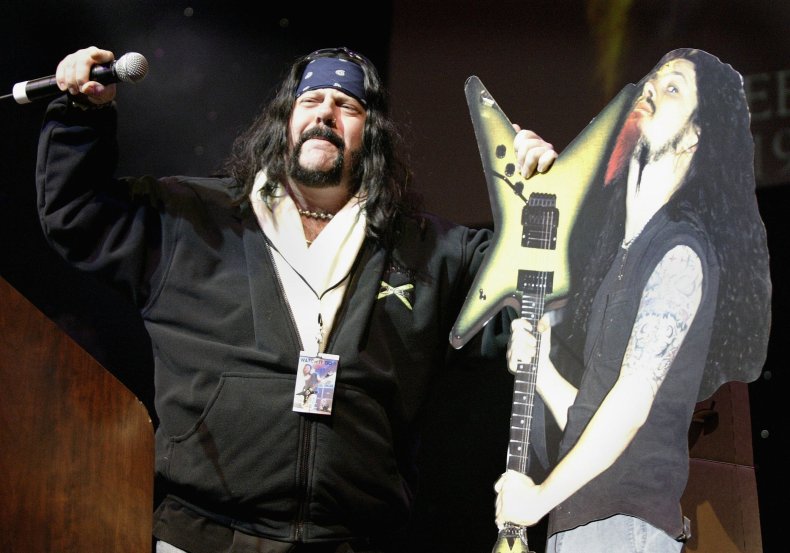 Bass player for heavy metal giants Black Sabbath, Geezer Butler reminisced about his time touring with Abbott, calling him a "true original." "Shocked and saddened to hear of Vinnie Paul's passing," Butler wrote on Twitter. "Had some good laughs when we toured with Pantera. Gone too soon."
"Rest in peace, Vinnie," Gene Simmons, bassists and co-founder of stadium rock giants Kiss wrote on Twitter. "Our prayers and good wishes go to his family, friends and fans."
Simmons' bandmate Paul Stanley also paid tribute to Abbott on Twitter, writing: "So sad to hear of the death of Vinnie Paul. Loved when Pantera did shows with us and in later years Vinnie was always front and center at all KISS shows. RIP and condolences to his family."
Fellow drummer, pop punk legend Travis Barker also paid tribute to Abbott and his brother. "Rest In Peace Vinnie Paul," he wrote on Twitter. "Heaven has Dimebag and Vinnie now #RIPVINNIEPAUL."
Tributes to the Pantera co-founder also came from beyond the world of music. Acerbic comedian Bill Burr was among the first to voice his condolences on Twitter. "Devastated to hear the news of the passing of the great Vinnie Paul (sic.)," he wrote. "Such an incredible musician and an even nicer guy. Rest In Peace Vinnie!"
Pro-wrestler and former WWE champion Bray Wyatt posted a touching message dedicated to Abbot and his influence on Wyatt's own life. "Thank you for giving us the concept of finding beauty in our rage. Your music will remain timeless, for those worthy of hearing it. I know Dimebag welcomed you home with open arms."
Abbott's death was announced on Twitter on Friday night by the official account for his former band Pantera. "Vincent Paul Abbott aka Vinnie Paul has passed away," the laconic statement read. Paul is best known for his work as the drummer in the bands Pantera and Hellyeah."
"No further details are available at this time," the statement added. "The family requests you please respect their privacy during this time."