Papa John's Founder Says He Used N-word but 'It Wasn't a Slur'
The founder of Papa John's has admitted using the n-word during a training session on race, but says he did not use it as a slur.
John Schnatter, 56, who resigned from his position as chairman of the board this week over the incident, issued an apology but later attempted to defend his use of the word, which was first reported by Forbes.
"It wasn't a slur. It was a session on strategy and media planning and training and I repeated something that somebody else said and said we're not going to say that," Schnatter said in an interview with San Francisco news station KRON 4.
"We don't use that kind of language and vocabulary. And sure it got taken out of context and sure it got twisted, but that doesn't matter. I hurt people's feelings. That's what matters here. And for that I'm sorry," he added.
His comments, which were aired on Saturday, come several days after he issued an apology in a statement via Papa John's over the comments.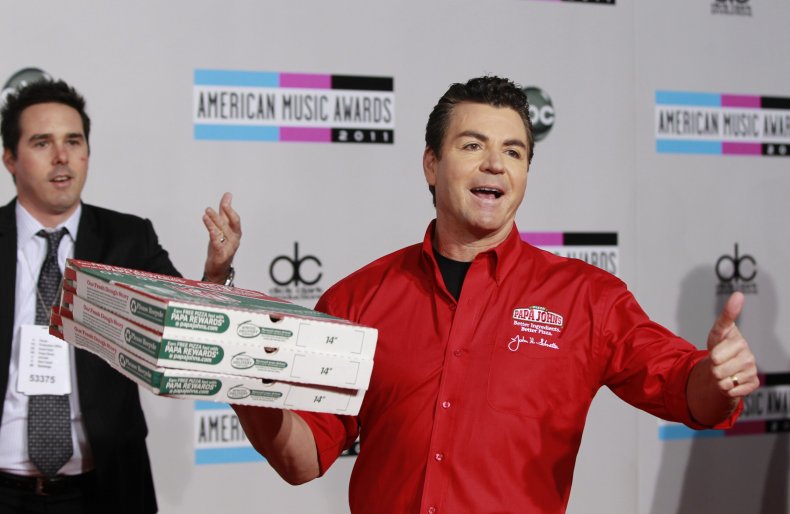 "News reports attributing the use of inappropriate and hurtful language to me during a media training session regarding race are true," Schnatter said in the statement.
"Regardless of the context, I apologize. Simply stated, racism has no place in our society," he added.
It is not the first tike the Papa John's founder has come under fire for his comments about race. Last November, Schnatter faced a backlash after complaining about the 'take a knee' protests at the NFL, which saw players kneeling for the national anthem to protest police brutality against black people.
"The NFL has hurt us by not resolving the current debacle to the players' and owners' satisfaction," Schnatter said last year, Bloomberg reported at the time. "NFL leadership has hurt Papa John's shareholders," he added.
The phone call in which Schnatter used the n-word was with marketing agency Laundry Service, on a conference call intended to help the company avoid any future PR blunders over race.
But on that call, when discussing his previous comments on the NFL, Schnatter commented that Colonal Sanders had never faced a backlash and had said far worse than he did.
"Colonel Sanders called blacks [n-word]," he said. In the same call, Schnatter also discussed his upbringing in Indiana, where he claims African-Americans were dragged from the back of trucks until they died.
His comments came to light after people from the marketing agency, who were on the call, complained about the language.