Papa John's Founder, a Trump Supporter, Compares U.S. to Nazi Germany
John Schnatter, the founder of Papa John's, compared recent actions by the U.S. government to Nazi Germany during a Thursday podcast interview.
The former pizza chain CEO made the comments to Patrick Bet-David on the PBD Podcast. During the appearance, Schnatter talked about how FBI agents recently confiscated the cellphone of Mike Lindell, the CEO of MyPillow, as well as how federal agents raided the Mar-a-Lago estate of former President Donald Trump in August.
"You saw last night when Mike Lindell was raided with the FBI, Trump just got raided. I mean, we now have Nazi Germany, where if you're a conservative and you believe in conservative principles and you're outspoken, you got the KGB," Schnatter said to Bet-David.
Schnatter founded Papa John's in 1984 but left the company following a series of controversies. He stepped down as CEO in early 2018 after he criticized the NFL for not doing enough to stop players from protesting during the national anthem, which resulted in the league terminating its association with the company.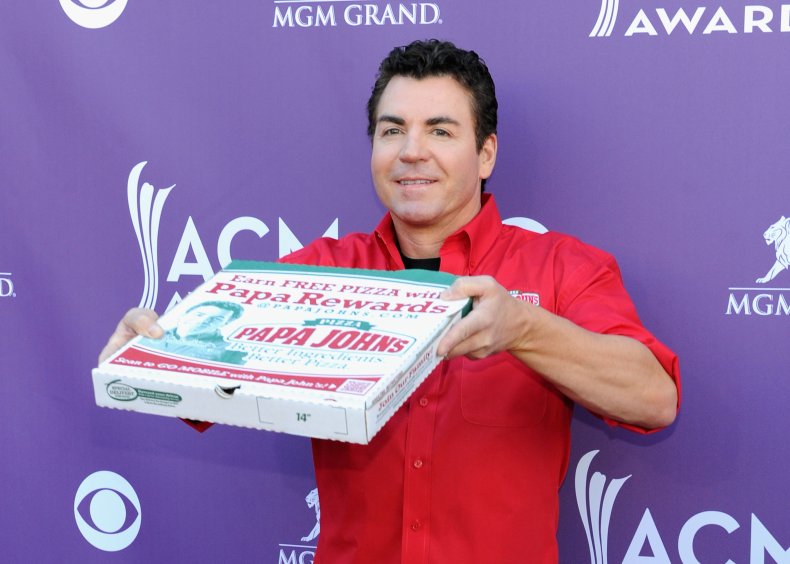 Later in 2018, he resigned as the company's chairman of the board of directors after it was leaked to Forbes that he used a racial slur during a sensitivity-training conference call. Following his departure from Papa John's, he claimed that the board conspired against him with the conference call incident to have him removed.
Schnatter took aim at several government agencies while on the PBD Podcast.
"The AG [attorney general], the FBI, you know, the Internal Revenue Service, now. I mean, yeah, the government is now an enemy of the freedoms of the people," he said.
"If you don't think that, you know, if they attack Lindell, Trump, [Michael] Flynn, Papa John—if they attack us, sooner or later, they're going to attack every American that doesn't believe in their ideology that has a voice."
On Tuesday, Lindell posted videos online in which he said FBI agents surrounded him while he was at a Hardee's restaurant and seized his phone. Lindell has long been one of Trump's most prominent allies and has devoted a lot of time and financial resources to pushing debunked claims that the 2020 presidential election was marred by fraud.
Trump fired off an angry message on Truth Social after Lindell shared his videos. The former president called the actions taken against Lindell "disgusting" and said Americans are living in a "Weaponized Police State."
Newsweek reached out to Schnatter for comment.