Paradise Lost: Inside the Burned-out California Town Destroyed by Deadly Camp Fire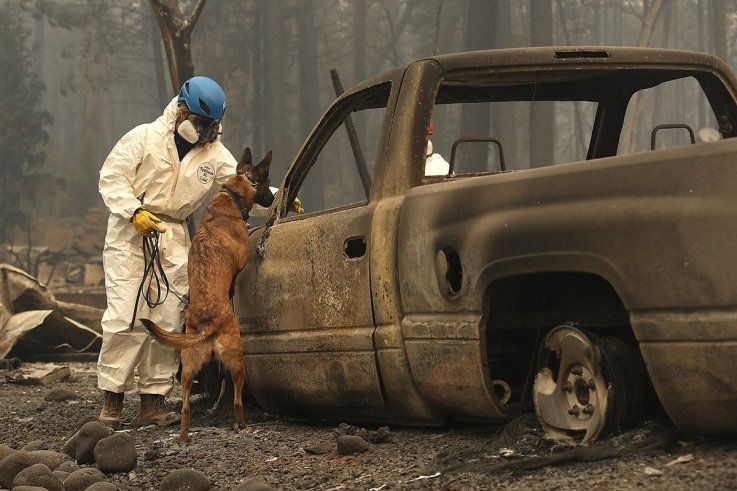 Last week, the northern Californian town of Paradise was a thriving community of some 27,000 residents, nestled the foothills of the Sierra Nevada mountains. But after the giant Camp Fire blaze ripped through the town, Paradise is unrecognizable.
Some 56 people have so far been confirmed dead in the fire, with 130 people still missing. It is the deadliest and most destructive wildfire in California's history.
Over 8,900 homes and other buildings have burned to the ground in and around Paradise, according to Reuters. National Guard troops and cadaver dogs have now started sifting through the wreckage in the hunt for more victims.
Most of the residents on the list of missing people are over the age of 65. Paradise had been a popular destination for retirees.
Butte County Sheriff Kory Honea has asked relatives to provide DNA samples in order to help identify remains, although he admitted the severity of the blaze means some victims may never be recovered. The fire spread so quickly that some residents died in their cars as they tried to escape the blaze.
The town's mayor has said up to 90 percent of the town's neighborhoods were destroyed in the fire, according to the BBC. A mobile home park, diners, an elementary school and an antique shop are among some of the structures that are now charred rubble.
"This is one of the worst disasters I've seen in my career, hands down," Brock Long, head of the Federal Emergency Management Agency, told Reuters. "It looks like a war zone. It is a war zone."
Despite valiant efforts from firefighters, the Camp Fire has yet to be extinguished. Cal Fire officials told Reuters that the blaze was 52 percent contained as of Wednesday night.
We've collected harrowing photos that show the extent of the devastation in Paradise. Charred, rusted cars litter the streets, now populated by rescue workers and dazed survivors who have returned to try and salvage belongings from the wreckage. As the ash settles on the remains of the town, it's clear that the survivors face a long, hard journey to rebuild their lives.