Paramedics Grant Dying Man His Final Wish, a McDonald's Sundae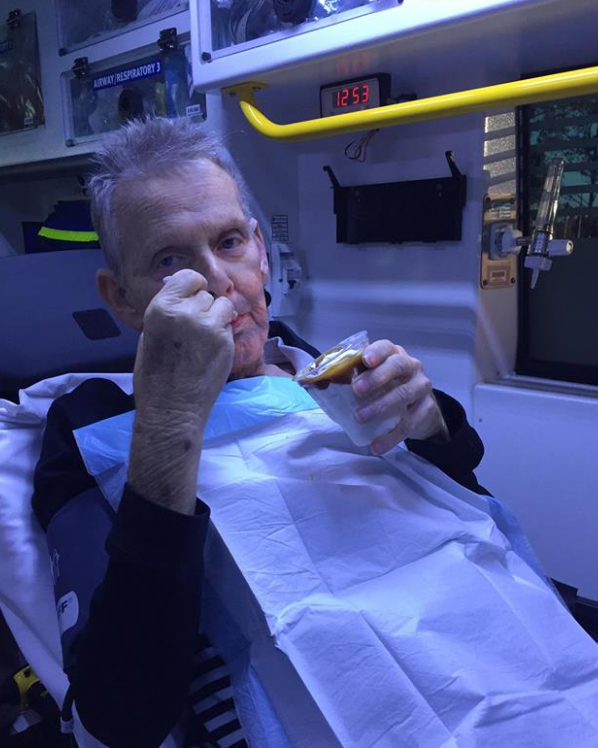 Ron McCartney did not hesitate when ambulance staff taking him from his home for the last time asked him if there was anything he wanted to eat.
The 72-year-old Gold Coast native was terminally ill from cancer and was heading to hospital for palliative care.
He was asked by staff from Queensland Ambulance Service (QAS) if he could choose anything to eat, what would it be?
Having not eaten for nearly two days, he said he would love a caramel sundae.
Ambulance staff had to get approval to make a detour on their way to the hospital, but once they got the all-clear from HQ, they stopped off at a McDonald's drive-through and got him the dessert. An image of him enjoying his favorite food has now gone viral.
"It put a smile on his face, he got a couple of pretty girls conned again. Got what he wanted. It was typical Ron. He'll never say no to a caramel sundae," his wife Sharon told Australia's ABC News.
Paramedic Kate Hanafy told the broadcaster: "We had to pull up out front and I just ducked in. He was rapt.
"He had a big smile on his face and his wife was tearing up, just pleased to see him eating."
His daughter, Danielle Smith, said that her father had died on Saturday following a 17-year fight with pancreatic cancer.
She wrote on Facebook: "Dad enjoyed this so much and it was the last thing he was able to eat by himself. Mum and I cannot thank QAS enough for all the help and compassion you have all given towards us."
There were hundreds of comments posted on the social media platform supporting the actions of the medics.
One QAS staff member, Mellissa Keune, wrote on Facebook: "It's too easy to focus on the lights and sirens aspect of the job, but THIS is what the real meaning of the job is. To be privileged to spend the last moments with a person is one of the most humbling in my career."
Kathy Bancroft wrote: "Amazing people. Absolute angels, they look after my Mum with humor, compassion and care as well."
Last year, the QAS was praised for granting a terminally ill woman her final wish to go the beach. The image of a paramedic standing with the patient at Hervey Bay in southern Queensland went viral.
Paramedics Grant Dying Man His Final Wish, a McDonald's Sundae | World