Conservative TV Host Criticizes Oscars For Awarding 'A Man Named Bong Joon Ho' Best Original Screenplay: 'These People Are The Destruction Of America'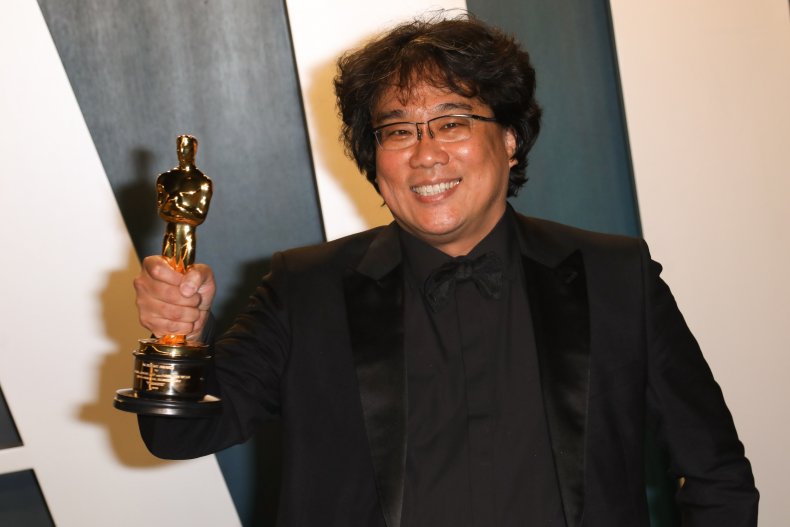 Conservative tv host Jon Miller created a stir on Sunday night when he used Twitter to blast Hollywood for its support of South Korean film Parasite — which won four awards during the Academy Awards, including Best Picture, Best Screenplay and Best Director.
"A man named Bong Joon Ho wins #Oscar for best original screenplay over Once Upon a Time in Hollywood and 1917. Acceptance speech was: 'GREAT HONOR. THANK YOU.' Then he proceeds to give the rest of his speech in Korean. These people are the destruction of America," Miller wrote on Sunday.
The tweet sparked immediate outrage from hundreds of people on social media who felt Miller's comment was racist. Along with taking issue with Miller's use of "these people," many people online blasted Miller for being offended by Bong's decision to speak in Korean while thanking his peers and supporters from home. During his acceptance speech, Bong used a translator to convey his words to the audience inside the theatre and watching on television.
"Bong Joon Ho graciously accepted his well-deserved award, doing his best to thank people in a second language," one person wrote on Twitter, adding, "Meanwhile Jon Miller chose to waste everyone's time insulting him and spewing hate, stoking much more damaging fires than Bong Joon Ho's exceptional film."
Following the wave of backlash, Miller, who appears on Blaze TV's White House Brief news program, tried to clarify that his earlier tweet was not in reference to Koreans but rather the people of Hollywood who ignore social tropes for the sake of appearing "woke."
"'These people' are obviously not Koreans but those in Hollywood awarding a foreign film that stokes flames of class warfare over 2 films I thought were more deserving simply to show how woke they are. That should be clear from the rest of what I tweeted about tonight's production," Miller posted to Twitter.
See a few reactions to Miller's tweet below.
Parasite made Hollywood history on Sunday as the first South Korean film to ever win the Oscar for Best International Film and the first foreign-language film to win Best Picture, though 10 other movies with non-English dialogue have been nominated, including Roma in 2018. Bong also made history as the first Asian nominee to win Best Original Screenplay, as well as Best Director.