Swimmers in Lake Eufaula in east Oklahoma have reported the appearance of strange red rashes all over their bodies, which the the Oklahoma Department of Environmental Quality (ODEQ) has said is likely a condition called "swimmer's itch."
Swimmer's itch is also known as cercarial dermatitis and is caused by swimmers in bodies of water having an allergic reaction to microscopic parasite larvae present in the water.
These parasites, called schistosomes, infect some birds and mammals as larvae, inside which they mature into adults, releasing their eggs into bodies of water via the animal's feces. The eggs then hatch into one larval stage, infect water snails, mature into a second larval stage, then are released again, completing their life cycle as they once again search for birds to infect.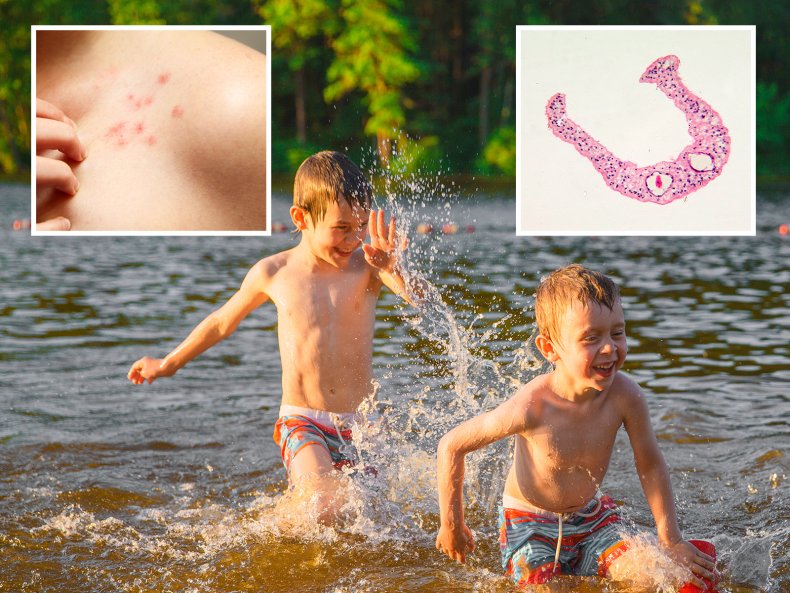 The ideal host for the parasite is their usual fare of smaller waterfowl and mammals, such as ducks, geese, muskrats and raccoons, but, if the parasite larva comes into contact with a swimmer, it burrows into their skin. The parasite can't survive in humans, thankfully, so it dies immediately, but it does trigger the body's immune response in the skin it attempted to enter. This manifests as a rash, which is itchy, hence swimmer's itch.
This is a common occurrence around the world in freshwater bodies home to schistosomes, and is more frequently seen in the summertime.
Newsweek has contacted the ODEQ for comment.
According to the CDC, if you come into contact with some schistosome larvae, your skin may begin to itch or burn anywhere between a few minutes to a day after leaving the water, with "small reddish pimples" appearing within twelve hours that may get infected if scratched too vigorously. They can be treated with itching relief creams like corticosteroids, or with the use of cool compresses, but the rash will gradually go away, similarly to an insect bite reaction.
Swimmer's itch has also been recorded on social media by swimmers in other bodies of water, with one TikTok posted in May showing a woman who had got the condition after swimming in Lady Bird Lake, Austin, Texas. Another showed the rash she had got from swimming in Barton Springs, also in Austin.
Affected bodies of water won't always be at risk, however, as larvae can only survive for around 24 hours after being released into the water from the snail, and infected waterfowl may leave the area.
According to News 9, ODEQ advises swimmers to shower with fresh water and towel dry themselves after getting out of the water. Other ways to avoid contracting swimmer's itch, according to the CDC, is to not swim near or wade in marshy areas where snails or waterfowl are commonly found, and to keep an eye out for signs saying swimmer's itch may be a problem in the area.
Uncommon Knowledge
Newsweek is committed to challenging conventional wisdom and finding connections in the search for common ground.
Newsweek is committed to challenging conventional wisdom and finding connections in the search for common ground.
About the writer
Jess Thomson is a Newsweek Science Reporter based in London UK. Her focus is reporting on science, technology and healthcare. She has covered weird animal behavior, space news and the impacts of climate change extensively. Jess joined Newsweek in May 2022 and previously worked at Springer Nature. She is a graduate of the University of Oxford. Languages: English.
You can get in touch with Jess by emailing j.thomson@newsweek.com.