'Parasite' Streaming: How to Watch the Oscar-Winning Movie Online
Film fans who are struggling with the mass closure of cinemas, Bong Joon Ho has some good news for you. His critically acclaimed, award-winning movie Parasite is now streaming online. The film, which is the most recent winner of Oscar for Best Picture, is streaming now on Hulu.
Hulu subscribers are able to watch the 2019 movie now with subtitles—an English dubbed version of the movie is not yet available. For those who do not yet have a Hulu subscription, but want to watch Parasite, the service is $5.99 to watch its library with ads, and $11.99 monthly if you want to watch without commercials. The streamer also offers a free one-month trial for new customers.
The streamer has exclusive U.S. streaming rights to the movie, meaning that Hulu is the only streaming service where American viewers will find Parasite. However, the Oscar winner is available to buy and rent on a number of digital entertainment stores.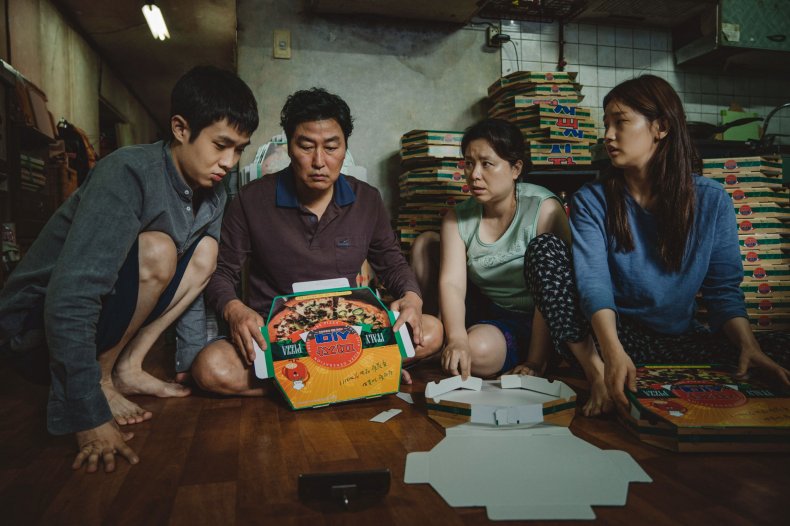 According to JustWatch, the movie will cost you the following to buy and rent:
YouTube ($3.99 to rent, $14.99 to buy)
Google Play ($3.99 to rent, $14.99 to buy)
Apple TV ($3.99 to rent, $14.99 to buy)
Microsoft Store ($3.99 to rent, $14.99 to buy)
RedBox ($4.99 to rent, $14.99 to buy)
Amazon ($5.99 to rent, $14.99 to buy)
FandangoNow ($5.99 to rent, $14.99 to buy)
Vudu ($3.99 to rent, $14.99 to buy)
All of the stores are offering the movie in 4K except for Amazon and RedBox, who both have Parasite in HD.
The version streaming on Hulu and on those stores is the original color version. The black and white version that toured arthouse cinemas in early January does not have a streaming release date yet.
Hulu also has a number of Director Bong's other works. The streaming service is also offering 2000's Barking Dogs Never Bite, 2006's The Host and 2009's Mother. Netflix, meanwhile, has the director's two English-language features, Snowpiercer and Okja. His 2003 movie Memories of Murder does not have a streaming home in the U.S.
For viewers who missed Parasite in cinemas, Hulu offers the following synopsis: "The Park family is the perfect example of aspirational wealth. The Kim family is rich in street smarts (but not much else). By chance or fate, these two families are brought together and form a complicated, symbiotic relationship.
"In a turn of events, the fragile ecosystem between the Kims and Parks is threatened, causing an inevitable collapse. Parasite is a darkly hilarious and heart-wrenching film showcasing director Bong Joon Ho at the top of his game."
Parasite is streaming now on Hulu.