Trump Presidential Pardon: What Does President Do to A Turkey Before Thanksgiving?
Ahead of Thanksgiving each year the president pardons a turkey or turkeys. Last year President Donald J. Trump pardoned two turkeys named Drumstick and Wishbone.
The tradition of pardoning the turkey has been carried out by various presidents through the years but according to the Library of Congress, the tradition fully began with President Harry Truman who pardoned a turkey the night before Thanksgiving in 1947.
It became an annual event at the White House in the years following Truman's pardoning of a turkey and other presidents have followed suit. President Trump will participate in the tradition for the second time next week.
The White House announced Friday that the annual pardoning would take place in the Rose Garden at the White House on Tuesday. But this year, the people have the power to choose which bird the president is going to pardon.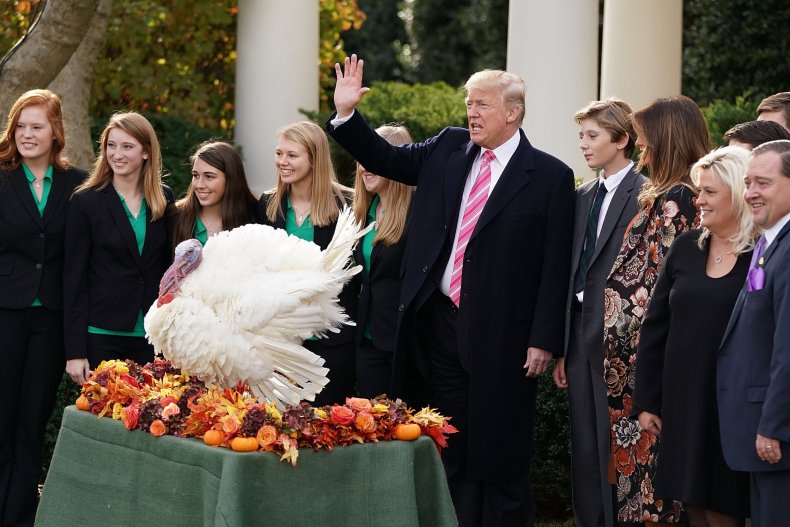 A tweet from the White House Friday said that those who want to know the name of the turkeys can sign up online to get an email announcement sent to them. The link included in the tweet said the Trump would "continue the time-honored White House tradition of officially pardoning the National Thanksgiving Turkey."
Below the short description of the tradition was another line that said, "And you get to decide which turkey he pardons." It's unclear when the voting for the turkey to pardon will begin or how it will work but the site had a spot for users to submit their email to get the latest information about it.
The two turkeys headed to the White House are from South Dakota. They're scheduled to ship to Washington D.C. on Saturday, KSFY reported. Their names haven't been decided yet, those will be released next week by the White House. This is the first time the turkeys have come from South Dakota.
The turkeys aren't meant to be pets or to have long lives though, due to the fact that they've been bred for consumption they don't have a particularly long life-expectancy. But even the turkey that isn't pardoned isn't killed to be eaten. Two birds are used just in case one of the birds gets fussy on the big day and doesn't want to participate, according to the National Turkey Federation.​