Parent Advocate Takes Stand Against CRT in House Judiciary Meeting
A mother and parent advocate invited to testify at the House Judiciary Committee about racism and the discrimination that Asian kids now face warned Democratic members it's the ideology of Critical Race Theory that's creating a new prejudice against children of color and of all ethnic backgrounds.
Wearing her grey T-shirt with the words "I'M A MOM, NOT A 'DOMESTIC TERRORIST,'" Asra Nomani, vice president for strategy and investigations of Parents Defending Education, adjusted in her seat Tuesday as she waited almost three hours to respond during the meeting about the Discrimination and the Civil Rights of the Muslim, Arab, and South Asian American Communities.
Nomani, who has become a growing force as an advocate for parents fighting back against the incorporation of CRT into their children's school curriculums, finally got her chance to speak after Republican Louisiana Representative Mike Johnson handed over the floor to her.
That's despite being outnumbered, at times feeling ignored—as Nomani described it—and after being reprimanded by Chairwoman Representative Sheila Jackson Lee, a Texas Democrat, for filming the testimony with her phone's camera in an effort to document the meeting for her advocacy work.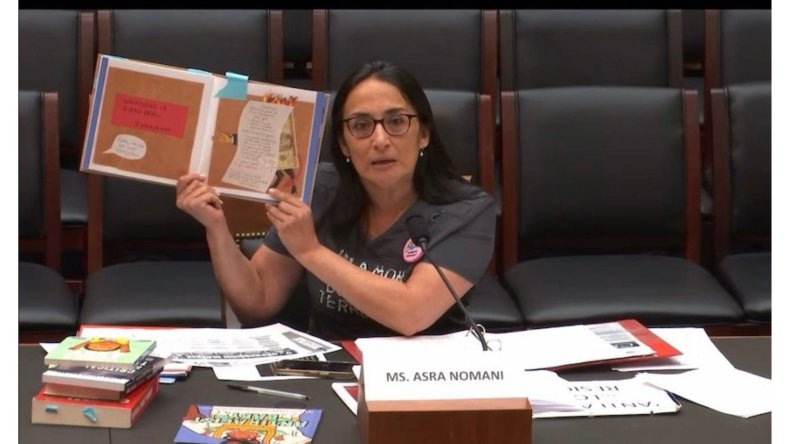 Nomani was one of two witnesses invited by the Republican side to speak about the dangers of CRT and how changing admission requirements from being merit-based to being more racially balanced violates the guarantee of equality before the law.
Besides her role at Parents Defending Education, Nomani is an author, a former Georgetown University professor and Wall Street Journal correspondent, and the founder and creator of the "Muslim Women's Freedom Tour." A Muslim herself, she is also the co-director of the Pearl Project, a faculty-student investigative-reporting project about the murder of Daniel Pearl.
"The evidence is so compelling and yet these lawmakers for political reasons are putting blinders on their eyes about serious shaming and indoctrination that's happening in our schools," Nomani told Newsweek.
"I spoke from my heart to a House Judiciary Committee subcommittee about racism Asian kids face in admission to USA's No1 HS, TJHSST. Democrats ignored me. [Representative] Sheila Jackson Lee tried to shame me. Thankfully @MikeJohnson gave this mama bear the mic!" she later tweeted after Tuesday's meeting.
"The ostensible purpose of the hearing was to discuss discrimination and civil rights...but I think it was an eye-opener in a surprising way to some of our Democrats who participated because I think Asra was effective at presenting to them what they were not previously aware of—that CRT in its materials has turned into something very oppressive to the very minority groups that were our colleagues subject of hearing," Johnson told Newsweek. "This goal of equity often requires explicit discrimination to achieve this equitable distribution of outcomes and that is not consistent with the tradition of America."
Newsweek reached out to Jackson Lee for comment.
Still, the congresswoman had plenty to say during Tuesday's meeting. As she sought to "set the record straight" about "this continued miscalculation and politicization and campaign rhetoric" about CRT, she at one point held up the photo of Emmett Till to "remind" those listening or who didn't know about him or his tragic story.
"Maybe you're not familiar with the story of Emmett Till—this is what his mother had to confront—his bloodied and mutilated head of a 14–year old who went to Mississippi and this African American who suffered the indignities of violence," Jackson Lee said. "So I think this hearing is focused on how discrimination laws have undermined over the period of time in the United State in ways that we can try to fix."
"It has nothing to do with teaching anyone...it is a scholarly effort to address the intersection of law and race," she continued, noting she would not accept the abuse of that term to come before those in the hearing, which was about addressing "the absolute discrimination about people who cannot speak for themselves."
Those remarks were made before she demanded Nomani stop recording the meeting with her phone, which is allowed during any public hearing.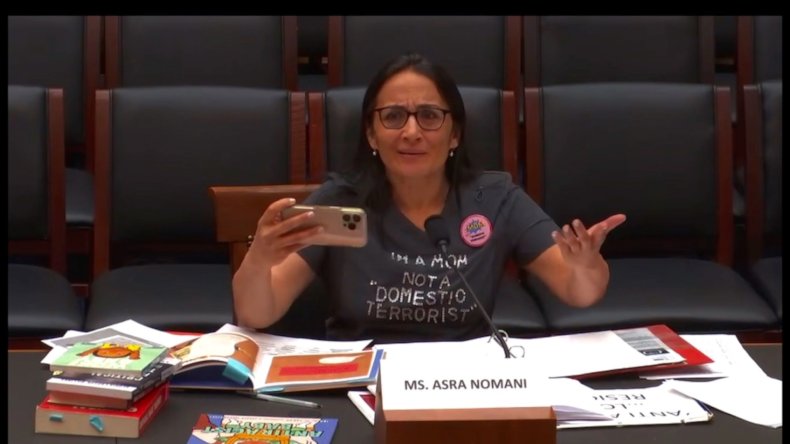 "I'm disappointed that CRT has been politicized to attack people who simply want to ensure that our children have an opportunity to be engaged in diversity," she continued. "I know that these words I am saying now in the most calm way will be mutilated by the right-wing media. That is all they do. They do not act in truth and they do not try to provoke truth. They try to do provoke people."
Finally, it was Nomani's turn to speak.
"I think that is unconscionable but completely predictable what we have just witnessed today because while there has been serious conversation about the needs to address issues of discrimination, surveillance and other issues of privacy and constitutionality, not one person from the Democratic side has taken seriously the very real discrimination that is happening now in the name of critical race theory," said Nomani, noting instead she was ridiculed and then intimidated as she dared try to take a video "just like parents face by school boards and districts across the country."
"And do you know what? A federal judge has validated what we have said to our school board for two years," she added.
It was in a groundbreaking decision last week that federal judge Claude Hilton ruled that Fairfax County, Virginia school officials violated the law by changing admissions requirements at Thomas Jefferson High School for Science and Technology based on individual talent and achievement to an engineered process meant to racially balance the student body.
Nomani went on to note the speaking up of parents in Virginia with the election of Governor Glenn Youngkin and in San Francisco with the recall of three school board members and pointed to the "very real discrimination that is targeting brown and Black parents and children" by holding up materials including the "Privilege matrix," an "oppression matrix," and the book, Not My Idea: Whiteness is a Bad Deal.
"No child in America should ever feel shame. No child should ever feel discrimination and it is unconscionable that we do not recognize that," said Nomani, her voice quivering. "We must protect the integrity of humanity."
According to Nomani, Jackson Lee has now agreed to meet with her in the future to look closer at some of the CRT materials Nomani highlighted during Tuesday's meeting.
Jackson Lee closed the meeting by acknowledging how important it was to make sure the facts are accurate and not distorted and that the committee embraces all people that stand against discrimination. She also noted how CRT has come to be interpreted in the wrong way.
"We used to all agree upon Dr. [Martin Luther] King [Jr.]'s admonition that we be judged by the content of our character not the color of our skin and this has now gone full circle the other way," said Johnson, after Nomani's remarks. "People are being discriminated against because of what they look like and I thought that's what we were all against but CRT is doing this—it is insidious and they are putting it in the curriculum and however well-intended some people may think that it was at its origin Madame Chair it has turned into a weapon that is being used against children and that is detestable and we will stand against it at every turn."
In terms of Nomani, parents and parent groups advocating for more control oversight in their children's education are still cheering her on over social media.
"Not all heroes wear capes...at least one of them wears I'M A MOM NOT A 'DOMESTIC TERRORIST' shirt," tweeted Devon Westhill, president and general counsel for the Center for Equal Opportunity, who joined Nomani at the meeting.
"Thank God the great and powerful @AsraNomani is out there fighting for parents and children. Keep it up, Asra. You're winning!" tweeted Julie Gunlock, director at the Independent Women's Network.
"I'm getting hundreds of messages of support from parents around the country," Nomani told Newsweek. "They are so grateful that I remained strong for them in the People's House. They know very clearly: from our school boards to the halls of Congress, we the mama bears and papa bears have to speak up and testify unapologetically to protect kids."