Parent Backed for Asking Son and His Pregnant Girlfriend to Move Out
A mom has been backed for wanting her 20-year-old son to move out with his expectant girlfriend.
In a post shared to the popular UK-based discussion site Mumsnet, user diddymu wrote that her university student son lives at home with his "slightly older" girlfriend and her five-year-old son.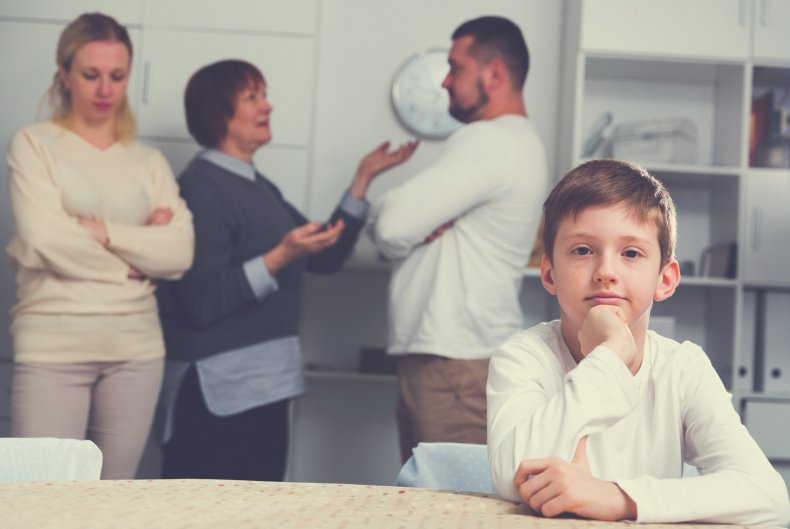 In March 2021, there were 59.7 million U.S. residents who lived with multiple generations under one roof, compared with 58.4 million in 2019, according to a Pew Research Center analysis of census data. The share of the U.S. population living in multigenerational households in 2021 was 18 percent.
The Mumsnet poster wrote: "They've been living with me for about a year as the child's dad found out where she was living, it's all been fine, they contribute a little financially and they do their fair share of cleaning and cooking."
She said the schoolboy sleeps in her other son's room while he is studying at university, but when he returns during the holidays, the child has to share a bed with the original poster's son and girlfriend.
The post continued: "They recently announced that the girlfriend is ten or 11 weeks pregnant which was a bit of a shock but they seem happy with the news.
"I've told them they have to find their own place to live before the baby arrives and my son has said I'm selfish as it's my grandchild, they won't be able to afford it as he's just started university."
The Mumsnet user wrote her son has insisted he will make the "lack of space work."
"He has tried blaming my other son for coming home during holidays as he said if he didn't I wouldn't be asking them to move out."
"It's probably my fault as he is my youngest so I probably have made the wrong decision to allow them all to stay etc as I didn't want him to move out yet, so feel free to judge am I being unreasonable?"
'Parents of Adult Children are Not Obligated to Provide a Roof or Financial Support'
Karen Pavlidis, a child psychologist and the founder of Child and Teen Solutions based in Seattle, Washington, told Newsweek: "The son is exploiting his mother's incredible generosity. The mother stands on solid ground in telling her son to move out. She is hardly selfish and does not need to explain herself or justify her wish to reclaim her home.
"Parents of adult children are not obligated to provide a roof or financial support. Parents need to promote the growth of their adult children. This means that parents should not provide resources that invite the adult child to remain overly dependent and fail to meet adult developmental milestones such as getting a job.
"The son seems to be escalating the tone of his demands in the hopes that his mother will submit to his coercive tactics. The mother should seek support from friends and family who care about her and will support her efforts to set a limit on her son's freeloading," said Pavlidis.
The post has received more than 200 comments since it was shared on Saturday.
The original poster has written to users to explain her son's financial situation, how he quit his job after two years due to an argument with a manager and how his partner works part time.
Many Mumsnet users agree with the family therapist and the original poster. One user wrote: "They've made the choice to add to their family, and you have every right to not wish to continue to house them. They should be thanking you for the opportunity you gave them already, rather than insulting you because they can't freeload anymore."
Another Mumsnet user wrote: "Get them out before baby arrives, or they will never leave!"
"You are in no way being selfish. At all. You've been very generous, letting them all live there. What's he on about 'it's your grandchild'? You already know that!" commented another.
Newsweek was not able to verify the details of the case.
If you have a similar family dilemma, let us know via life@newsweek.com. We can ask experts for advice, and your story could be featured on Newsweek.