Parent Dragged for Telling Son He Is 'Spoiling' Kid, 10, by Making Lunch
A parent criticizing their son for making his daughter lunch every day is being blasted online.
In a post to Reddit's Am I the A******? forum, user Either-Performer-780 explained that their son and his 10-year-old daughter are staying with them while their house is undergoing repairs.
After observing the son's parenting, the poster feels he is "spoiling" their granddaughter—although the user's reasoning confused fellow Redditors.
"I noticed that every day he will pack lunch for her and not just that, he will also make different shapes and faces with the food. It takes up a lot of his time," the user wrote.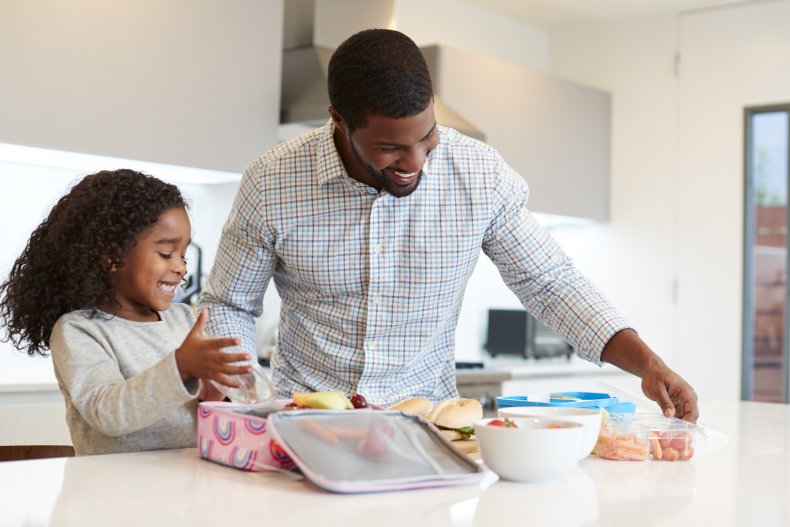 "If she was 5, this would be understandable but she is 10, she should be packing her own lunch."
The parent told the son that he is overindulging his child and that the granddaughter needs to start making her own meals.
"He got angry and called me an asshole and basically implied that it's none of my business," the user added.
Unsurprisingly, Redditors agreed. In the poll attached to the post, they voted Either-Performer-780 "YTA" (You're the A******), with the story receiving almost 6,000 upvotes and over 2,000 comments.
What Causes the Most Arguments Between Parents and Grandparents?
It's common for adult children to take a different approach to childcare than their own parents.
In 2020, C.S. Mott Children's hospital polled more than 2,000 U.S. parents about family life and found that 40 percent regularly argued with grandparents over childrearing choices.
Methods of discipline caused the most arguments at 57 percent, followed by food (44 percent) and screen time (36 percent). However, 15 percent of respondents were so concerned by a grandparent's behavior, they restrict the time their child spends with them.
According to Ruth E. Freeman, founder and president of Peace at Home Parenting Solutions, cultural and generational divides can lead to fights between adult children and their parents.
"Communication about parenting values and practices between generations is challenging enough, but doing so across cultures is even more complicated," she told Newsweek.
However, when adults talk about "spoiling" a child, it's usually regarding behavioral issues, encouraging laziness, or overdoing material gifts—not preparing school lunches.
"Having dads enthusiastically involved with their kids and taking care of daily responsibilities is a benefit to the whole family, especially since pandemic research indicated that moms are still handling the bulk of these tasks," Freeman said.
"If grandparents want to be close to their adult children and grandchildren, it works best to negotiate the boundaries and recognize that parents are almost always doing their best."
'Why Do You Have to Be So Mean and Hateful?'
Reddit users slammed Either-Performer-780's attitude but praised the user's son, with user carbonite86 calling him a "sweet, loving man."
DoIwantToknow6417 agreed, writing: "I think your son is a wonderful father who is invested in his daughter and it shows."
"OP, why do you have to be so mean and hateful?" asked Apart_Foundation1702.
"Your son is showing love and kindness to his daughter and you find a reason to tell him he's spoiling her!"
Global-Association-7 said: "Imagine thinking a 10 year old child is too old to have food cut into shapes and letting it bother you enough to say something."
BigBadVoodooMama wrote: "I packed my daughter's lunch until she graduated from high school.
"A little consideration for your children goes a long way in building a relationship that lasts."
Ok_Palpatation_2137 suggested the poster "reflect on [their] own parenting."
"She's a kid, let her be one," she wrote. "He seems like a wonderful father and frankly the fact you think a 10 y/o should have to fend for herself is actually kinda concerning."
While KURAKAZE commented: "Maybe he decided he doesn't want to be the same parent they were, because he would have preferred a more loving childhood, and that's why he's more loving/doting to his own daughter."
Newsweek reached out to u/Either-Performer-780 for comment. We could not verify the details of the case.
If you have a family dilemma, let us know via life@newsweek.com. We can ask experts for advice, and your story could be featured on Newsweek.