Parent Making Pets Live Outside as Family Won't Clean Up After Them Blasted
A parent making the family's pets live outside permanently as their family won't clean up after the animals has been dragged online.
According to the American Kennel Club (AKC), dogs can be left outdoors, but it all depends on their age, health, breed and the climate.
The site added "it's best to bring them in before bedtime to spend time with your family."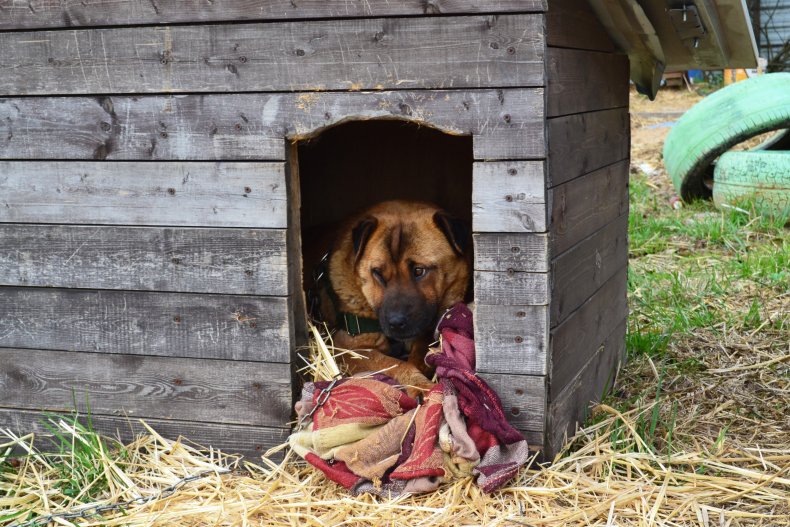 The site noted outside dogs need "some fresh food, water, and appropriate shelter from the cold, heat, wind, and rain," as the Redditor confirmed they live in a "temperate climate."
Meanwhile, cats are often outdoors, as Purina stated on its website that 90 percent of U.K.-based felines have the "freedom to come and go as they please," while the remainder are indoors-only.
"If you live in a quiet, rural location, it could be a great idea to let your kitty roam free, but of course there are situations where your cat would be safer inside, such as if you live in a busy city," the site said.
The owner asked for advice on the situation in a post to Reddit's Am I The A**hole forum, under username u/ravergraver, explaining they have a puppy and two kittens.
The Redditor, thought to be based in the U.S., explained they're the only one who takes care of the trio, despite their partner being the one who brought them home.
"As these animals grew, none of the humans in my house did anything to care for them besides play w/ them and cuddle," they said.
They fumed about having to wake up at 5:30 a.m. to walk the dog before work, clean the cats' litter tray, as well as buy and serve all their food - and clean up after their dinner, too.
"Naturally, I also had to clean up after them when I'd arrive home & inevitably no one had bothered and there were messes all over the floor.
"If I 'made' my partner or kids do it, they'd half-a** it to the point it where they may as well've not bothered. Same way with plants," they said.
The parent explained an indoor herb garden was also being neglected, leading to dead leaves, soil and bugs to clean.
"I am busy & these are not my chosen hobbies. I like animals well enough, but they're a lot of work & when they aren't attended to, destroy the house.
"I grew up with a family that hoarded pets & our house was always nasty & smelly & embarrassing. I swore when I had my own place it would be different.
"The cats pee/spray everywhere if I can't get to the litter box in time & the dog chews up stuff & leaves big messes on the floor if I don't walk it. I'm the only one who'll walk him when it gets cold," they said.
In light of the situation, after struggling for more than a year, they bought a dog house and announced the puppy—and cats—will live outside.
And they confirmed they'd already tried punishing their kids and telling their partner he wasn't ready for pets.
"I bought a dog house & announced he'll live outside from now on, til they can prove they can take care of him better. Same with the cats.
"They're now 'outdoor kitties' til my humans can show me they're ready for indoor ones. Of course, if the weather is extreme I'll let them in. Plants are all going out," they wrote.
The post, which can be read here, has racked up nearly 7,500 upvotes since being posted Sunday.
The responses sympathized with their position, but disagreed with their solution. The top comment, from Broken-Butterfly-313, amassed 19,000 upvotes alone.
It said: "NTA [not the a**hole] for being frustrated or implementing a no pets or plants rule. YTA [you're the a**hole] for putting the animals outside, though. They're likely to just be even more neglected than they are now. Outdoor cats are a public nuisance. Take them to a shelter or rescue or find them new homes."
Others agreed, as Odubik said: "This is the right answer. If the home isn't fit for the pets, move them to one that is. Putting them outside will just result in more neglect."
Narwhals4Lyf added: "Please OP [original poster], please rehome them instead of just putting them outside. You are NTA for being at your wits end, but you will be at the asshole if you put them outside."
In response, u/Ravergraver shared an update, claiming the only method of rehoming they knew of was via sites like Facebook and Craigslist, where they couldn't guarantee the animals' quality of life.
They stressed they take them to the vet every six months; they're spayed, neutered, regularly bathed, brushed and have their nails clipped.
The chart below, provided by Statista, shows where animals end up in shelters.
They stated: "I buy them top of the line pet food & premium anti flea/tick prevention and heartworm medication as well as high quality food. My yard is flea and tick free, we do careful lawn maintenance...
"I have a nice, landscaped backyard with a big, covered deck and patio where he'll have a dog bed in addition to the dog house I bought, and the cats will have little cat cozies, too; it's not like I'm tossing them into the jungle."
They said their area is "countrified," and it's "not unusual" to have outdoor pets, adding there's only two shelters in their county, both of which euthanize animals, alluding the puppy was mixed with what's considered a "vicious breed."
"MY ENTIRE STATE has less than 30 'no kill' shelters and 'rescues' and is right now experiencing an animal control overcrowding epidemic and put down over 10,000 last month.
"So, no, I do not just want to 'return them to the pound' or 'drop them off at a shelter' like people are saying," they added.
Newsweek contacted u/ravergraver for comment. We could not verify the details of the case.