Parent Refusing To Turn Home Office Back Into Daughter's Bedroom Backed
For some nowadays, working from home has become the new normal but this can come with disadvantages.
In a now viral Reddit post, u/aitatgrowwa, explained they have transformed their 21-year-old daughter's old bedroom into an office. But now she is due to move back into the family home and is "nagging" for her room back.
The Redditor pointed out the only other room they can work from would be the guest bedroom, but it is too noisy which is why they are refusing to give their daughter her old bedroom back. In 2020, during the coronavirus pandemic, YouGov surveyed 1,327 U.S. adults and the results found 36 percent struggled to find a suitable workspace at home.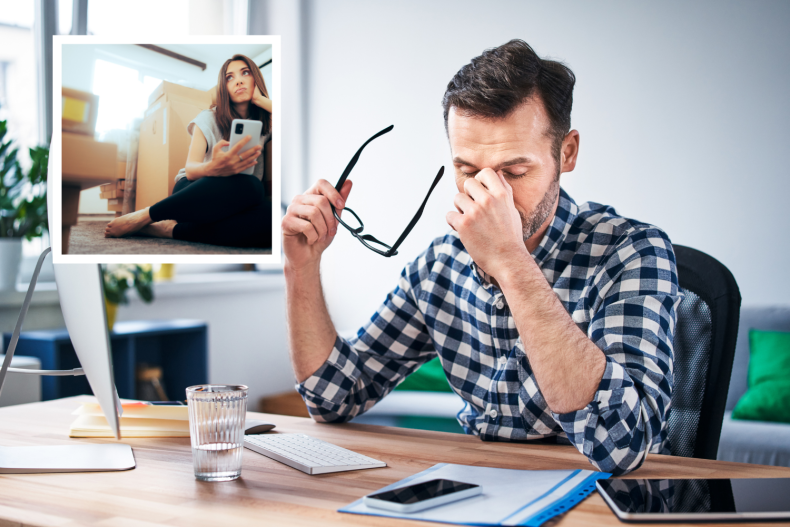 The user said: "A week ago our daughter announced that she is moving back because her boyfriend got a job abroad and she doesn't want to go with him."
The parents agreed but under one condition, the daughter has the spare room.
The post continues: "On Wednesday she moved back in and since then she's been constantly nagging us to get her old bedroom back because it's bigger and is on a separate floor so there's more privacy. We told her that I need my office but now she somehow managed to get my wife on her side and they're both nagging me. I told them point blank that I'm not giving up my office. And now they're treating me like I'm the enemy."
Between 2019 and 2021, the number of people primarily working from home tripled from approximately 9 million people to 27.6 million people, according to a 2021 American Community Survey.
Lesley McGregor, a parenting expert for StellKey, an app that aims to "help families work together," advised the family to "problem-solve" together to find a reasonable solution.
She told Newsweek: "To the daughter, it looks like she's been downgraded as a family member since she left home as she can no longer use her own room. In fact, it's the changed circumstances of the father, the remote working, that triggered the room change.
"As an adult, she would not need to use a bedroom as much as her younger siblings and she has benefitted from a more private room until she left home so it's fair that she should be the one to swap and not the younger children.
"The family should problem-solve together with both the father and daughter's point of view respected. Suggestions such as redecorating the guest room to the daughter's liking or adding something to make it more private for her might help. The daughter needs to understand that, as part of the family, she needs to take an active role in problem-solving as well."
So far, the Reddit post has received 6,100 upvotes and 910 comments since January 28.
The top comment, which has received 10,300 upvotes, said: "Are you supposed to just keep this full bedroom untouched and unused for the rest of your lives? She's an adult. She moved out of your house you can use whatever room in that house for whatever you want. That includes an office for you since you work from home. You offered her the guest room to use as her own. If she doesn't like it then she can find her own house. For someone not paying any rent and being welcomed back home with open arms, she sure is entitled."
"When adult children move back in with their parents, maybe with the exception of returning from college, they don't get much of a choice on which room they get. If the kid is so desperate for privacy, she can rent an apartment," said another person.
Newsweek reached out to @aitatgrowwa for comment. We could not verify the details of the case.
If you have a family dilemma, let us know via life@newsweek.com. We can ask experts for advice, and your story could be featured on Newsweek.