A Wisconsin mother is suing her son's school district and school board for its lack of COVID-19 restrictions after her child was exposed to a classmate displaying symptoms of the virus and subsequently became sick.
The lawsuit was filed on October 5 in the U.S. Eastern District of Wisconsin by attorney Frederick Melms on behalf of Shannon Jensen as well as students in the Waukesha School District and their families.
Funded in part by the Minocqua Brewing Company Super PAC, the lawsuit argues for class-action status and is seeking an injunction that orders the school district to comply with the Center for Disease Control and Prevention (CDC) pandemic guidelines.
According to the lawsuit, the Waukesha School Board removed the district's mask requirement and other mitigation protocols like temperature checks and plexiglass dividers on May 12 that had been in place for most of the 2020-2021 school year.
Jensen ultimately decided that her oldest son, a student at Rose Glen Elementary School, and his two younger brothers would continue to wear masks at school even though many of their classmates did not.
On September 16 and 17, one of Jensen's eldest's classmates came to school with COVID-19 symptoms before being sent home. Her son was seated beside the sick classmate for both days and the classmate reportedly did not wear a mask on either day.
Two days later, Jensen's oldest son began displaying symptoms of the virus and tested positive for COVID-19. Jensen and all three of her children were then forced to quarantine at home. Later, the two other boys would test positive for the virus. All three children missed school and extracurricular activities as a result of the diagnosis.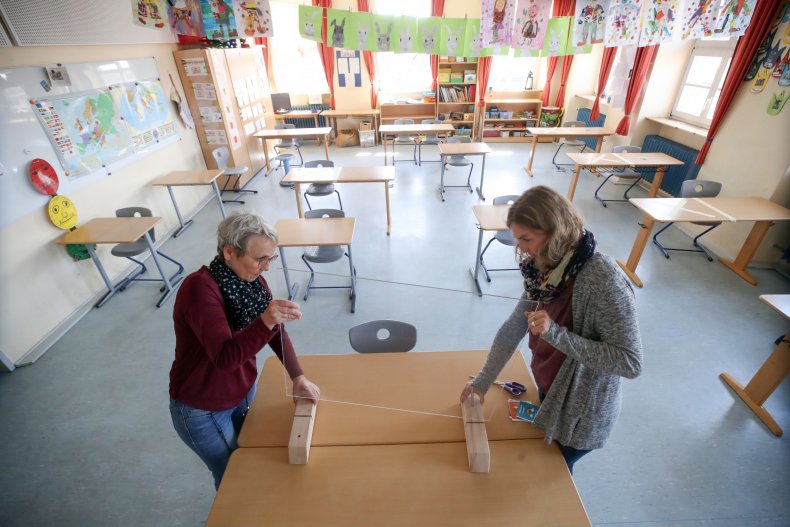 Jensen said that that the school district was delayed in notifying her that a child had tested positive for the virus in her son's class and as a result, her son interacted with others after his own exposure. She also learned through another parent with a child in the class that a total of four children had tested positive for COVID-19, according to the lawsuit.
There were no thresholds for when the class would be quarantined and no contract tracing that was being done by the district either, Jensen alleged in a statement in the lawsuit. It continued that administrators were "just blanket informing parents when a child in the school had tested positive, usually several days earlier."
"The School District of Waukesha's refusal to implement reasonable Covid-19 mitigation strategies, not only affected our immediate family, but if we had been notified sooner of my oldest son's close contact with someone who was diagnosed with Covid-19, we could have prevented possible further community spread of the virus," Jensen said in the court declaration.
In an email statement to the Milwaukee Journal Sentinel, both Waukesha School District superintendent James Sebert and school board president Joseph Como declined to discuss the lawsuit.
"We have been in contact with our attorneys and on the advice of our counsel, we have been advised not to comment further at this time," Sebert said.
Kirk Bangstad, the Minocqua Brewing Company owner, started the PAC "to remove Republican federal and state elected officials who perpetuated the election lies that caused the Insurrection of Jan. 6, 2021, and whose downplaying of the seriousness of Covid-19 caused so many unnecessary deaths in our country," according to the business website. He's previously criticized the Trump administration's management of the pandemic.
He announced on Facebook that he's planning to sue every school board in Wisconsin that doesn't follow CDC guidelines to limit the spread of COVID-19 in schools.
Newsweek reached out to the Waukesha School District for comment but did not hear back by the time of publication.