Parent Voters More Likely to Back Democrats on Economy: Poll
Parent voters are more likely to vote for a Democratic candidate than a Republican one when it comes to the economy, according to a new poll released Tuesday.
A survey conducted by the National Parents Union (NPU) found that 39 percent of registered parent voters trust the Democratic Party to do a better job at handling the economy, compared to 36 percent of those who backed the Republican Party on the issue. An additional 10 percent said they trust both parties equally and another 10 percent said neither. Five percent said they were unsure.
The NPU poll featured more than 1,000 registered voters who are parents or guardians of K-12 students. Other polls have shown that Republicans are more trusted when it comes to skyrocketing inflation and rising prices.
On Monday, a New York Times/Siena College poll showed that the GOP made substantial gains thanks to a shaky economy that helped Republicans flip the generic congressional ballot in their favor. Voters who ranked the economy as their key issue favored Republicans by more than a 2-to-1 margin.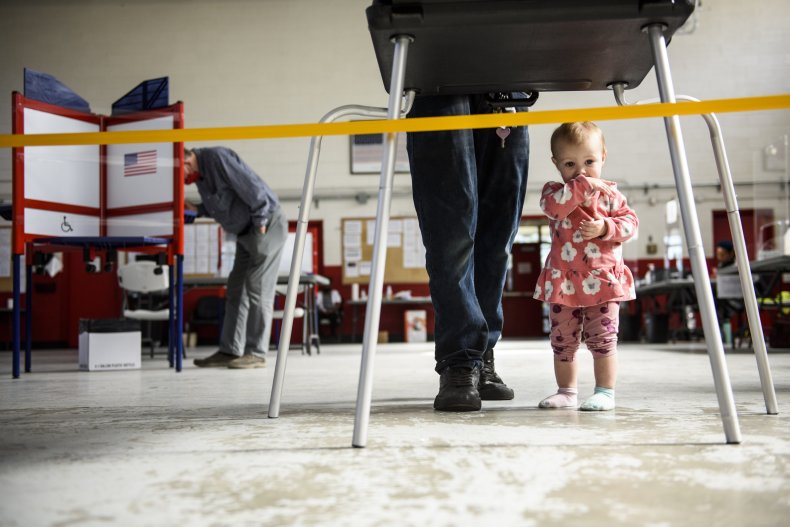 "When it comes to defending the safety net and making sure that parents who are living on the edges and in the margins, from paycheck to paycheck, Democrats have a track record of being a hell of a lot more compassionate for our circumstances than Republicans," Keri Rodrigues, the president and co-founder of NPU, told Newsweek.
"During a time where we're seeing an oncoming recession, I think the hope is that the Democrats are at least a little bit more empathetic to families who are in the struggle and are willing to step up and give them some support," Rodrigues said.
Polls have shown that the economy has remained the most pressing issue for voters since the beginning of the summer, and that it has remained important among parents as well. NPU's data found that the two most important issues on the minds of parents are the economy and abortion, with 53 percent and 21 percent, respectively.
The top economic concerns of parents are the rising cost of everyday purchases like food and gas, with 86 percent saying they were extremely/very concerned about it, and rising cost of housing or rent, with 73 percent finding it worrisome.
Nonprofit parent groups advocating for progressive policies have argued that parents are looking for financial control, and that is precisely what Democrats have and should be targeting.
"What parents really need are solutions that will support families and those solutions exist. Democrats have brought them forward," Ailen Arreaza, co-director of ParentsTogether, previously told Newsweek.
Democrats had hoped to push an extension of the child tax credit, universal prekindergarten and paid family leave into President Joe Biden's Inflation Reduction Act, but none of the central policies made it into the final bill.
"It is not lost on parents and families that the decisions we're making now are going to have a long-term impact on our children heading into the future," Rodrigues said.
More than 8 in 10 parent voters said they are extremely/very likely to vote in the upcoming elections, and nearly 60 percent said they are more motivated to vote in November than they have been in past midterms.
"This is going to be an economic election," Rodrigues said. "Parents are under incredible amounts of pressure, on top of the fact that they're deeply worried about the future for children."
Democrats and Republicans have tried to appeal to parents headed to the polls in November, but Rodrigues said few candidates have been successful in their efforts at winning over parent voters.
"There's a lot of the blame game going on and parents and families are not interested in playing politics right now," she said. "What they want to hear from our elected officials and candidates is: What is your solution? What are you going to do to solve it? How are you going to be proactive? Because pointing fingers is not going to get us out of the situation."