Parent Who Discovered CPS' COVID Reporting Change Wants Apology Over 'Misleading' Data
The Chicago parent who discovered that the nation's third-largest school district recently changed their COVID reporting methods without announcement said that Chicago Public Schools (CPS) should apologize to parents and families for "misleading" people.
Last week, Jakob Ondrey, a software engineer and CPS parent, tweeted a detailed account of the district's alleged "intentional" underreporting of COVID cases among students and school staff.
While CPS addressed the change in reporting on Friday—and doubled down on the new method again after the weekend—Ondrey believes the district owes the school community an apology for making the change quietly, especially at a time when COVID safety has been heavily debated within the district.
"Nowhere in Chicago Public Schools' statement is an apology for misleading people. As a parent of students entrusted to their care almost every day, I will be waiting for THAT statement," he said on Monday.
Although Ondrey commended the district for admitting to "their own lack of transparency," he said that "the inaccuracies, weak excuses, and veiled threats contained in their response warrant scrutiny."
"The assertion by Chicago Public Schools that they are 'not required to provide this data' is offensive and dismissive to the 333,000 students in CPS and their families," Ondrey wrote in a statement. "It reflects poorly on CPS that their response to allegations of providing bad data is to issue retaliatory threats to show no data at all."
Addressing the change made over the winter break, CPS said that the district's COVID dashboard only showed "closed" reported cases at the school level rather than both closed and opened cases like it did before—cutting down the number of infections being reported.
Closed reported cases are those that have been "reviewed, verified, and investigated," a process that could take weeks, while open cases include any and all possible cases based on "self-reported cases or positive tests."
The district is still evaluating whether it will go back to reporting both closed and open cases as it did before December 20, 2021.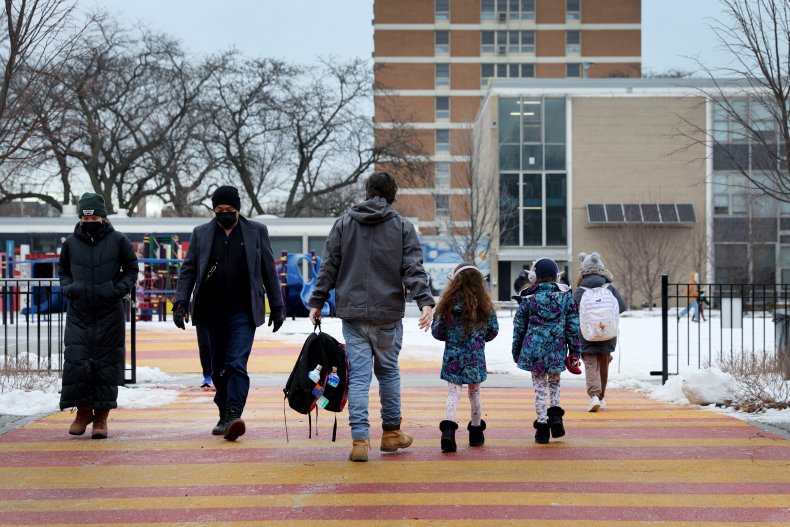 In the district's Friday statement, CPS said "This change was made to provide a more accurate number of closed positive and confirmed cases and to protect the privacy of our students and staff" but Ondrey disputes that privacy played a factor in the decision.
"Privacy has nothing to do with not displaying this data, which is far more anonymous than class and school level notifications," he told Axios, adding that just last week he received two notifications about COVID cases at his kids' school.
Warning parents on Twitter, Ondrey wrote: "At a time when it was and is important for @ChiPubSchools to show that schools are safe, they are fudging the data to prevent cases they have determined are actionable from YOUR school's dashboard."
"Sure, there is lots of COVID going around but not at YOUR school," he continued. "But it IS your school you are just being gaslit."
CPS' reporting change has drawn backlash from not only many parents in the district but also teachers, who were not alerted of the updated methods.
Chicago teachers have spent the last few weeks in a tense standoff with the district over its COVID protocols, with educators pushing for more safety protocols and asking for a lower threshold in order to switch to remote learning.
While the remote work action was suspended and the labor dispute resolved after a week, the news of CPS' new reporting has reignited concerns that the district is endangering school staff.
By reporting lower case numbers, current infection rates won't be enough to trigger lessons to go virtual, keeping both students and teachers in-person at schools that may have higher levels of COVID than stated by the district dashboard.
Newsweek reached out to CPS for comment.