Parenting Expert Shares Tips to Tackle Promzilla Teens: 'Minimize the Hype'
With photographers, flashy cars, and elaborate taffeta dresses—a teenager planning their prom seems nearly as wrapped up in the event as an eager bride arranging her wedding day.
And while it may be a chance to spend time with friends and celebrate the end of the school year, social media means teens are putting increasing pressure on themselves to have the perfect, Instagram-worthy day.
One mom even branded her daughter a "promzilla" online, with Mumsnet users sharing stories of teens who have created prom mood boards, desperately scraped together cash for limos, and one who demanded her entire family see her off before the event to "pay homage to her on her big night."
Speaking to Newsweek, parenting coach, broadcaster and author Sue Atkins revealed why so many teens feel anxious about having the ideal prom, and her advice on making the entire day run smoothly.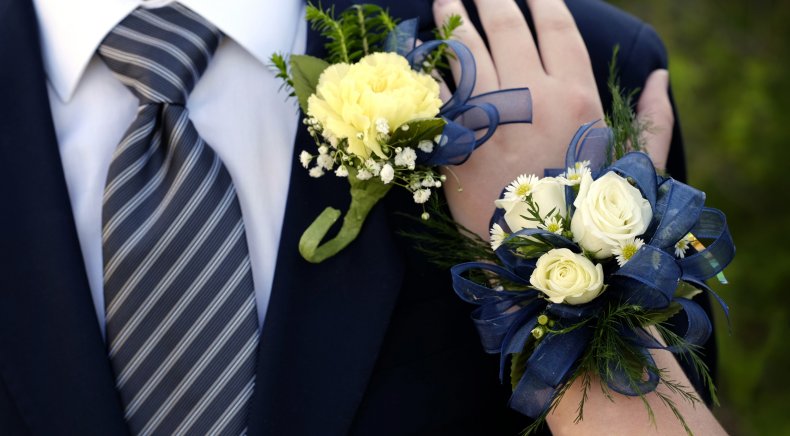 "Young people feel the need to be accepted by a group of their peers and prom plays into this sort of dream of acceptance and belonging and sort of throws teenagers into a frenzy of taffeta and corsages," she explained.
"Then you add in the idea of rom-com films, they're all kind of romanticizing going to a prom, the Cinderella story. Then you add in Instagram and you've got prom envy and a whole host of problems.
"As a parent, managing their expectations is important. The hair, dresses, shoes, manicures, limos, tickets, photos, parties afterwards, then you have a real pressure. Plus the finances of all of this. It's a complicated thing, add in hormones, and you have quite a lot on your plate."
Here, Atkins reveals her top tips on easing pressure on your teenager to have the ideal prom, and how to ensure they have a safe and enjoyable day.
Minimize the Hype, but Don't Mock the Occasion
While parents may believe the prom is less important than their child does, Atkins advised never mocking their excitement or passion, instead trying to focus on real experiences they can gain from the event.
"It's an occasion to say goodbye to some people and have fun," she said. "Keep the values side of it up, not the hype about the hair. Of course kids want to do that, so don't diss it and be all tutty about it, but try and help them to see it's only part of what's important. Talk about the thing that is important, which is making memories that last a lifetime.
"Set a budget for your child. That helps. In these difficult times it can really escalate and get out of hand. It's a special day, you're going to make lovely memories, make sure you remember them and talk about what is important around it."
Manage Expectations
While it can be frustrating to see your teen fantasizing about an unattainable, glamorized version of the event, Atkins says the best way to tackle the problem is a gentle reminder to keep things in perspective.
She explained: "It's difficult, it's the same with weddings, people get all hyped up, with flowers and the horse-drawn carriage you forget what you're doing. That's when it's a good idea to not lecture your kids about that stuff, but in the lead up talk about it and help them manage those expectations.
"Help manage the hype without being a fuddy-duddy about it, do it when you're driving or eating dinner or walking the dog. Ask open-ended questions about things and you can sort of gently put in some wisdom around it, which will help ground them a bit.
"Talk about hype, Instagram, how it can get out of hand and try to help them manage that. It's really a problem generally, young people comparing themselves on social media. Use every opportunity to pass on your values or your wisdom about life, put it in perspective.
"We like to mark and have a right of passage, these are all transitional moments, but keep them in perspective and the only way to really do that is to talk to and not at your kids."
Know the Plan
Ahead of the big day, make sure both you and your teenager know exactly what will be happening at each stage of the day to avoid any anxiety about the event.
"What time does the prom begin and what time does it end? Are you going to dinner beforehand, is there dinner at the prom? Where are you meeting your friends? Are there going to be other adults keeping an eye on? How will you be getting to or from the prom or after party?
"Know all the hotspots if you can, do some research with the parents who will be there. It's all about talking or communicating and listening."
Prepare Your Teenager
Atkins advised having some sort of code with your teenager in case they want to remove themselves from a difficult situation quickly.
"It can quickly get out of hand if they get all excited," she said. "Maybe have a code your child can send if it all gets out of hand with them, or other people having too much to drink. Have something which means: 'Can you come and get me'
"Don't fuss about that, don't make a big deal, just say: 'I'll be there in five minutes'. Find out who is driving, sometimes they get excited when they're driving and might text or share photos, so it's best to get a local cab company."
Discuss Consequences
While parents shouldn't lessen their children's excitement over the event, it's beneficial to discuss the consequences of things like alcohol ahead of the event.
Atkins said: "You don't want to be a fuddy-duddy, but it's a really good opportunity to talk about your kid and safety and how to get out of a sticky situation.
"Teenagers don't see the dangers, they only see the fun, try and talk to them about what would happen, talk to other adults, other parents.
"Perhaps stay up before your prom goer is safely home so you are around to answer texts or calls and find out how good it was, who was there, why it was lovely, let them share that experience for you."