Parents Tied Up Kids, Put Boxes Over Their Heads 'for Being Loud': Police
Two Utah parents are in jail on charges associated with allegedly binding their children and putting their heads in boxes.
A probable cause affidavit obtained by Newsweek showed that Lori Carling, 37, and her husband Chris Andersen, 36, were arrested by the Tooele City Police Department. Each faces two felony charges of child abuse with serious bodily injury.
Documents allege that on May 2, a Tooele City police officer was called into an unspecified elementary school at the request of the principal, who told police that an 11-year-old male shared a video with her allegedly showing his two younger brothers, ages 8 and 5, "in timeout at home standing with a box over their heads and their hands tied behind their backs."
When asked why he showed the video to his principal, the boy reportedly told police that he was "angry" it was happening to his brothers and that the video was a cry for help.
It has allegedly been happening for two years, often when his brothers are "too loud in the morning." His stepmother, Carling, is allegedly the one who puts them all in "timeout," although the boy said his father is aware she does it.
The boy also alleged that a rattling marble maze toy is placed on top of both boxes—one for each brother—and if the boys move at all, they have to tie one leg to their hands and essentially are left to stand on one leg "for 30 minutes or more if they move or talk."
"Sometimes he felt like untying them and running away together," the 11-year-old reportedly said.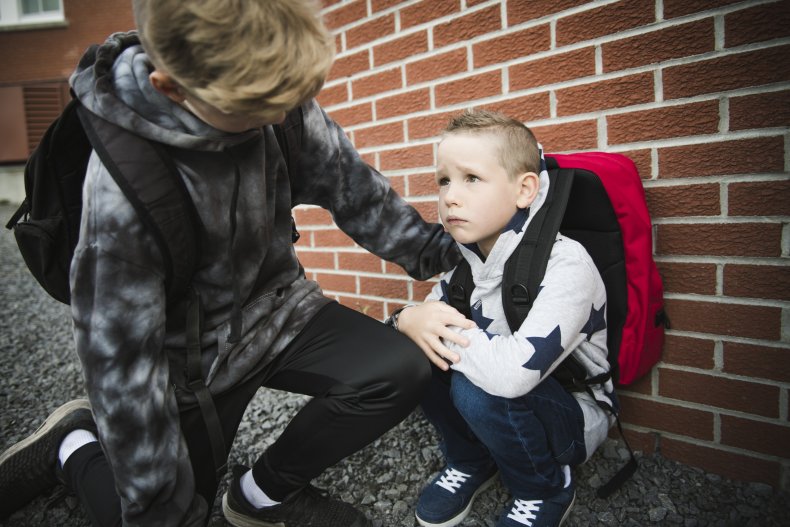 Police then spoke with the younger brothers, who reportedly confirmed their older brother's story. Police also allegedly found a "burn mark" on each of their chins, which the boys reportedly said was due to their chins rubbing against the boxes.
The 8-year-old victim said the box was too tight and hurt his ears. He also said that his stepmother allegedly placed a granola box inside the bigger box "to make it a smaller space for them to not be able to move their heads inside at all."
Parents Allegedly Admit to Wrongdoing for 'Discipline'
A search warrant was obtained and executed by police May 3, at which point they reportedly found the boxes in question—in addition to the ratting marble maze toys.
"The boxes appeared in my opinion way too small for the two victims to be able to get any airway inside," reported the officer who searched the family's residence.
The following day the same officer spoke with Carling, who allegedly admitted to using the boxes "as a form of discipline." She also allegedly admitted that "timeout" normally occurs in two-hour increments, such as after breakfast and then again after lunch. She also allegedly admitted to tying their hands with shoelaces.
It had been going on for at least three months, Carling told police.
Andersen also allegedly admitted to the box routine, saying it was both his and his wife's idea. When asked about it, he reportedly told police "it initially started as a joke and scare tactic" but they continued doing it because "nothing they did was working on the children."
On May 5 a nurse who conducted the medical evaluation on the boys reportedly told police that the kids often worried about fainting in the boxes. She also reported seeing cuts on the 8-year-old's ear from being inside the box.
Later that same day, the officer arrested Carling.
On May 9, it came to the police's attention that three more children had been previously removed from the same residence. It was alleged that Andersen knew about previous abusive events and participated in them.
During one family gathering, when the boys were often allegedly locked in their rooms, a family member reportedly asked to see the children to make sure they were OK.
When the family member looked inside their bedroom, the boys were allegedly seen sleeping on wooden floors with no mattresses. The room also reportedly smelled like urine.
Another instance allegedly involved Andersen making the 8-year-old sit outside in the freezing cold wearing a short-sleeved shirt, pants and socks because he soiled his pants. He was reportedly left outside for about 10 minutes.
Andersen was arrested May 9 and joined his wife at Tooele County Jail.
Alleged Abuse Occurred Only at Home, School District Says
The Utah Division of Child and Family Services took the 8-year-old and 5-year-old. Police told Newsweek that the 11-year-old boy joined his other siblings at family members' homes.
Marie Denson, communications director for the Tooele County School District, confirmed to Newsweek that Carling served as a special education paraprofessional for the Tooele County School District.
When police notified the school district of the investigation, Denson said Carling was placed on administrative leave. Her employment was terminated this week.
"The charges are not related to her employment," Denson said. "The situation is alarming and the safety of our students is a high priority. After an internal investigation, we have not found any concerns with Ms. Carling's interactions with students. If there are any concerns that were not previously reported, we have asked our families to please contact the school district or the Tooele City Police Department."
According to the Children's Advocacy Centers of Tennessee, a child is abused or neglected every 47 seconds in the United States—including over 3 million children who are annually the subject of at least one child abuse case. The national average of abused children is about 700,000.
Police said that due to a change in state law last year, booking photos cannot be released until after conviction.
A California woman was arrested earlier this week on criminal charges after an exorcism allegedly led to her 3-year-old daughter's death. The mother reportedly said, "It is what it is" in a video posted online.