Parents Are Opting for Charter, Home School as COVID Pushes Kids Out of Public Classrooms
The school choice movement has picked up steam in recent years—particularly under Betsy DeVos, who served as education secretary in the Trump administration—and the trend only ramped up when the pandemic hit.
As parents participated in their children's virtual lessons and watched districts struggle to reopen over the last two years, a considerable number of them have pulled their kids out of the traditional public school system in favor of alternative options, like charter schools and homeschooling.
The 2020–2021 school year saw charter school enrollment increase by 7 percent, compared with the year before. A report from the National Alliance of Public Charter Schools found an increase of nearly 240,000 students in 39 states.
"Nationally, that's a big jump," Colin Sharkey, executive director of the American Association of Educators, told Newsweek. "Obviously, there have been times, like in New Orleans after Hurricane Katrina, where there have been spikes and there are charter schools forming every year, but there's still a lot of limitations to starting a charter school."
"It's not like there were suddenly a ton of charter schools that popped up and then the demand followed," he added. "The fact that parents were able to find seats in these schools is a testament to that demand."
Charter schools are not the only alternative to traditional public schools that have grown over the course of the pandemic. In 2021, 22 states implemented new school choice programs or expanded current ones.
"The pandemic shed a light not only on the difficulty of keeping the public district system's schools open, but the concerns parents and educators have about the quality of remote education and how well that's serving all of the children," Sharkey said.
He said that while large public school system were forced to make difficult district-wide decisions on in-person instruction, those decisions were also frustrating for many parents and family members who wanted to see schools reopen much quicker.
"When [public schools] struggled to remain open through the following school year, it just increased the number of people who were exploring their options," Sharkey said.
"It may have been the last straw where [parents] may have had issues with safety or bullying or content and finally the school just not being open was the final reason for a parent to make that change," he added.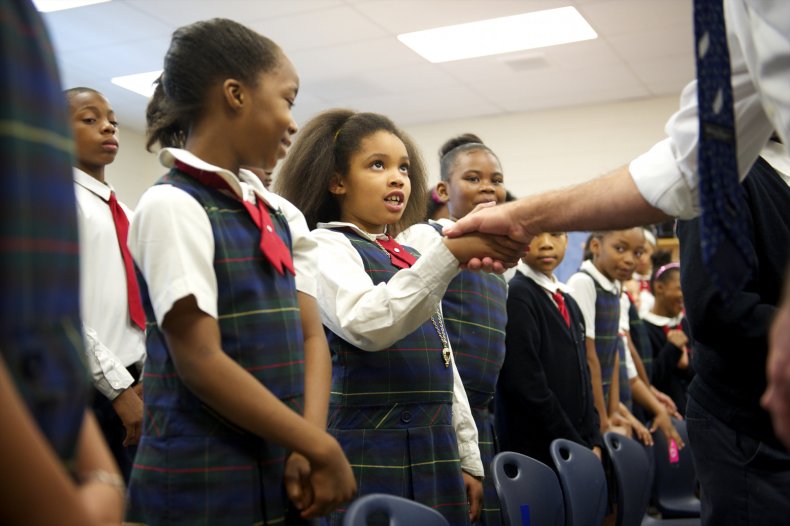 School choice programs allow for public education funds to follow students to schools outside of their neighborhoods, most commonly through tax-credit scholarships or vouchers to private schools, under open enrollment laws, charter schools or magnet schools.
A number of parents have also opted to homeschool their children, an increase, Shakey said, that "grew quite a bit during the pandemic and may remain a growing trend."
Proponents of school choice programs argue that more options allow for lower-income families to break the link between housing and access to education. Critics, however, are concerned over lack of oversight in schools outside the public education system and warn that diverting public funds from chronically underfunded schools will only further hurt the country's education landscape.
"The truth is many families have school choice options, we just don't think of it as school choice. We think of it as buying a house in a nicer school district," Sharkey said. "Well-to-do families or families who prioritize education and make tremendous sacrifices buy themselves into better school districts with what information we have, but that's not available to all."
He said that while opponents of school choice think that public funds should remain in public institutions, he believes the money should not lock students into a single educational option.
"I kind of reject the idea that it's the school's money, they're entitled to it and therefore the child should be going there," he said. "For as many children as that school is serving, that's exactly where that money should be going."
"I understand the concern that the immediate needs school districts can't be ignored—that can be wildly disruptive to the planning—but at the same time, it's wildly disruptive to a child to be failing in their school, so who is paying the price here?" he added.
There are currently 65 private school choice programs operating in 31 states and Washington, D.C. Some form of open enrollment is also available in 46 states, although most require district approval of certain criteria.
There are also over 3.3 million students currently enrolled across 7,500 charter schools across the U.S.