Just when it seemed the progressive activists at the Southern Poverty Law Center (SPLC) couldn't become any more ridiculous, they did just that last week when they breathlessly declared a new set of "antigovernment extremists" threatening America: parents.
SPLC's deliberate smearing of parents' rights advocates was front and center in its latest annual report. Its "Hate map" lists numerous parents' rights groups, including my organization, Parents Defending Education (PDE), alongside such groups as the Ku Klux Klan.
A closer look reveals that SPLC characterized its "antigovernment extremist" designees as "reactionary anti-student inclusion" groups that "spew homophobic and transphobic speech in the name of protecting their children's innocence, disregarding and disrespecting children in the LGBTQ community."
For PDE, nothing could be further from the truth.
Since our founding two years ago, PDE has fought tirelessly to defend students' and parents' civil rights in education. We have filed 28 complaints with the Office of Civil Rights at the U.S. Department of Education, nearly all in opposition to racially segregated programming that denied opportunities to students on the basis of skin color, as well as three federal lawsuits on behalf of families.
The work of an extremist hate group? Hardly. Race-based segregation was immoral in 1953, and remains so in 2023.
But while SPLC's ad hominem allegations are outlandishly false and easily disprovable, the attacks are meant to serve a larger and more nefarious purpose: to vilify and delegitimize Americans who disagree with a progressive agenda, chilling and intimidating opponents into submission. When it launched its attack last week, SPLC joined a long line of institutions attempting to bully parents into silence.
Activists across the country are employing similarly menacing tactics across the country—and they have allies in the federal government. In 2021, the National School Boards Association colluded with the Biden administration to request federal intervention against parents protesting school boards. The letter went so far as to question whether the federal government could treat some parental protests as forms of domestic terror.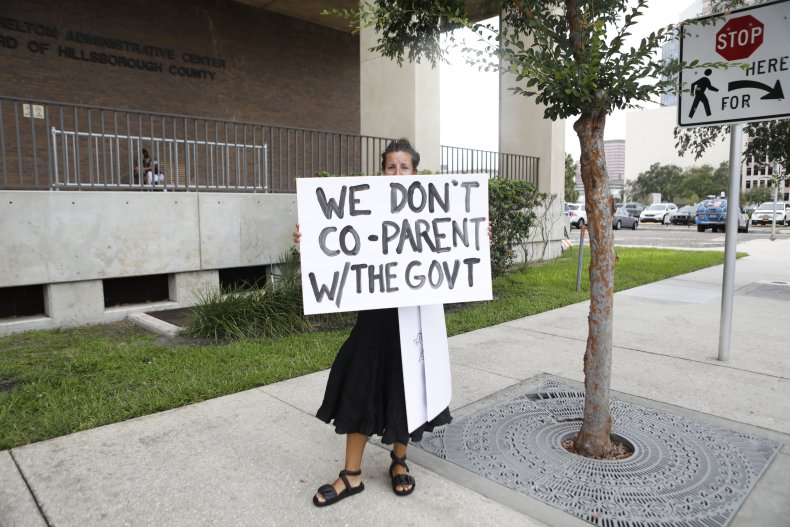 Over the past two years, the National Education Association's annual meeting has voted to fund investigations into groups that opposed "anti-racism" (2021) and gender activism (2022).
All of this politically motivated mudslinging sends a message to every American raising his or her voice in opposition to radical overreach: speak up and you too will face personal and professional ruin.
The good news is that this is only happening because parents are winning. Radical progressives are pushing policies opposed by the vast majority of parents, and parents are pushing back—hard.
Earlier this summer, President Biden's Department of Education proposed new Title IX regulations which would allow biological boys to participate in girls' sports—even though 71 percent of parents oppose such policies. Parents responded by flooding the administration's comment portal with 130,000 comments, many filed with the assistance of PDE and other parent groups listed on SPLC's "Hatewatch" map. Whether or not the administration wants to listen, parents made their voices heard.
When investigations revealed graphic and controversial content in school curricula nationwide, parents responded by submitting an avalanche of Freedom of Information Act requests. They persisted even when schools attempted to price them out by charging exorbitant processing fees.
Actual "antigovernment extremists" would not work within the system, helping Americans submit comments against the Biden administration's proposed regulations. They would not testify before Congress and state legislatures to provide policy recommendations on how to improve schools and restore trust between administrations and families. Yet that's exactly what PDE and other parent groups have been doing.
Even so, progressive activists would have everyone—especially in the media—believe that parental engagement constitutes extremism. Such deception is a slap in the face to the millions of parents who have to sign permission slips for Advil and field trips but are now deprived of deeply personal information about their children, impeding their right to raise their kids as they see fit.
In these times, speaking up and standing firm against ideologues sniping from the hedgerows is precisely what's necessary. As progressive activist groups resort to slaying invisible dragons, parents' work combating real injustice in the education system will speak for itself.
Nicole Neily is the president of Parents Defending Education.
The views expressed in this article are the writer's own.