Parent Explaining Their Bedtime Rules for 'Rude' Teen Daughter Splits Views
"Early to bed, early to rise" is an old saying that most parents have likely told their kids at least once during their lifetime. But these days getting their teens to sleep on time is harder than ever.
In a viral post shared to Mumsnet on Thursday, user "Wowsersreally" explained they expect their teen daughter to hand over her phone every Sunday to Thursday evening at 9:30 p.m. This is to ensure she is asleep by 10 p.m.
"Every night my 15-year-old pushes this which results in my nagging and her being rude and lippy and us both going to bed in a grump," they wrote, adding in a comment that the teen is often watching TikTok videos or catching up on messages when she should be sleeping.
In the comments on the Mumsnet post, the parent said: "The phone addiction stops her getting ready for bed though, and then she's clanking around whilst DS [darling son] and I are trying to sleep which is another frustration."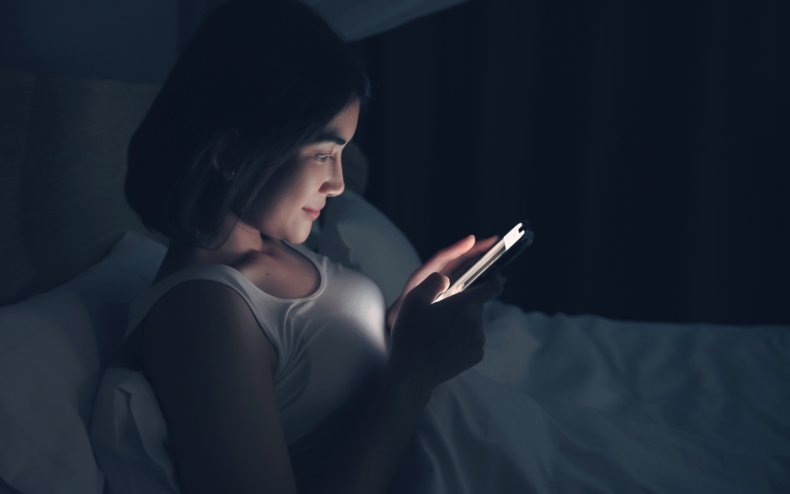 The parent said that their daughter "needs a proper rest" as she wakes up at 5:45 a.m. to leave for school at 7 a.m.
Over 105 people have commented on the post since it was shared on Thursday. And more than half of the respondents (63 percent) have voted "you are being unreasonable."
Last year, Pew Research Center surveyed 1,316 American teens and the results found that teenage girls are slightly more likely to say it would be hard to give up social media. Forty-one percent of female teens aged 13 to 17 admitted to spending "too much" time on social media; 31 percent of boys said the same.
But being glued to an electronic device can affect the quality of one's sleep.
In 2020, researchers at Second Military Medical University in Shanghai, China, and the
University of Genoa in Italy, randomized 38 participants to either an intervention group where members were instructed to avoid using their mobile phone 30 minutes before bedtime or a control group where the participants were given no such instructions.
After four weeks, there were significant improvements for those who had mobile phone restrictions. Their sleep quality was better and they slept for approximately 18 minutes longer. They were also able to fall asleep 12 minutes quicker compared to those using their phone before bedtime.
'Phones Are One of the Biggest Parent and Teenager Battles Around'
Lesley McGregor, a parenting expert for StellKey, an app that aims to "help families work together," told Newsweek the Mumsnet parent's rule is actually a good idea.
"Phones are one of the biggest parent and teenager battles around. It looks like the mum and daughter have an actual agreement on the 9:30 p.m. rule so that's a good start. The mum should explain clearly why the daughter needs to sleep at 10 p.m. and why using her phone will lead to poor quality sleep," McGregor said.
"In case the teenager disputes this, the mum should have some credible sources (research article, etc.) on hand. Even when the daughter understands the reasons, phones are highly addictive and require a huge amount of discipline to put down," she said. One way to get around this is to have two or three automatic reminders on the daughter's phone—at 9:10 p.m., 9:20 p.m. and 9:30 p.m., for example—to prime her for the 9:30 p.m. curfew."
McGregor suggests deducting five minutes the next night if the teen doesn't hand her phone in on time. So, if the phone is handed in at 9:45 p.m., then it must be given at 9:15 p.m. the following evening.
"This will be challenging for the first few nights but the daughter will soon get used to the routine," she said.
'Phones Are Designed to Be Addictive'
However, Mumsnet users feel the teenager is old enough to manage her own time.
One user said: "She's old enough to choose her own bedtime and get up in the morning by her own clock. Pick your battles wisely. This isn't the hill to die on."
"I think you are absolutely right to have time for her phone to be put away. We all should. Phones are designed to be addictive and she is still very young (in my opinion)," one commenter wrote. "Otherwise, the light from her phone will mean she doesn't sleep as well and that combined with her getting up before 6 am would leave her shattered. If she then potters about her bedroom for however long before going to sleep I think that's a different thing."
"Compromise. Phones away at 10 pm, [and] she goes to bed when she wants," said another.
Newsweek was not able to verify the details of the case.
If you have a personal dilemma, let us know via life@newsweek.com. We can ask experts for advice on relationships, family, friends, money and work and your story could be featured on Newsweek's "What Should I Do? section.