Reason Parents 'Went Back on Our Word' to Fund Daughter's Wedding Cheered
A dad has been cheered for refusing to give his daughter money for her honeymoon after she eloped.
In a post on Reddit, user u/External-Relief7802 shared how he had refused his newlywed daughter a large cash gift.
"My daughter Jane recently eloped with her partner of 5 years. My wife and I were excited when they got engaged to plan a wedding but she said she didn't want to rush setting a date or planning a wedding," he wrote. "This was understandable to us and we didn't want to rush them either, but we let her know we would contribute a set amount to her wedding when the time came."
However, last week, the couple gathered the family together for an announcement—they had decided to elope. The dad explained: "[She said] that they actually eloped together because they decided they didn't want the big event with all the attention on them. This was a little disappointing but we understood, she's never been the type to want to be [in] the spotlight so while we weren't expecting it, it wasn't the biggest shock in the world."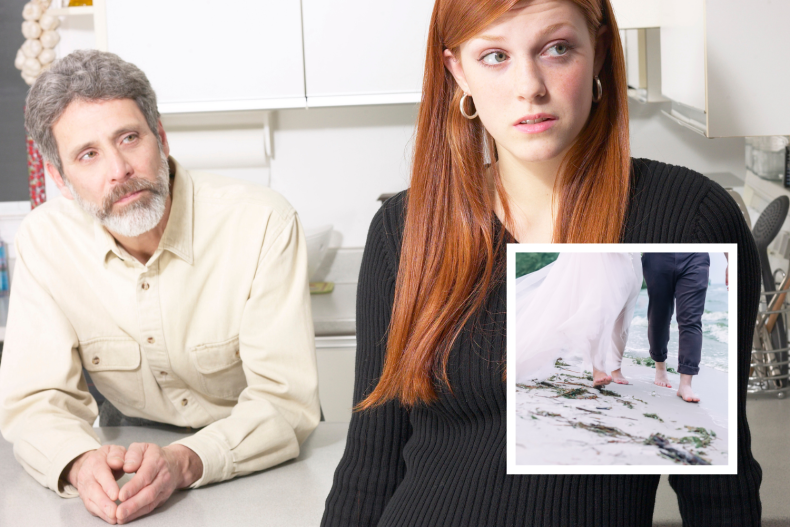 According to Hitched's annual wedding trends report, searches for "elope" were up by more than 200 percent last year. This follows some high-profile celebrity elopements such as that of Kourtney Kardashian and Travis Barker.
However, the poster on Reddit wrote that what did shock the parents was when their daughter assumed that she would be given the money they would have spent on the wedding.
"She said they wanted to use it to take a month-long traveling sabbatical/honeymoon. My wife and I told her the money we were prepared to give her was for a family event, not just for her to do as she pleases," wrote the poster.
Zoe Burke, leading wedding expert and editor of Hitched.co.uk, told Newsweek: "Eloping is a really personal choice. While it can be the right choice for the couple, some friends and family might be disappointed that they missed out on the chance to see the couple get married and have fun at the party.
"A big part of a wedding is the celebration that brings everyone together, after all! It's totally understandable for the parents to be sad they didn't get to see their daughter get married, but respecting their daughter's choices is really important," Burke added.
Millennial couples have told Newsweek why they chose to elope, with reasons from saving money to getting away from family members who disapprove of the relationship.
The dad explained on Reddit that he understood the couple had opted for a non-traditional wedding, but that didn't mean they would be offering the money to the couple.
"If she didn't want a traditional wedding, that's fine but we never told her we were just giving her say 15k for the act of getting married," he wrote. "Two of my nieces have gotten married in the last couple years and it's a family event to us, not just about the two people getting married.
"This has caused a whole thing with her saying we went back on our word to her but in my mind we never told her otherwise. We did say if she wants a second ceremony/family event to celebrate but wouldn't be an official wedding, we would sponsor that."
Burke explained that, while there has been an increase in elopements, it still isn't an overly popular. "Many couples love the idea of a wedding party, even if it's a small celebration," she said.
In thousands of comments on the post, Reddit users sided with the dad and explained that he was right not to gift the money.
"Your expectations and conditions are entirely reasonable. It was unreasonable for her to assume that she could simply take the 'cash option' here," wrote one commenter.
Another posted: "Actually, a wedding is about the couple, but it's fair of you to say the event would be so that the family could celebrate the couple. Your daughter is acting entitled."
Another commenter agreed: "You said you would help with the wedding, not with the honeymoon. There's a difference in spending so much money for an event a whole lot of people would enjoy than giving it for two people only to spend."
For anyone excited by the idea of eloping, wedding expert Burke had some tips, too.
"I would say to keep it as secret as possible, but perhaps let those really close to you, such as your parents, know that you're considering it or are likely to do it—this way, you can remove the element of disappointment when you do reveal what you've done as they kind of expected it," Burke said.
"I'd also advise still investing in a wedding photographer as you'll want lovely photos to share and look back on, regardless of how you celebrate your wedding."
Newsweek has reached out to u/External-Relief7802 via Reddit for comment. We were not able to verify the details of this case.
Has a wedding come between your relationship with a loved one? Let us know via life@newsweek.com. We can ask experts for advice, and your story could be featured on Newsweek.