Parents Claim Their Children Told Not to Speak Spanish at North Carolina School
Two mothers told a local news station that their sons were told by a teacher at their North Carolina high school not to speak Spanish to each other.
Aneurys Serrano and Elizabeth Salcedo claimed in a Wednesday interview with WSOC-TV that a teacher at Piedmont Community Charter School's high school campus in Gastonia, North Carolina, stopped their boys in the school hallway and reprimanded Serrano's 16-year-old son for not speaking English.
"They traumatized him because he's like, 'I can't speak my language,'" Serrano said.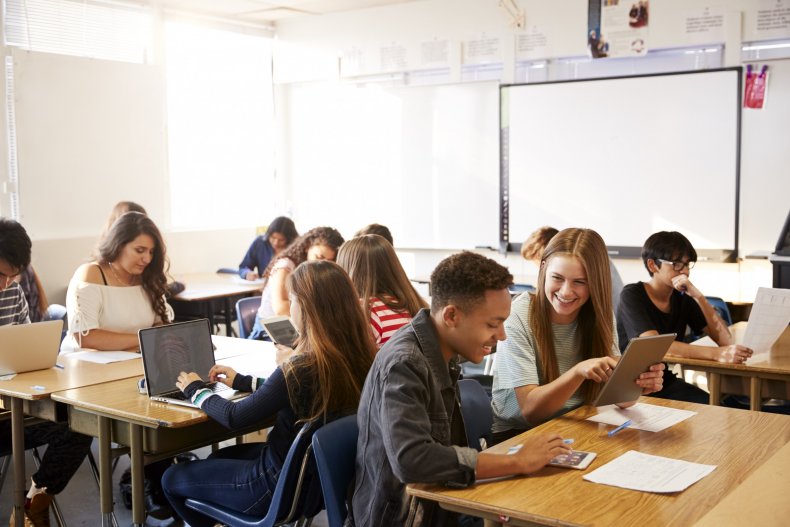 The mothers said the incident happened two weeks ago. According to them, their two sons were speaking to each other in Spanish about sneakers when a teacher told them not to use the language while at school.
"You are making the kids feel like, 'Okay, being Hispanic is wrong,'" Salcedo said.
Several parents claimed that the school later made a formal announcement that students should only speak foreign languages in foreign language classes, according to WSOC.
Serrano and Salcedo said that the teacher apologized separately to Serrano's son as well as to his class about what she said in the hallway. However, the mothers said this is not the first time such an incident has occurred at the school. They claimed teachers have told students for years not to speak Spanish at the school.
The women also claimed that other students at Piedmont have harassed their sons.
"They were telling them they were going to send them 'back to their country,'" she said.
School administrators met with students on Wednesday, and a WSOC reporter said one student told him the school vowed to hold a cultural awareness day in the future.
Jennifer Killen, Head of School at Piedmont Community Charter School, told Newsweek in a statement that"Piedmont has never made any formal announcement that Spanish cannot be spoken at school."
"Students have always been allowed to speak their native language at school, including the hallways. Piedmont Community Charter School does not have a policy regarding the language spoken by students at school. English is spoken during direct classroom instruction (other than in foreign language classes) to provide clarity for the understanding of the subject," Killen wrote.
"Administrators met with and heard concerns from students and parents, investigated the complaint and addressed it," Killen added. "PCCS respects the diversity within our community and values the relationships that unite us as a school community."
Update 10/28/21, 3:15 p.m. ET: This story has been updated to include a statement from Jennifer Killen from Piedmont Community Charter School.