Parents Dragged Over Reason They Gave Son His College Fund but Not Daughter
A couple have been slammed for refusing to give their daughter money from an education fund set up by her grandparents because she didn't attend grad school.
In a post shared in January on Reddit's popular r/AmITheA****** forum, user u/JacquesBN explained that he had refused his 23-year-old daughter the money saved by his parents.
"My wife and I always expected our kids to attend college and then graduate school, as we have done. I have a PhD, my wife has a master's," said the poster. "Because of this, we decided not to use the funds for our kids' undergrad degrees and did not tell them about the money."
The dad said that his daughter has always been "more into the liberal arts," while their son is "more of a STEM (science, technology, engineering and mathematics) guy."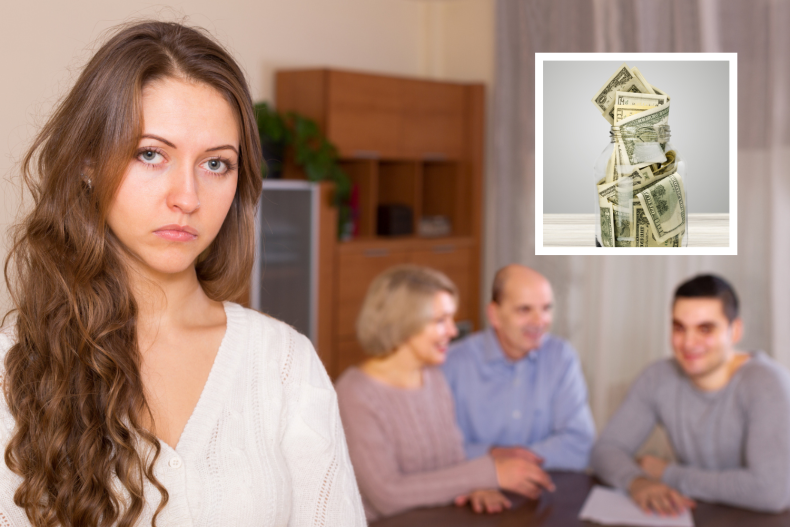 While he and his wife worried about their daughter's ability to find a job, she studied music and film at college. With a scholarship that covered almost all of her tuition, she paid for everything else while she studied.
After finishing college, she found a job she enjoyed and decided not to go to grad school.
The average cost of college in the U.S., including books, supplies and daily living expenses is $35,551 per student per year—a figure that has more than doubled since records began in the 1970s.
A graduate school placement, or Master's degree, typically ranges between $30,000 and $120,000 depending on the school, major and length of the program.
While the daughter was happy with her degree and new job, issues arose when her 21-year-old brother started college and his tuition was paid.
"My son decided to do engineering, and he also expressed that he had no interest in grad school. My wife and I were disappointed, but accepted it since at this point he is already all set up with a very good job when he completes school," said the poster. "Since he did not receive as many scholarships as his sister, we decided to use his education fund to cover his tuition and living expenses.
"He was able to get a large and nice apartment of his own close to the school, which is important since his classes are so demanding and he needs a comfortable space to work."
His daughter was confused and asked how her brother could afford this, which is when she learned about the education fund.
"She called us and asked why she didn't have one, and we told her she did, we just didn't use it because we hoped she would attend grad school," explained the dad. "She seemed hurt by this and asked if there was any way she could have the money now. We explained that there would be a fee to simply withdraw the money for non-education uses, and if we chose to do that it would belong to her grandparents so they could put it towards their own use."
Since this, the daughter had been short with her parents when answering texts and has not answered their phone calls.
Psychologist Catherine Hallissey told Newsweek: "Money can put a strain on all relationships. This is especially true when parents are judging their adult children's life choices and rewarding their preferred choice with money.
"I know that it seems unfair to her, but it's not really her money in the first place and she's no longer in college," said the poster. "Plus, her brother only received it for educational purposes, and it wouldn't be right for her to just have it to spend now."
But in more than 10,000 replies, Redditors overwhelmingly dragged the parents for their decision.
"YTA (you're the a******)," said one reply. "I'm surprised between your PHD and Master's degrees you couldn't figure that out."
"It is not fair to give one child money and not the other simply because you do not value the path they have chosen in life," said Hallissey. "In this situation, the grandparents set up an education fund to be used by each child. There was no stipulation regarding what type of education was acceptable. However, the parents have now weaponized this fund based on their own values which is incredibly unfair."
Another Redditor said: "You paid for your son's living expenses out of the fund but not your daughter's when they made the same decisions. Yet your daughter achieved scholarships and your son didn't, so you make her effectively struggle and have to pay for herself..."
"You stiffed her because you didn't like her field of study," said another commenter.
Hallissey suggested: "If the parents want to have a healthy relationship with their daughter and to reduce the likelihood of sibling rivalry, then yes, they should reconsider their decision. It is not fair or reasonable to withhold the money simply because they do not value their daughter's chosen career."
Newsweek has reached out to u/JacquesBN for comment. We were unable to verify the details of this case.
If you have a family dilemma, let us know via life@newsweek.com. We can ask experts for advice, and your story could be featured on Newsweek.