Parents File Human Rights Complaint After Teacher Tells Kid 'Girls Aren't Real, Boys Aren't Real'
A school board in Ottawa is facing a complaint from a couple upset that the school's gender identity curriculum confused their daughter.
According to Radio Canada International, Pamela and Jason Buffone filed their complaint after their 6-year-old daughter was given a lesson on gender identity that left her confused.
The Buffones allege that the lesson contravened the Human Rights Code due to discrimination on the basis of sex, gender and gender identity. They also worked with the Justice Centre for Constitutional Freedoms to amend the complaint to include allegations of violation of the Canadian Charter of Rights and Freedoms, most specifically the language on "security of the person and equality."
According to the Buffones, teacher Janine Blouin was appointed to their daughter's first grade class in January. She quickly added "all kinds of social justice topics" to the curriculum.
The complaint alleges that Blouin directed an activity in class where she drew a gender identity spectrum on the board, with "girl" on one end and "boy" on the other, and encouraged kids to think about what traits each of those identities have and place themselves somewhere on the line.
The Buffones' daughter placed herself all the way to the end of the "girl" side, at which point the complaint alleges Blouin told her "girls are not real, and boys are not real."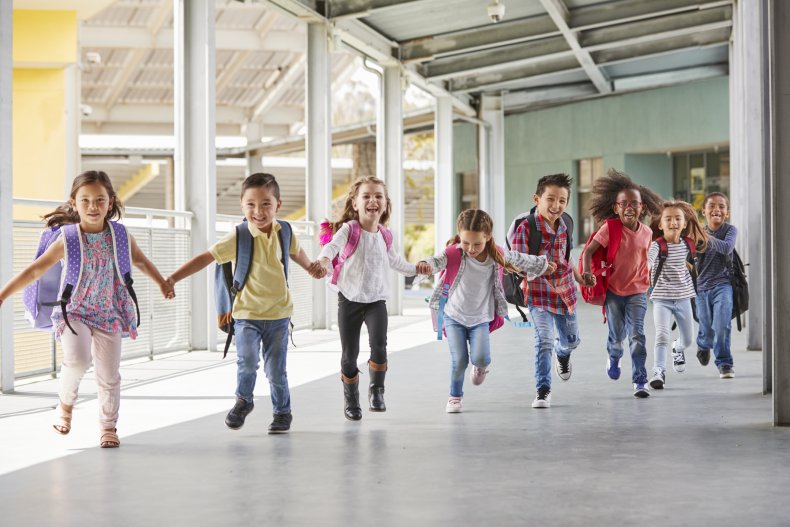 The Buffones allege that hearing that was incredibly upsetting for their daughter, who had just begun developing awareness of gender and asking if dogs she met on the street were boys or girls.
The lesson also included a video from educational group Queer Kids Stuff, which produces material explaining and exploring gender and sexuality topics in language that elementary school children can understand.
The Buffones complained to the teacher, who suggested they raise their concerns with the school principal.
They did so, but were dissatisfied with the administration's response. The Buffones claimed the lessons were not "factual or age-appropriate," only to be met by resistance from the principal who pointed them to district policies.
The family eventually withdrew their daughter from the school.
"It's extremely concerning to me that people in positions of authority who are supposed to be looking out for the welfare of all children have zero interest in understanding the impact of their lessons on very young children," Pamela Buffone told RCI.
The Ottawa-Carleton District School Board are unable to comment on ongoing legal proceedings.
It is worth noting that a Twitter account in Pamela Buffone's name consistently posts and retweets "gender critical" articles and personalities that deny transgender and nonbinary identities. Buffone has also contributed to Canada Gender Report, which describes itself as "a group of parents and professionals concerned about the medicalization of identity and the lack of open discussion on issues that are affecting Canadian families and children."
Sex and gender identity curricula have come under fire in Ontario schools before. In 2018, newly elected Premier Doug Ford made good on one of his campaign promises by canceling a 2015 update to sex education programs that had incensed conservative residents, according to the BBC.
That program included language on gender identity, consent and masturbation that upset many Christian conservatives. Ford announced that the curriculum would return to its 1998 standard, which did not include many of those topics.