Parents Find 5,000 Fentanyl Pills Inside Stuffed Toy Bought for Their Daughter
A seemingly innocent stuffed toy purchased from a thrift store outside Phoenix was found to have thousands of fentanyl pills stuffed inside.
The green glow-worm was purchased from a store in El Mirage, northwest of Phoenix, and intended as a gift for a little girl from her parents.
However, it wasn't long before the family realized their bargain buy was harboring a hidden secret.
"Parents purchased a glow worm at a thrift store in El Mirage for their daughter and found a sandwich bag with over 5,000 pills believed to be fentanyl inside," Phoenix Police said in a tweet on Sunday.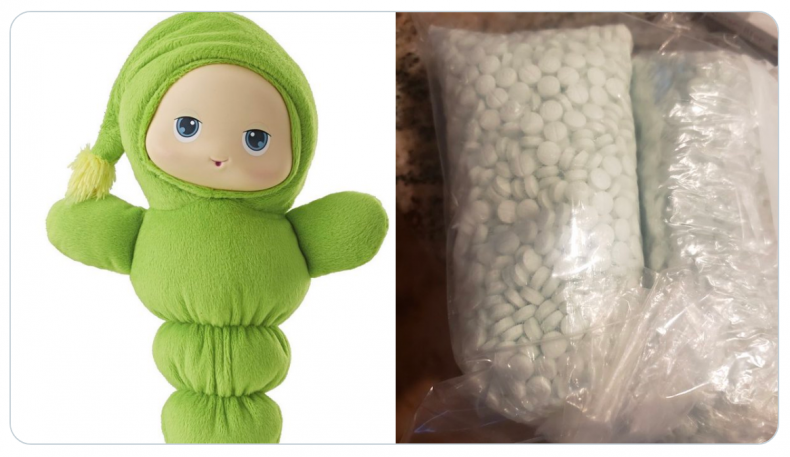 After calling police, the concerned parents handed over the drugs to officers, who used the opportunity to remind people to "inspect all opened and used items."
An investigation is said to be underway.
Newsweek has contacted the Phoenix Police Department for comment.
Fentanyl is an extremely potent synthetic prescription opioid, most commonly used as a painkiller.
Over the past decade, the drug has swept across the U.S. and is often mixed with heroin and other street opioids to increase the drug's potency, leading to deadly consequences.
Fentanyl is believed to be up to 100 times stronger than street heroin, with some variants such as Carfentanyl thought to be 10,000 times stronger.
The drug's potency makes it not only a lucrative alternative for those involved in the drug trade, but also nearly impossible for the street-level user to gauge its strength.
A kilogram (2.2 pounds) of heroin can produce 10,000 doses; a kilogram of fentanyl, analysts estimate, will produce 500,000.
According to the Centers for Disease Control and Prevention, two-thirds of the nearly 47,000 opioid-related deaths in the U.S. in 2018 were caused by powerful synthetic opioids—primarily fentanyl and its analogs.
Many experts warn usage has only continued to surge during the COVID-19 pandemic as millions of Americans struggle with opioid abuse and addiction.
As authorities attempt to crack down on the illicit trade, drug dealers and users alike have been forced to find more creative ways of concealing the contraband.
In October of 2019, police seized more than $200 million worth of methamphetamine after it was shipped to Australia from the U.S. hidden inside bottles of sriracha sauce.
The shipment, which was declared to contain hot sauce, was examined by Australian Border Force (ABF) officers.
Authorities found the shipment contained 768 bottles of sriracha sauce and testing indicated that the bottles contained methylamphetamine, a drug known colloquially in Australia as "ice."
Police said preliminary forensic analysis determined the bottles contained about 400 kilograms of the drug, with an estimated potential street value of around $200 million.