Parents Billed $132,000 after Child Breaks Art Piece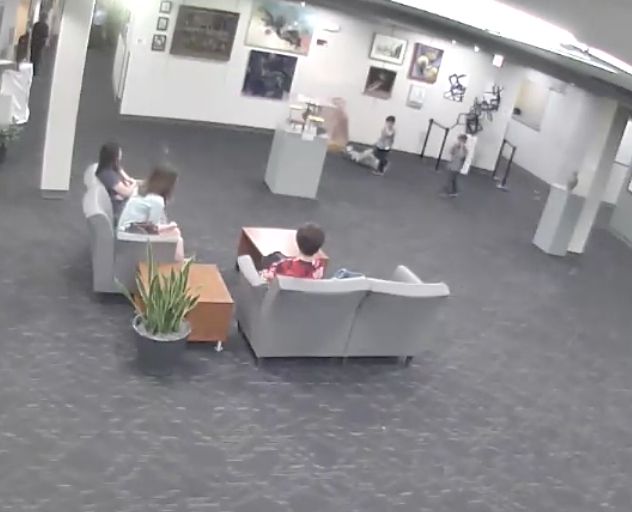 The parents of a five-year-old boy have been hit with a $132,000 bill after their son knocked over a sculpture.
CCTV footage of the incident last month shows the child appearing to reach out to the sculpture at the Tomahawk Ridge Community Center in Overland Park, Kansas.
The boy, who was attending a wedding reception at the community center, according to CBS Local, appeared to attempt to prop up the art to stop it from falling, before it wobbled and hit the floor.
Days later, the insurance company representing the city of Overland Park sent the family a $132,000 claim. They said the piece, entitled Aphrodite di Kansas City, was damaged beyond repair, ABC News reported.
The insurance letter stated: "You're responsible for the supervision of a minor child[...] your failure to monitor could be considered negligent."
Sarah Goodman, the child's mother, told ABC News she was "offended" she was called negligent, and said the exhibition was treated "like a crime scene" after her son knocked over the sculpture.
Artist Bill Lyons, who created the piece, told ABC News it was two years in the making, and was on sale for $132,000. He said it was beyond is "capabilities and desires" to mend it.
The boy's parents argue the sculpture should have been better protected if it carried such a high price tag.
"It's in the main walkway. Not a separate room. No plexiglass. Not protected. Not held down," Goodman told KSHB.com. "There was no border around it. There wasn't even a sign around it that said, 'Do not touch.'"
Goodman told KSHB the bill is "completely astronomical." Since the incident, her son has been having "bad dreams every night," she said.
The City of Oakland did not respond to a request for comment. Sean Reilly, a spokesperson with the City of Overland Park, told KSHB.com the piece was loaned to the city and there is a "societal responsibility" for visitors to understand art should not be interacted with unless otherwise stated.
He told ABC News the community center has never had problems with artwork before. "We've not had this situation [...] we've not had kids climb on our pieces," he said.
The family told KSHB they are now trying to work out how to foot the bill and may need to dip into their homeowners' insurance.
But the boy isn't the first child to break an exhibit. In 2015, a boy believed to be around 5 years old smashed a 200 year old jug at the Christchurch Mansion in Suffolk, U.K. After museum staff fixed the jug, they launched a campaign to track him down and put him at ease.
Carole Jones, who was the head of Ipswich's museums at the time, told BBC News: "He was visiting the mansion with his family and this beautiful ancient puzzle jug was on quite a low window ledge.
"He knocked it off and it smashed into about 60 pieces. He was of course, absolutely devastated, and his family were really upset."
"We'd love them to visit again," she said.
This piece has been updated to include background information.