Parents of Man Who Threatened To Shoot Nancy Pelosi Reported His QAnon Beliefs to Police
The parents of a Georgia man facing federal charges in connection with last week's attack on the Capitol had previously reported their son to police, expressing concerns over his behavior and QAnon beliefs.
Cleveland Grover Meredith, originally of Hiawassee, was charged on January 7 with threatening House Speaker Nancy Pelosi, according to a statement from the U.S. Department of Justice.
Federal charging documents seen by Newsweek allege Meredith sent a text message saying he was "thinking about... putting a bullet in [Pelosi's] noggin on Live TV."
"I predict that within 12 days, many in our country will die," he allegedly wrote in another.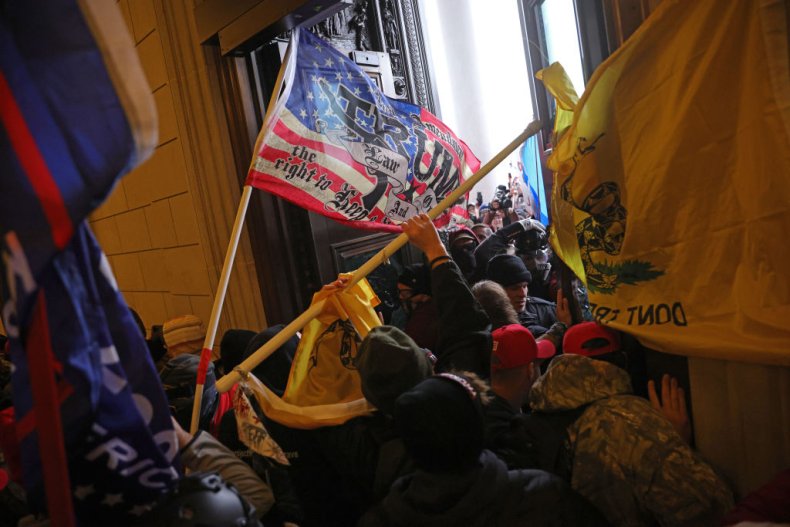 A separate message said he was headed to Washington for the pro-Trump protest with "a s**t ton of... armor piercing ammo," according to the arrest report.
Car trouble reportedly prevented Meredith from arriving in time, but he continued to Washington anyway.
"I'm trying but currently stuck in Cambridge, OH with trailer lights being fixed," he wrote in one of several text messages.
He was found at Washington, D.C., Holiday Inn after FBI agents received a tip as to his whereabouts.
There, the agents found a Glock 19, 9-mm pistol, an assault rifle, hundreds of rounds of ammunition and a string of threatening text messages.
In one text message reply, a family member expressed disbelief at Meredith's intention to "put a bullet" in Pelosi's head. "I've been on the radar for a while now, they now I'm harmless," Meredith allegedly replied.
When the relative became concerned, Meredith allegedly replied that he was "just having fun" and was "high" while locked in his hotel room.
Meredith has since been charged with transmitting a threat in interstate commerce, possession of an unregistered firearm and unlawful possession of ammunition, according to his arrest warrant.
His parents alerted the Hiawassee Police Department when he moved to north Georgia about two years ago, expressing concerns over his QAnon beliefs and noting his behavior and mental state had recently changed.
Hiawassee Police Chief Paul Smith told WSB-TV he reported that information to the Georgia Bureau of Investigation. He added that Meredith kept to himself, did not have any run-ins with police and lived in a townhouse in Lake Chatuge.
The QAnon conspiracy theory, which believes Donald Trump is waging a secret war against high-profile Satanic pedophiles, is now listed as a domestic terrorist threat by the FBI. Followers were part of the mob of extremists who stormed Congress on Wednesday in what lawmakers described as an attempted coup.
Meredith reportedly erected a billboard on Cobb Parkway in Acworth advertising the radical theory back in 2018. At the time, he told the Atlanta Journal Constitution that he had put up the billboard because he was "a patriot among the millions who love this country."
Meredith's parents again alerted police when their son moved to nearby Hayesville in Clay County, North Carolina, last month.
He is currently being detained until a court hearing this week.
Dozens of people have been arrested after Wednesday's riot which left five people dead, including a Capitol police officer.
A total of 16 people now face federal charges, with approximately 40 facing charges in the Superior Court, the Justice Department said.
Supporters of President Donald Trump descended on Washington D.C. to protest the Congressional certification of state's Electoral College votes, and eventually breached the Capitol building and were seen inside both the House and Senate chambers.
Investigators are combing through photos, video footage and tips to track down those who took part.
Those arrested so far include Richard Barnett, the man who was photographed sitting on House Speaker Nancy Pelosi's desk during the riot, and Jake Angeli, the rioter seen wearing an outfit featuring horns and fur.
Barnett, 60, faces charges of entering and remaining on restricted grounds, violent entry and theft of public property
Meanwhile, 32-year-old Angeli, whose real name is Jacob Anthony Chansley, was arrested on Saturday and charged with knowingly entering or remaining in any restricted building or grounds without lawful authority, and with violent entry and disorderly conduct on Capitol grounds.
Doug Jensen, 41, was also arrested at his home on the south side of Des Moines on Friday, and slapped with five federal charges, including trespassing and disorderly conduct.
Jensen, wearing a QAnon conspiracy theory shirt, was captured on camera chasing a police officer inside the U.S. Capitol.
Identified by KCCI-TV, he was seen at the forefront of a crowd trying to breach the building in a clip posted by reporter Igor Bobic.
The officer is seen trying to prevent the crowd from coming inside before turning around, picking up a baton and running up a flight of stairs, chased by Jensen and a mob several steps behind them.
Eric Gavelek Munchel, 30, of Tennessee, was arrested in his state on Sunday after federal authorities identified him as the man who allegedly stormed the U.S. Capitol with rioters while carrying a handful of zip-ties—as captured by viral photos circulating online.