Parents Oblivious to Overweight Kids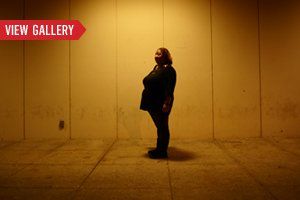 The obesity alarm bells are ringing again. A new report out this week finds that more than two thirds of states (38 total) have adult obesity rates above 25 percent—a striking increase since 1991, when no state had an obesity rate above 20 percent. Hardest hit: Mississippi, which weighed in at 33.8 percent, followed by Alabama and Tennessee (tied at 31.6 percent), West Virginia (31.3 percent), and Louisiana (31.2 percent).
The report, "F as in Fat: How Obesity Threatens America's Future 2010", released by the Trust for America's Health and the Robert Wood Johnson Foundation (RWJF), documents disturbing racial, ethnic, and economic disparities, too. Obesity rates for blacks and Latinos were higher than whites in at least 40 states; and 35.3 percent of adults earning less than $15,000 a year ranked as obese, compared with 24.5 percent of Americans making $50,000 or more. A lot of statistics. A lot to worry about.
Why are Americans getting fatter? As we reported in our March cover story, there are a host of factors, from the ubiquity of high-fat, mega-calorie foods to lack of exercise and too much TV. But another, more complicated, trigger appears to be at work as well: grave misperceptions about weight.
This is especially true of parents who mistakenly believe their kids are leaner than they are. A new poll included in the report finds that the majority of Americans believe that childhood obesity is a "significant and growing challenge for the country," and yet 84 percent say their children are at a healthy weight—despite national stats showing that nearly one third of children and teens are overweight (their body mass index, or BMI, falls between the 85th and 95th percentile for their age and sex) or obese (at or above the 95th percentile). Americans understand there's a problem; they just don't think their kids are a part of it. The consequences are dire. "We're in danger of raising the first generation of children who could live sicker and die younger than the generation before them," says Dr. James Marks, RWJF's senior vice president.
Skewed weight perception is a well-known phenomenon in the research world. In one study, only one third of parents of overweight kids recognized their child's weight status accurately and few were worried that it might be a problem. In another, 60 percent of parents of overweight children inaccurately identified their child as healthy weight or even underweight. African-American parents were more likely to underestimate than white parents. And in a study of a low-income Latino population, mothers preferred a plumper figure for their children than themselves. This is especially worrisome given the trends in black and Latino obesity rates and the health problems—diabetes, heart disease, cancer—that can ensue.
Parents may not recognize a weight problem in their child for any number of reasons, says Dr. Judith Palfrey, president of the American Academy of Pediatrics. Weight can increase subtly and parents may not notice a change. The global rise in obesity means kids are bigger, so overweight kids look more like the norm than they used to. Parents also take pride in feeding their children. "We are naturally nurturing and nourishing, and we want our kids to have everything they possibly need," says Palfrey. And there is the plump baby factor as well. There has long been the perception, says Palfrey, that if your child looked like the pudgy happy Gerber baby, "you were doing great."
You may be putting your children in danger, instead. Dr. Elsie Taveras, an assistant professor of population medicine and pediatrics at Harvard Medical School, found that babies who gain weight rapidly in the first six months of life are at a higher risk for obesity at age 3. "A lot of families think that weight gain early on is just baby fat and it's going to go away," says Taveras. Plump babies may well slim out, which is why pediatricians aren't necessarily worried, either. But when a baby who gains excessively turns into an obese toddler, he may be on track to become an obese adult, too. Unfortunately, pediatricians often sidestep the issue in the very young, says Taveras. "We don't want to label children too early or we don't know what to do," she says.
This could lead to a delay in pinpointing a problem early on and allow an ongoing perception among parents that everything is fine. Even when children become preschoolers, most parents are unable to identify their weight problems, according to a study published in early June in Clinical Pediatrics. Lead author Dr. Raquel Hernandez, an assistant professor of pediatrics at the University of South Florida, found that almost three quarters of parents thought their overweight or obese toddler (between the ages of 2 and 5) was a healthy weight. Most alarming: when asked to point to a sketch most resembling their child's weight (seven body images were presented, ranging from very slim to obese), 20 percent of parents of overweight or obese kids pointed to a body image that was actually lighter than a healthy weight.
Measuring a child's BMI routinely can help identify unhealthy weight gain early; the American Academy of Pediatrics recommends doctors start taking these measurements at age 2. But tracking numbers isn't enough. Pediatricians must also be more forthright about discussing a child's weight with her parents, says Hernandez. In her study, only 7 percent of parents recalled ever being told that their child was gaining weight too fast or was overweight. And yet, when a pediatrician did raise a concern, parents were much less likely to misperceive reality. Bottom line: doctors, your patients are listening. It's never too soon to start educating them.