Parents Offered $250 to Transport Students to Class Amid Bus Driver Shortage
A school district in Maryland is offering to pay parents $250 to transport their own children to schools amid a shortage of bus drivers.
Baltimore news station WBFF recently obtained a reimbursement form that was sent by Baltimore City Public Schools to parents offering a stipend of $250 for parents to drive their kids to school for the month of September.
A spokesperson for Baltimore City Public Schools confirmed that 771 parents have already received the offer. The spokesperson said that the payment program is being funded by the school's "yearly parent reimbursement budget." If all families accept the payment for the month of September, it will cost the school over $190,000, according to WBFF.
Baltimore City Public School students will need to have an attendance rate of 95 percent or higher to be considered eligible for the payment program.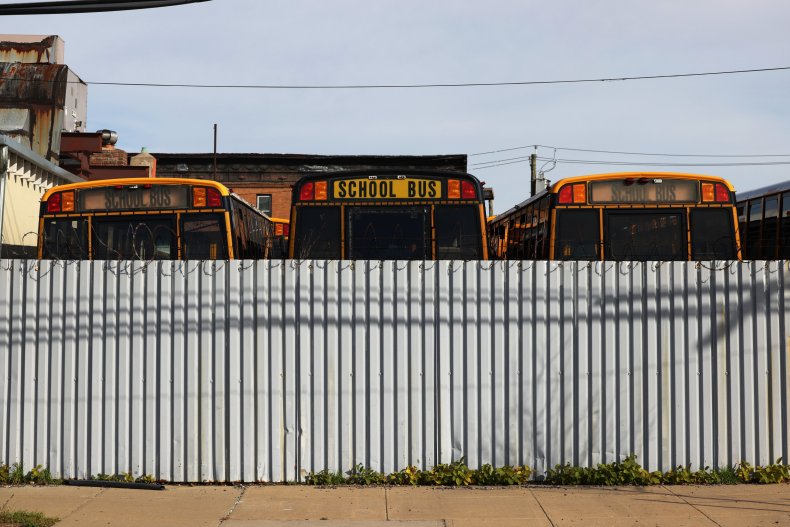 The payment program from Baltimore City Public Schools comes amid a shortage of bus drivers due to the ongoing COVID-19 pandemic. Roughly 30 bus drivers called out of work on the district's first day of school.
The mother of a first grade student in the district, Tyreis Brown-Bond, told WBFF that while she was offered the $250 payment, she would have to resort to using a rideshare like Lyft or Uber because she does not drive.
Several other school districts across the nation are also experiencing a shortage of bus drivers.
Several school districts across New York state are facing a shortage of bus drivers, according to Spectrum News NY1 in New York City. David Christopher, the executive director of the New York Association for Pupil Transportation, told the news station that, "Our association recently did a survey of all of our members and the responses were kind of scary."
"Eighty percent of them reported back that they feel the shortage is moderate to severe in their school district," Christoper said. "They're very concerned that they're going to be able to cover all of their bus routes come September school opening."
In Texas, the La Porte Independent School District notified parents that they are also experiencing a bus driver shortage.
"Due to Covid-19 challenges, the La Porte Independent School District is experiencing a shortage of bus drivers. There might be a delay in times that buses arrive to pick students up at their normal stops. We are encouraging parents to transport your child to their respective schools if possible," the school district said in an update on its website. "These delays and shortages of drivers may create delays for us for the remainder of the week. Transportation services are working to alleviate delays."
Newsweek reached out to Baltimore City Public Schools for further comment but did not receive a response in time for publication.