Parents are furious after learning their children were given floor sealant instead of milk to drink at a summer camp on Tuesday.
Two adults and 12 children drank the sealant with breakfast at the RALLY summer school program in Juneau, Alaska, the Juneau School District confirmed to Newsweek.
"We are still investigating how it happened," Superintendent Bridget Weiss said.
"What we do know is that sealant that was packaged in large pouches was mistakenly delivered to the site on the same pallet as boxes of large pouches of milk," said Weiss. "The liquid looked just like milk and was mistakenly put in the milk dispenser. The sealant did not have any odor so wasn't immediately obvious."
After students sipping the sealant complained about its taste, two staff members tried the liquid, wondering if it was spoiled milk.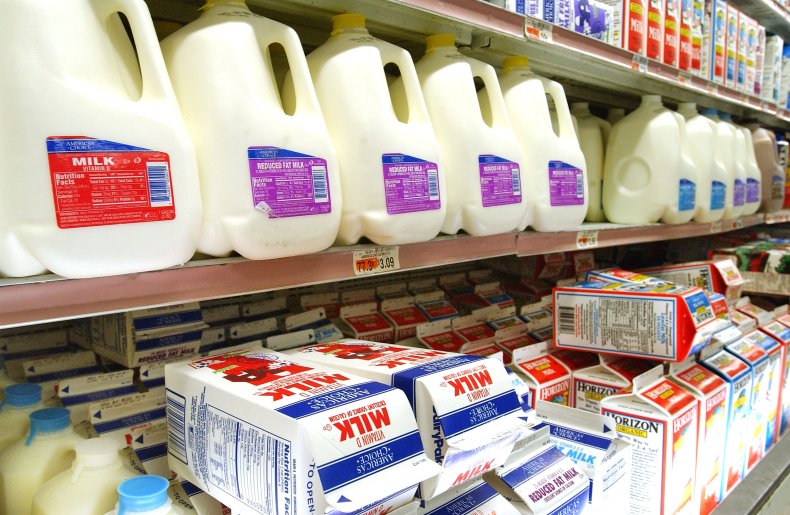 Once the error was realized, staff stopped the children from drinking any further and called Poison Control. According to a safety data sheet for the product, which is called Hillyard Seal 341, it is "expected to be a low ingestion hazard."
Parents told local radio station KTOO that they were only alerted to the incident around midday, hours after the incident. They said it was only after school administrators called a poison control center and monitored the children for a while that parents received calls.
Rhyan Nydam, whose 7-year-old attends the camp, told the outlet she should have been involved right away.
"I just can't believe it took so long even just to tell me, you know? If I wanted to run my kid to the hospital, I wouldn't have even known," said Nydam.
Her husband Barry Nydam added, "I don't see my daughter going there anymore. You'd have to have the people running it removed and new people running it."
According to Weiss, everyone who drank the sealant seems to be safe so far.
"There were some headaches, some burning in their throats and mouths when first ingested and some stomach aches," she said. "As of last evening, I was able to talk with 10 of the 12 families directly and students were mostly feeling better and some still recovering but had not gotten worse."
The sensitive issue of children's food safety was recently thrust into the national spotlight by Abbott's recall of powder baby formulas, due to the presence of a rare bacteria that is lethal for infants. At least nine babies have died after consuming the company's formula manufactured in Sturgis, Michigan, documents obtained by eFoodAlert revealed.
In April, the Food and Drug Administration (FDA) also launched an investigation into the popular children's cereal Lucky Charms, after thousands of consumers claimed it gave them food poisoning.
And last year, over 15,000 pounds of beef patties from Ohio-based AdvancePierre Foods, Inc. were recalled after the Department of Agriculture's Food Safety and Inspection Service (FSIS) warned they could include "small green soft plastic." Some frozen batches of the items had been distributed to schools.
Newsweek reached out to the Juneau Police Department for comment.
Uncommon Knowledge
Newsweek is committed to challenging conventional wisdom and finding connections in the search for common ground.
Newsweek is committed to challenging conventional wisdom and finding connections in the search for common ground.
About the writer
Shira Li Bartov is a Newsweek reporter based in New York. Her focus is on trending news, human interest and legal stories. She has covered labor and civil rights lawsuits extensively. Shira joined Newsweek in 2022 from Inside Edition. She is a graduate of Brown University. You can get in touch with Shira by emailing s.bartov@newsweek.com. Languages: English, German, Hebrew and Mandarin.