Parents Outraged as Maryland's Biggest County Defies Hogan on School Masks
A number of parents in Maryland are losing their patience over the face-covering requirements still being imposed on their school-age children and Governor Larry Hogan is continuing to push to have those mask mandates eliminated.
Last week, Hogan sent a letter to the Maryland State Board of Education asking it to rescind its mask mandate for the state's schools. That request to lift the mandate comes as the requirement for masks to be worn in state buildings is set to be lifted on February 22.
The push to lift the school mask mandate has been met with support from some Maryland parents, who said the school mandate is a roadblock for their children to return to normalcy, especially as mandates are being lifted across the state.
"We are at the point now with our hospital rates low and vaccine rates at the highest that it's time for the mask mandate to be completely lifted in our schools and to fall in line with the governor and what the county executives are doing for adults," parent Shannon Leadbetter, who has two children in the Anne Arundel County Public Schools, told Newsweek. "As it stands, our children are not being invited to that path to normalcy – they are being locked out of it because there is still a mask mandate in schools."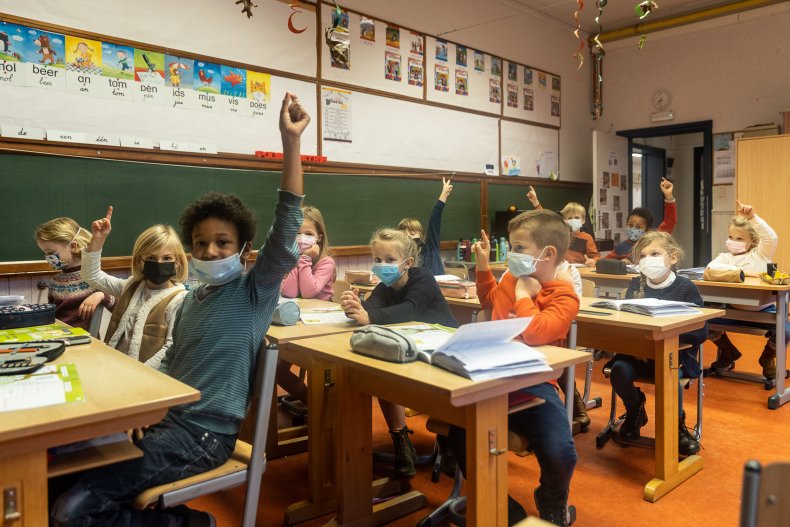 Fellow parent and former Anne Arundel County School District teacher Elizabeth Fine said she feels the same.
"Our older kids – they've been vaccinated since last spring and summer because they wanted a new return to normal and it's really sad it's been almost a year since those vaccinations and they're still in masks," said Fine, who added that the "off-ramps" or "data points" provided by the State Department of Education that would allow schools to go mask-optional have created even more confusion.
"There are no directions or guidance on how to document student vaccination rates to our district or a way to store it," said Fine, adding she's called the Maryland State Department of Education since the middle of January trying to get an understanding of how these so-called off-ramps are implemented.
"Even this week, there are no directions for superintendents to use, so to me, the state is holding us (and our kids) hostage," she said.
Data points that would allow for optional mask-wearing include whether or not a county has reached an 80 percent vaccination rate or whether the case rate in a school has reached "low to moderate" as determined by the Centers for Disease Control.
For Pastor Shannon Wright of the Urban Engagement Initiative, a non-profit working to bring attention and solutions to Maryland's urban problems, it's about parents having a voice for their children.
"As a mom and grandmom, it's important for parents to have the final decision in what happens with their children," Wright told Newsweek. "I don't think any parent wants their child to be unsafe, but all parents want a say in what that child's safety looks like."
On February 10, Hogan sent a letter to the Maryland State Board of Education noting the growing number of medical professionals, parents and bipartisan state officials throughout the nation calling for an end to school mask requirements.
"In light of dramatic improvements to our health metrics and the widespread availability of vaccines, I am calling on you to take action to rescind this policy," Hogan said in his letter addressed to Maryland State Board of Education President Clarence Crawford.
Meanwhile, Board of Education members will meet next week to explore whether there is a continued need for the mask mandate, which is set to expire over the summer.
The State Board of Education has also said it would continue to rely upon "science, research and guidance" from public health experts, including the CDC and the Maryland Department of Health. Last week, it released a statement saying it was "watching with optimism as COVID-19 metrics improve in the state because our goal has been and continues to be to provide safe in-person instruction for our children and staff with minimal disruptions."
Last May, the state ended its indoor mask mandate for public places, other than schools. Still, some jurisdictions have maintained local authority when it comes to their policy-making decisions. For instance, in the city of Baltimore, indoor mask mandates have remained across the board.
This weekend, Hogan said he "strongly" believed the school mask mandate should end.
"We're recommending very strongly that they (the Board of Education) lift it and that's what all of our epidemiologists, virologists and public health doctors are suggesting ... it's nearly universal and bipartisan support for moving forward and putting this thing behind us and not living in fear of the virus," Hogan said Sunday during an interview on CNN "The kids have suffered so much and I think the CDC will likely have to take action but in the meantime, our schools and our state board of education is going to act in the next week or so to move forward and take masks off the kids."
Still, others like Montgomery County Executive Mark Elrich of the state's largest county said he believed mandates should stay in place until COVID transmissions reach what's considered the "moderate" level.
Elrich pointed out that despite the recent sharp decline in COVID-19 cases and hospitalizations, the county, as well as the state, are still defined by the CDC as being in the "high transmission" category. That's defined as 100 or more cases per 100,000 people or a positivity rate of 10 percent or higher in the past seven days. It's a level that in the past has triggered additional restrictions, not fewer ones, said Elrich.
"He (Hogan) made [the decision to end the mask mandate] while we're in high transmission - we have not routinely taken 'high' as a sign where we should loosen things up," Elrich told Newsweek, noting that previously the lightening of rules has resulted in an upward spike in cases."Conceptuality, I see we're getting there – our numbers continue to drop. We think we'll reach that number in a couple of weeks."
Elrich noted his concern that with the Omicron variant, more of the population is likely to contract the virus while pointing out the challenges involved in properly masking kids who are together for long periods of time during the school day.
"In Montgomery County, we've taken everything in COVID so cautiously since day one and we've had like a 30 percent less fatality rate compared to the rest of the country," he said.
Montgomery County as a whole is one of the most-vaccinated counties in the nation, with nearly 85 percent of its residents fully vaccinated.
In terms of parents, Elrich said he's heard from those on both sides of the school mask mandate debate.
"I hear parents that say it's terrible to still be masking the kids and then I hear 'Thank you for keeping our kids safe – we want you to maintain that'," said Elrich.
Laney Miller is one of those parents not ready for masks to come off her kids.
"They're going to bring it home to siblings, elderly parents, or those who are immune-compromised, regardless of their status of vaccination," said Miller, who has three kids attending schools in the city of Baltimore, adding that her community is full of multi-generational families and children that are too young to get vaccinated, which she feels increases the risk of transmission.
"Even vaccinated people are still getting very sick that have underlying conditions. The last place to remove it is the schools," said Miller, noting that kids in schools are all sitting together for six to eight hours at a time.
Parent Mairin Barney said her main concerns have to do with eliminating the mask mandate before other precautions are in place.
"For instance, I think we need higher levels of vaccination among schoolchildren before we can safely eliminate the mask mandate," said Barney. "I would also like to see schools reimagine themselves around increased time outside. Currently, we are talking about going 'back to normal' but the version of normal they want to go back to doesn't exist anymore."
All of the parents Newsweek spoke with said regardless of when mask mandates are lifted, there should be no judgment towards those who still want to wear masks.
"It's just time. We need to be respectful and empower each other to make the right health choices and it's not just physical but social and mental and emotional health and it's time for the government to get out of the way," said Leadbetter. "And we should also be fully supportive of respecting the choice of those who choose to continue to wear the mask."